Snowshoeing is one of the best ways to get outside and enjoy the beauty of winter. But as a snowshoe beginner, it can be hard to know where to start. So here we share everything you've ever wanted to know about snowshoeing. Learn snowshoeing tips for getting started, so your adventure is more than just a refreshing plunge in the snow.
This post is a comprehensive article divided into multiple sections. Use the table of contents below to navigate to specific information. Or, if you're looking for a few quick snowshoeing tips, read Top 10 Tips For First-Time Snowshoers.
Step 1: What's So Great About Snowshoeing?
We think that winter hiking rocks, and there are so many reasons to snowshoe! Here are a few of our favorite reasons:
Easy To Learn
Once you strap the snowshoes to your feet, you can walk in your natural stride. However, if you have a narrow gait, you may need to widen your stance slightly to avoid stepping on the shoe's frame. No matter your gait, it's essential to make sure you have the correct size and fit for snowshoes, just like regular shoes. Also, review the techniques that are helpful when navigating different terrain.
Fun For Anyone!
Individuals of any age, ability, and identity can participate in the sport since you can tailor your outing to match your interests and fitness levels. Snowshoe outings can include a leisurely walk in the park, a casual jaunt to explore nature, or a steep and challenging backcountry hike!
Read More:
Snowshoeing For Seniors: Into Your 70s & Beyond
Adaptive Snowshoeing For People With Disabilities
Snowshoeing: What To Embark On When Expecting
Take Your Friends Snowshoeing (Really They'll Love It)
One Company Empowers Large Bodied Snowshoers Through Size-Inclusive Practices
The Dream Team: Increasing Diversity in Snowshoeing and Snow Sports
Healthy and Low-Impact Activity
Known to help maintain or improve cardiovascular fitness, the sport helps burn more than 600 calories per hour. According to Snowsports Industries of America, snowshoers can burn more than 45 percent more calories than walking or running at the same speed. Thus, snowshoeing is a great activity to include as part of a weight-loss regimen.
Snowshoeing is also a low-impact activity for those with injuries and other health issues and concerns. However, it's always essential to consult with a doctor or health provider before engaging in any physical activity.
Finally, snowshoeing is a great benefit for mental health! Personally, the serenity and beauty of the natural environment are truly amazing, whether close to home or far in nature.
Read More:
Burn, Baby, Burn: Reap The Health Benefits of Snowshoeing
Snowshoeing Saved My Life
Play Ball! On Snowshoes
How a Difficult Snowshoe Hike Makes You More Resilient
Virtually Inexpensive
Snowshoes can be rented or purchased for your outing. Rentals for adults can be as little as $10, or you can buy snowshoes for as little as $100. When renting or buying, it's crucial to be aware of the type of terrain you'd like to explore to choose the appropriate kind of snowshoe for your adventure.
Endless Opportunities to Explore
Use your snowshoes to explore your backyard, a snow-covered city, the mountains outside of town, or far-off backcountry areas with little civilization. The destinations are endless!
Just keep safety as your top priority as trails you hike in summer may not be the best to walk in winter. For example, rocky or narrow paths can be much more difficult or even dangerous on snowshoes. Also, keep an eye on avalanche warning signs and danger zones, especially if hiking in the backcountry.
Are you looking for your next destination? Search for trail, resort, and backcountry options!
Some of the links in this article may contain affiliate links. When you purchase using these links, part of the proceeds go to Snowshoe Mag at no additional cost. Additionally, as an Amazon Associate, we earn from qualifying purchases. Please see our disclosure for more details.
---
Step 2: Where Can I Snowshoe?
There are so many options of where to go, and it can be tough to choose! Just know that you don't always need to travel outside your town or city to have a fun time.
A few tips on where to snowshoe:
State and national parks
City natural areas and trails
Snow-covered golf courses or recreational parks
Open or backcountry space
Your backyard or city streets
Nordic centers, which are typically in or around a ski resort
Bed and breakfast inns
Mountain lodges & resorts
Read More:
Colorado Snowshoe Resorts, Ranches, and Cabins
Top Winter Hiking Trails In The Canadian Rockies
Seattle, Washington: Top 5 Daytrips For Snowshoe Beginners
View All Destinations
When Do I Need Snowshoes?
Attention to the conditions is crucial to get the most out of your snowshoeing experience since not all situations require snowshoes.
Prime snowshoe conditions include:
Freshly fallen snow called powder
Snow depths of 12 or more inches, or when you start to sink in the snow
Wearing snowshoes in these conditions lessens the probability that you will post-hole (punch a large hole) in the snow. However, you may see some individuals use snowshoes in packed conditions for better grip. If no snow conditions exist, you may also see individuals use their snowshoes on the sand!
Snowshoes are not required when:
The snow is hard-packed and icy
Snow depths are less than 12 inches, or when you are not sinking in the snow
Instead, when snow is hard-packed or icy, strap ice cleats such as Yaktrax or Kahtoola MICROspikes to your boots to help prevent slippage.
Read More:
Yaktrax Reviews: The Ascent and Summit for Slippery Climbs
Gear Review: Walk on Ice with Kahtoola MICROspikes Traction
How To Choose The Best Trail: Tips for Learning When You Need Snowshoes
Snowshoe Trail Etiquette
To ensure all winter sports enthusiasts have a great time, here are a few snowshoeing tips related to etiquette on the trail. When you are snowshoeing:
Do your research before choosing a trail or heading into the backcountry to ensure you're prepared. For example, routes may have restrictions on certain winter sports, uses, and pets. Additionally, backcountry areas may have seasonal closures or safety restrictions.
Follow Leave No Trace principles, whether on a trail or in the backcountry. If you bring it in, pack it out.
It's okay to go off-trail when snowshoeing. However, be mindful of choosing areas with ample snowfall and avoid areas where plants are peeking out of the snow to preserve vegetation.
Avoid stepping on ski or machine-made tracks with your snowshoes. Instead, walk next to the tracks or break your trail.
Hikers coming uphill typically have the right of way. When hiking downhill, step aside to let the uphill hiker pass. Similarly, step to the side if faster hikers are behind you. However, if you're skiing, allow the quicker skier to proceed first (most likely, they're coming downhill).
Read More: Trail Etiquette for Winter Hiking and Snowshoeing
Looking for a quick read? Try our article, Top 10 Tips For First-Time Snowshoers
---
Step 3: Which Snowshoes Should I Get?
Okay, now you have an idea of where to go and whether you need snowshoes. But, with so many options out there, how do you know which snowshoes to get?
There are a few key features and snowshoeing tips to consider when renting or buying your snowshoes. First, we'll discuss types of snowshoes, size & fit, and tips for renting and buying.
Snowshoe Types
The snowshoe types listed below are modern snowshoes or snowshoes made from aluminum, plastic, or foam. Some individuals may choose to use traditional or wooden snowshoes instead of aluminum or plastic models. The differences between traditional and modern snowshoes are below.
When buying or renting a pair of modern snowshoes, keep in mind that three main types are available. You can find a wide variety at Backcountry.com.
Read More:
Definitive Guide: How To Choose The Perfect Snowshoe For Your Needs
Start 'em Young: Snowshoes For Kids Two To Teens
Four Kinds of Snowshoes for Big People and Heavy Loads
1. Recreational hiking snowshoes
Best suited for first-timers/snowshoe beginners
A selection of snowshoes for navigating trails and average snow depth
Use for flat or rolling terrain or terrain that doesn't require steep climbing or descents
Less expensive due to minimal features
Brands may use "Trail," "Recreational," or similar wording in the name of these snowshoes
Recreational snowshoes are available in men's models, women's models, and kids' models. Please note that men or women can wear men's snowshoes. However, women's models are designed for a narrower gait.
A few examples of pairs of recreational snowshoes are:
MSR Revo Trail
Men's – Available at REI Co-op  & Backcountry.com
Women's – Available at REI Co-op & Backcountry.com
Tubbs Xplore
Men's – Available at REI Co-op & Backcountry.com
Women's – Available at Backcountry.com
Read Our Review: Explore The World With The Tubbs Women Xplore Snowshoe
Redfeather Hike
Men's Snowshoe Kit Available on Amazon
Read More: Snowshoes Designed for Everyone: Find Your Match with Redfeather
2. Technical hiking/backpacking snowshoes
Best suited for those who are more experienced with winter hiking
Tough as snowshoes come: strong aluminum frame, durable material, bindings for all types of boots (see snowshoe anatomy below)
Great for steep climbing and descents, deep snow & backcountry trails
More expensive price points because of additional features
Brands may use "Mountain," "Backcountry," or similar titles in the name of these snowshoes
Read More: Why To Use Snowshoes On Your Next Mountaineering Adventure
A few examples of pairs of technical snowshoes include:
MSR Lightning Ascent
Men's – Available at REI Co-op &  Backcountry.com
Women's – Available at REI Co-op & Backcountry.com
Read Our Review: The Claw Patrol: MSR's Lightning Ascent Snowshoes Review
Atlas Apex Mtn
Men's & Women's – Available at Backcountry.com 
Read Our Review: The Versatile Atlas Apex MTN Snowshoes: A Review
Northern Lites Backcountry
Unisex – Pre-Order at Northern Lites
3. Racing/fitness snowshoes
Best suited for those who are active runners, racers, or cross-trainers
Sleek, narrow design
Used for snowshoe running and racing on groomed trails
Not designed for use in deep powder
Read More:
Choosing Running and Racing Snowshoes Starts Here
Snowshoe Running in Alaska: A First-Timer's Perspective
Snowshoe Size & Fit
After choosing your type of snowshoe, you'll want to make sure you're purchasing the correct size.
To choose the correct size, you'll want to consider the snow conditions, recommended weight guidelines, and the fit on your foot.
Conditions
Snowshoes are designed to help the user "float" on the snow, referred to as floatation. Hard-packed snow typically has a more even weight distribution than deep powder (freshly fallen snow).
Thus, if you are snowshoeing in deep powder, your snowshoes will need to be able to support more weight. For example, a snowshoe with a weight recommendation of 150lbs (68kg) will support closer to the 150lb (68kg) max when in hard-packed snow, compared to deep powder.
This difference in conditions is why most snowshoes will come with a weight recommendation attached to the snowshoe.
Weight Recommendation
The weight recommendation tells the user how much weight the snowshoe can carry (user and any gear) and still provide adequate floatation or the ability to float on snow. Of course, there will always be some sinking in the snow, no matter the snowshoe, but sinking to your knees or above is not typical if you choose the right snowshoe.
Please note: If you and your gear are over the weight recommendation, it does not mean that you can't participate in the sport, only that you need to choose the proper conditions so you don't sink deeply in the snow.
For example, if you're snowshoeing in 12 inches of freshly fallen snow or powder, the weight recommendation on your snowshoes is more flexible. Since it's only 12 inches, there's no possibility of sinking very deep in the snow, even if you exceed the weight recommendation.
However, if you're snowshoeing in 3 feet of freshly fallen snow, you'll want to adhere strictly to the weight recommendation. If you exceed it, in this case, you could end up sinking quite a bit in the snow, potentially up to your waist! This experience would not be an enjoyable snowshoe outing.
Read More: One Company Empowers Large Bodied Snowshoers Through Size-Inclusive Practices
Fit
Finally, make sure that the snowshoe fits your foot correctly. Some snowshoe manufacturers will list a recommended shoe size as well.
Typically though, sizing is based on the snowshoe's length, measured in inches. The most common sizes (excluding kids' lengths) are 25 inches, 30 inches, and 36 inches.
If there is a mismatch between the weight recommendation and shoe size (i.e., weight recommendation is correct, but the length/ shoe size is too large or small), go with shoe size. It's always best that the snowshoe fits your foot first and foremost. Just keep in mind to avoid deep snow if you exceed the weight recommendation.
Some snowshoe manufacturers, though, such as MSR, offer extenders or tails for their snowshoes. These tails provide extra length while maintaining the shoe size and help the snowshoe to carry more weight.
To summarize, consider the snowshoe's weight recommendations and your shoe size to choose the correct size. Use the weight recommendations to determine how much weight (bodyweight + gear) you can carry in deep powder without sinking heavily, but make sure the snowshoe fits your boot size.
Where To Get My Snowshoes: Renting vs. Buying
The easiest method to get started is to rent a pair of snowshoes for your first outing. Rentals are relatively cheap (as low as $10!). Plus, renting or borrowing a pair of snowshoes from a friend allows you to try them before you buy them, which can be critical to finding the right snowshoe for you.
The downside of renting your snowshoes is that rentals will often be recreational snowshoes (see modern snowshoe types). Recreational snowshoes are great for more casual outings but may not be the right snowshoe for exploring technical terrain. It's best to clarify what type of snowshoes are available to rent to ensure they'll be suited for the trails and conditions you'd like to explore.
Where to Rent:
Local ski and snowboard rental store
Nationwide retailers such as REI
Resorts (like these top 10) and Nordic Centers
Where to Buy:
Retailers specializing in selling snowshoes, such as Backcountry.com, offer great prices on specific brands, models, and snowshoe starter kits.
Independent stores that may include equipment for running and local mountain outfitters
Directly from the manufacturer
Advice for Purchasing Snowshoes
If you are ready to jump in, here's some general advice and snowshoeing tips to use when purchasing snowshoes:
Plan to spend $100-$300, sometimes higher depending on the manufacturer.
Package deals (including poles and snowshoe bags) are generally good deals. However, just like renting, pay particular attention to the type of snowshoe you will be receiving. For example, if you want technical snowshoeing, a starter kit won't be the best option since most starter kits come with recreational, not backcountry snowshoes.
It's highly advised not to purchase a used pair of snowshoes, but if you decide to go through with buying a used pair, inspect them thoroughly. Don't get caught in the backcountry with a faulty pair of shoes!
Check the frames for damage (including chips)
Inspect the bindings for over-stress
Check the flotation material for holes and rips
Choose according to the size available
Check out our gear page for brands available and reviews from our writers!
---
Step 4: What Should I Wear While Snowshoeing?
One thing that can quickly ruin a snowshoe outing is not wearing the appropriate clothing. The specific gear you'll wear or bring depends on the weather conditions, snow conditions, and the trek's length/difficulty.
For example, if you're going on a short hike near home, you may not need technical gear and could get away with wearing your everyday winter clothes. However, if heading off-trail for several days, having the correct technical clothing and equipment is imperative for safety.
Consider these snowshoeing tips for wearing appropriate clothing.
Are you looking for a quick read? Then, try our article, Top 10 Tips For First-Time Snowshoers.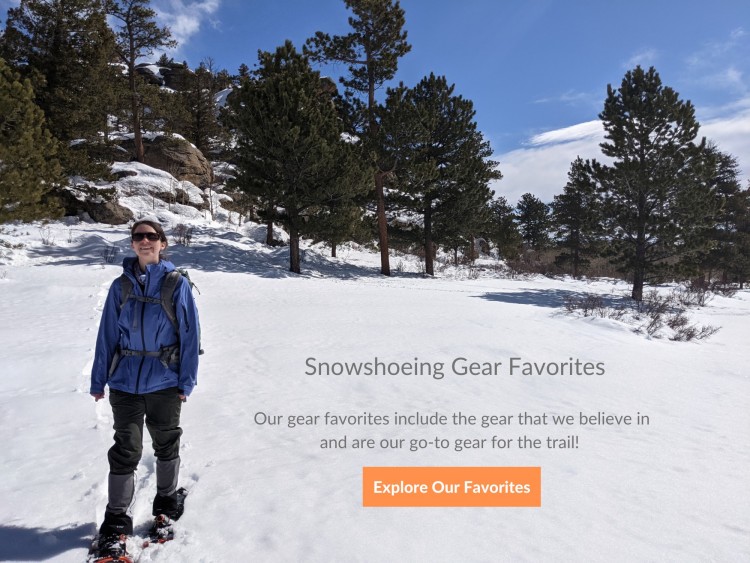 Clothing Layers
Dressing in layers is essential for navigating the changing temperatures and climates that may occur on your snowshoe hike. You'll want to use layers you can take off easily, considering it can get hot during the spring season. Snowshoeing can also be a highly aerobic activity that creates extra heat, making it easy to overdress.
Read More:
Snowshoeing Dress Code: Here's What You Should Wear With Your Snowshoes
ThinShell (Two-Step) Layering For Moderate Temperatures
There are three main layers to consider.
Base Layer
1. The base layer is the layer closest to you and wicks moisture away from your body
Typically synthetic or wool top and bottom
Long underwear is essential for icy temperatures
Avoid cotton since it tends to absorb moisture and get wet
Available in a lightweight and a midweight material
Recommended base layers:
Ridge Merino Aspect High Neck Top (Women's – Available on Ridge Merino)
REI Co-op Lightweight Base Layer Long-Sleeve Crew Top (Men's – Available at REI)
REI Co-op Midweight Base Layer Bottoms (Men's and Women's  – Available at REI)
Read More:
Ridge Merino Review: Women's Aspect Merino Wool High Neck Top
Analysis: Will Merino Wool Keep Us Warm While Snowshoeing?
Mid-layer
2. A mid-layer is worn over your base layer and is your insulating layer (can be an inner shell)
Typically polyester, fleece, or down
A zippered top or jacket can let you regulate body heat
Recommended mid-layers:
North Face Hyperlayer Flash Dry Hoodie (Men's – Available at Backcountry.com, Women's – Available at REI)
Mountain Hardwear Super/DS Stretch Down Hooded Jacket (Men's – Available at REI)
Patagonia Nano Puff Jacket (Men's & Women's Available at Patagonia)
Read More: Base & Mid-Layer Reviews
Outer Layer
3. An outer layer is needed to protect you from the elements (wind, rain, snow) and freezing temperatures. You can wear it over your mid-layer or your base layer.
Breathable and waterproof jacket, such as a windbreaker, to keep you dry and protect you from cold winds
Wear waterproof pants, such as ski pants or hiking pants, to keep your legs dry
Recommended outer layers:
LL Bean Women's Weather Challenger 3 in 1 Jacket (Women's – Available at LL. Bean)
Outdoor Research Helium Rain Jacket (Men's – Available at REI)
Canada Goose PBI Expedition Parka (Men's and Women's– Available at Backcountry)
REI Co-op Sahara Convertible Pants (Women's – Available at REI)
Marmot Arch Rock Pant (Men's – Available at Backcountry.com)
Read More:
Jacket Gear Reviews
Pant Gear Reviews
Extremities (Feet, Hands, Head)
The feet and hands are most prone to frostbite, so protecting them is essential!
Read More: Covering the Extremities When Snowshoeing
Boots
Moreover, there are a few qualities you'll want to consider when choosing a boot, no matter the outing.
Waterproof – You'll always want your shoe or boot to be waterproof to keep your feet dry
Insulating – A shoe or boot that keeps your foot warm is imperative. If it is not winter-specific, you'll want to make sure you can comfortably wear winter socks if needed.
For longer recreational hikes or backcountry hikes, you'll also want to consider a shoe with:
Stable toe – Especially for steep treks, having toe support helps ascend hills.
Thick sole – The shoe's sole will help grip the heel strap on the snowshoe's binding.
In-step gap- A shoe with an in-step gap is helpful for gaiters, which will help keep snow out of your shoes and pants.
If racing or using fitness snowshoes, any winter trail running shoe will work well.
Recommended boots:
Wolverine Polar Range Winter Boot  (Men's – Available on Amazon)
Merrell Moab 2 Mid Waterproof Hiking Boots (Women's – Available at REI)
Read More:
Snowshoeing Footwear: Tips for Choosing Your Boot
Wolverine Boot Review: Men's ShiftPlus Polar Range BOA Winter Boot
DO Tread on Me! Tread Lab's Ramble Insoles for Happy Feet – A Review
Gear Reviews for Footwear
Socks
Bring wool socks for hiking or a wool/silk combination for running.
Never wear cotton socks when in the snowy elements, as they will absorb moisture and make your feet wet.
Always bring an extra pair of socks when snowshoeing, especially on longer treks. That way, you can protect your feet and change if your socks get wet.
Recommended socks:
SynchroKnit Snow Junkie Socks (Unisex – Available at Synchroknit.com)
Fox River Merino Hike/Trek Socks (Women's – Available on Amazon)
Heat Holders Thermal Socks (Men's- Available on Amazon)
Read More:
Gear Reviews for Socks
A Fit Like No Other: SynchroKnit Snow Junkie Sock Review
Headwear
Wear a wool winter cap or beanie to protect the ears
For warmer weather, headwear made of breathable synthetics works well.
Bring a scarf to protect the neck.
For extreme weather conditions, have a balaclava to protect the face.
Wear sunglasses to protect your eyes
Recommended hat:
Sunday Afternoons Lodgepole Beanie
Read More:
Must-Have Winter Skin Care Tips for Snowshoers
Sunday Afternoons Lodgepole Beanie Review: A Go-To for Snowshoeing
Your Winter Face Mask: The Cozy Noze Knows
Gloves
Water-resistant, water-repellent, or waterproof mittens or gloves are crucial.
Fleece-lined mittens or gloves will keep your hands warm.
Bring glove or mitten liners on cold days.
Recommended gloves:
The North Face Apex Plus Etip Glove (Men's & Women's – Available at Backcountry.com)
Serius Xtreme All Weather Waterproof Gloves (Men's – Available on Amazon)
REI Liner Gloves (Men's – Available at REI)
Read More: Gear Reviews for Gloves
---
Step 5: What Gear Do I Need To Bring?
After making sure you've dressed appropriately, consider bringing these accessories.
Read More:
Top Accessories To Bring For The Day Hiker
Gaiters
Gaiters help to keep snow out of your boots and shoes. They are beneficial if you plan to snowshoe in deep snow and don't plan to stay on snow-packed trails. Thus, gaiters are imperative for backcountry hikers.
Recommended gaiters:
Hillsound Armadillo LT Gaiter (Unisex – Available at Backcountry.com & Amazon)
Read More:
Gaiters: How To Choose
Kahtoola NAVAgaiter Review: A Gaiter For Any Terrain
Poles
Poles help to maintain your balance while snowshoeing, especially on inclines and declines. They also provide support to help distribute your weight, protecting your joints and muscles from injury.
Some individuals choose not to use poles or only one pole when snowshoeing. It's all personal preference.
If you do use poles, remember to make sure that they are adjusted correctly. The correct length is when your elbows are at a right angle against the body when holding the poles. Additionally, the poles will need to be adjusted when descending and ascending. Finally, three-section poles are recommended for easy storage when not in use.
Recommended poles:
MSR DynaLock Explore Backcountry Poles (Available at REI)
Read More:
Snowshoeing Education 305: Are Two Poles Better Than One?
Should You Snowshoe With Trekking Poles?
Walk Your Way Into Snowshoeing For Improved Fitness with Nordic Walking Poles
Sunrise Hiking Mt. Quandry With MSR's DynaLock Explore Backcountry Poles
Gear Review for Poles
Daypack
No matter the length of your snowshoe adventure, having a daypack is imperative. First, you'll want to make sure the pack is lightweight and comfortable to carry. Typically a backpack that's around 30L has enough room for all essentials for a day adventure or overnight outing.
If the snow conditions could change on your hike, the pack's size and features also make a significant difference in the success of your outing. For example, you'll want straps on your backpack to carry your snowshoes if you won't encounter deep snow until farther along the trail.
If going into the backcountry, a larger pack with multiple pockets will allow you to carry additional emergency materials and snacks as well.
An essential list of items to carry in your daypack includes:
Recommended daypack:
Mystery Ranch Scree 32L Backpack (Available at Backcountry.com and REI)
Read More:
Choosing a Backpack for Your Snowshoe and Backcountry Skiing Needs
Mystery Ranch Scree 32L Backpack Review: The Versatile Daypack
What To Bring When Snowshoeing: Top Accessories For The Day Hiker
---
Step 6: How Do I Snowshoe?
Now that you know where to go and you have your snowshoes, clothing, and gear, let's learn the basic snowshoeing tips and techniques to snowshoe as a beginner!
Are you looking for a quick read? Then, try our article, Top 10 Snowshoeing Tips For First-Time Snowshoers.
How To Put On Snowshoes
Some snowshoes are universal and can go on either foot. Others will have the right and left foot labeled on the snowshoe.
Place the ball of your foot in the center of the binding. Your foot shouldn't be too far forward or too far back of the snowshoe.
Tighten all straps or bindings (toe, heel, in-step). Make sure it's not too tight or too loose.
If any excess from straps, make sure you tuck them in so you don't step on them while snowshoeing.
Head out and have fun!
After snowshoeing, brush off any snow or ice balls from your snowshoes. To help prevent ice balls in wet snow, apply a lubricant such as a ski wax to the bottom of your snowshoe. Be careful not to over-apply!
Snowshoe Techniques
When snowshoeing as a beginner, it's important to know how to navigate the terrain with your newly purchased or rented snowshoes. As a beginner, the few techniques to get you started with snowshoeing include:
Stride
Walk as you would without snowshoes. Allow for some straddling, depending on the width of your snowshoe. Stride most often on flat or level surfaces.
Getting Up
If you fall, a simple approach to get back up is to roll over onto your front. Then, put one knee up and push yourself up to a half-kneeling position. Then, raise yourself back to a standing position by using your knees to brace your hands/arms. Or, if you have poles, use the poles to support yourself as you stand.
Breaking Trail
To break trail is to make tracks through the untouched snow. The depth of the snow will determine how difficult your effort will be to break the trail. You may need to take it slower and lift your steps higher off the ground in deep snow.
Check out this quick, 5-minute video for more information on snowshoeing fundamentals:
Stamping and Edging
Use this technique to build "steps" into the snow and flatten out the terrain, for example, in powder or freshly fallen snow. They are also helpful techniques to use with other skills. For example, you can use stamping to break trails or use edging to ascend a hill sideways.
Ascending
Going up hills typically uses more emphasis on your toes or sides of the snowshoe to dig your traction system or toe crampons into the snow. There are five standard techniques for ascending, depending on the hill's incline and the depth of the snow.
Descending
Going down hills typically emphasizes the heel traction system or crampons to dig into the snow.
Read More:
Snowshoeing 101: Techniques for the Beginner
Snowshoeing Education 103: Using Activities To Perfect Techniques
Important Tips for Going Downhill with Snowshoes
Snowshoeing Education 202: Skills for the Hills
---
Step 7: Snowshoe Safety For Beginners
Even though you can snowshoe anywhere with enough snow, there are some safety precautions to keep in mind. Remember these snowshoe tips for the beginner, especially if you're exploring off-trail.
Plan ahead
Nothing takes the place of planning with any activity, but it becomes imperative when the weather has the potential to work against you. Make sure you are prepared for the weather conditions and have the appropriate clothes and appropriate gear.
Also, consider the time your hike will take you. Winter hiking takes longer than summer hiking because of the conditions. Additionally, it gets dark earlier in the wintertime, so starting early for a more extended snowshoe outing is necessary.
You may think your destination is "only an hour away," but that doesn't include the time it may take to travel back. In the winter and with the cold, that misinterpretation can be a huge mistake. Additionally, you should take extra precautions when snowshoeing at night.
Read More:
Snowshoeing, Snow Camping & Snowstorms 
Snowshoe Education 307: The Homemade Snowshoe Repair Kit
Consider and understand your limits.
Whether a snowshoe beginner or not, there is nothing wrong with a half-hour hike – planned 15 minutes out and 15 minutes back. Shorter walks are great, especially if you are trying out new snowshoes or are unsure of your endurance level.
By starting slowly and planning for short routes, you can build up your adventure level once you gain confidence and ability. It's also important to listen to your body and prepare for your snowshoeing adventure by considering any injuries or illnesses.
Read More: Some Clear Dangers That Snowsports Exhibit
Know your terrain
Backcountry snowshoeing is particularly dangerous because of the possibility of avalanches. Seek educational information to be aware of avalanche warning signs and danger zones and check your surroundings. If actively seeking avalanche-prone areas, take the proper courses and ensure you have a beacon, probe, and shovel.
Avalanche preparation courses are offered in the United States through the American Institute for Avalanche Research and Education. Alternatively,  take a course in Canada through Avalanche Canada or Europe through the European Avalanche School.  For more local information, seek out your local mountain or outdoor club.
Read More:
Why All Snowshoers Should Be Avalanche Aware (Even Beginners)
Book Review: Outdoor Safety & Survival
Dress appropriately for the conditions
It is so important to dress appropriately for the conditions! See our tips and recommendations above for what to wear while snowshoeing.
Read More: Snowshoeing Dress Code: Here's What You Should Wear With Your Snowshoes
Hydration is not just for summer sports.
While hydration is a keyword connected to many summer activities, most hikers would never go on an adventure without a water bottle. Unfortunately, most people don't give the same consideration to winter activities.
Just because you don't feel thirsty when the weather is cold doesn't mean your body isn't using and losing water. Cold, dry air will work to dehydrate you more quickly, and you will still sweat under your layers, even if you don't feel hot.
Understand that the work of movement under the weight of extra clothing and with snowshoes strapped to you means you will sweat, despite the cold. Forget the fact that you don't feel hot. Instead, understand that sweat is often trapped under layers or, and it will evaporate quickly in the cold, so you may not be aware of it.
Don't forget to stay nourished.
If your body is working hard, it is not only using water but also burning fuel. To save weight and give you long-term energy, pad your pockets with complex carbohydrates and proteins such as a small bag of nuts, chocolate, jerky, or dried fruits. Avoid purely sugary snacks and snacks that freeze.
You don't want to find yourself needing to rest outside in the cold because you don't have the energy to go on. Inactivity and lack of motion will only make you colder, which can lead to a scary situation.
Read More:
Top Five Nutrition Tips Before Your Next Snowshoe Outing
The Best Healthy Snacks To Take While Snowshoeing
Registered Dietician Serves Up Nutrition Tips for Snowshoe Athletes
Remember the dangers of winter sports.
The dangers we list here are much more of a threat when snowshoeing away from home in remote backcountry areas. However, it's essential to be aware of winter risks, no matter the setting.  These dangers can happen to anyone, snowshoe beginners or advanced snowshoers, especially in changing conditions.
Hypothermia
Hypothermia is caused by prolonged exposure to cold. It is aggravated by wet, wind, exhaustion, dehydration, and hunger.
Wear layers so you can shed some if it gets warmer to avoid excess sweating and so you can bundle up again when it gets colder. Consider a windproof layer to keep that extra chill from settling in. Wear a hat to prevent heat loss.
Warning signs of hypothermia include:
shivering (your body's attempt to generate more internal heat)
numbness in fingers and toes (your body focusing heat on internal organs to protect them)
lethargy
shallow, rapid breathing (your body slowing its functions to conserve energy).
Frostbite
Frostbite can happen quickly, especially in windy conditions, and most often, the person affected may not even realize it. However, it is a condition in which tissue freezes, and it can often have long-term implications.
Furthermore, frostbite often happens in fingers, toes, and the face when you expose your skin to the elements. Patches of the skin may appear pale and then turn white and waxy as the frostbite progresses.
One snowshoeing safety tip: If you suspect frostbite's onset, don't rub the affected area as this may damage the tissue further. Instead, find other ways to warm the skin gently or get the person to a place they can warm up.
Read More:
Emergency Tips From Snowshoer Stranded For 30 Hours in Central Washington
Book Review: Hypothermia, Frostbite & Other Cold Injuries
Share your trail plans.
Whether you snowshoe by yourself or with others, always let someone know your plan in case of an emergency. For example, sites such as HikerAlert will automatically send a check-in text and email to emergency contacts if you don't check in by your scheduled time.
Read More:
Basic Safety On The Trail
Top 5 Safety Tips For Snowshoeing
Survival Tips For Snowshoeing Enthusiasts
---
Snowshoeing Extras
Now, you have all the basics of snowshoeing down. Yay! For those interested in learning more, here are a few extra snowshoeing tips and topics explained.
Looking for a quick read? Try our article, Top 10 Tips For First-Time Snowshoers
Traditional vs. Modern Snowshoes
We discussed three modern snowshoe types above, but what about traditional wooden snowshoes? Of course, the choice between traditional and modern snowshoes is based on individual preference. Yet, it's helpful to know the difference and benefits of each style.
Traditional Snowshoes
Traditional snowshoes have been around for thousands of years. These snowshoes were designed for practical purposes by Native Americans and explorers who needed them for everyday life.
Here are some key characteristics of traditional snowshoes:
First, they have a wider surface area, which can support 200 or more lbs (90+ kg) and is more weight than modern snowshoes can carry. This surface area makes traditional snowshoes exceptional when carrying heavy loads or backpacking long distances on flat trails in freshly fallen snow.
Also, the wooden material of traditional snowshoes makes them much quieter in the snow since they blend in more with the natural environment.
Also, the wooden decking of traditional snowshoes can withstand frigid temperatures up to 30 degrees below zero.
Traditional snowshoes do not come with technical features, making them difficult to use in steep conditions that may require more traction.
The wooden material of traditional snowshoes requires more maintenance than aluminum-framed modern snowshoes.
If you have specific questions about traditional snowshoes, please feel free to ask, and we're happy to provide more info!
Read More:
Traditional Wooden Snowshoes: Shapes, Designs, & Names
With Traditional Snowshoes, We Value Our 6,000 Year Tradition
From Bear Paws to Beaver Tails: The History of Snowshoes
Care of Wood-Framed Snowshoes
Making Your Snowshoes From Scratch
Snowshoe Education 206: Hanging It Up For The Season
Modern Snowshoes
Modern snowshoes were designed around 50 years ago and are typically made with an aluminum or plastic frame. These shoes were designed with various levels of recreation in mind. Some key characteristics of modern snowshoes include:
Modern snowshoes can have a small surface area, which improves the 'shoe's aerodynamics in the snow. The smaller surface area works well on reasonably packed trails or short jaunts in the backcountry.
Because of the surface area, modern snowshoes typically cannot support as much weight as traditional snowshoes.
However, a much more comprehensive array of features are available for modern snowshoes. Features such as a heel bar and advanced traction systems are handy for more technical snowshoeing climbs, such as traversing up a mountain.
Racing or running models are available in the modern snowshoe design. Running snowshoes are a narrower and lightweight variation of the modern snowshoe.
Less maintenance is required for modern aluminum snowshoes.
Overall, each design has its pros and cons. However, knowing your intended use, it can make the decision of deciding between modern and traditional snowshoes much easier.
Snowshoe Anatomy
All snowshoes have basic anatomy, which includes the following components:
Frame– Outside outline (circumference) of the snowshoe
Decking– Flat surface within the frame
Bindings– Holds the snowshoe to your hiking boot or walking shoe
Traction System- Helps provide traction and limit slipping on the snow
Since technical snowshoes are designed for changing and potentially tricky conditions, these snowshoes will come with a more advanced traction system. An advanced traction system may include the following:
Crampons– Teeth-like grips underneath the snowshoe for additional traction
Heel-Lift- Bar under the heel of your boot that helps provide stability for hills
Get Involved: Groups & Racing
Snowshoeing can be done alone or with a group, and both ways of enjoying the sport have their benefits. Check out these snowshoeing tips if you are looking to connect with others, as there are multiple ways to do so.
Find a Snowshoe Partner or Group
Most states also have their snowshoe club, where like-minded individuals can snowshoe the surrounding areas. Also, social media groups such as Snowshoeing & Winter Hiking and MeetUp are great ways to meet others interested in the sport of snowshoeing.
There are snowshoe events around the nation that associations and companies organize. Some events will come with a guide, and others will not. However, every snow-laden state should have snowshoe events every year. To name a few sources, check directly on the websites of:
Competing as a Snowshoer
Snowshoe racing and competition are increasing within the sport – nationwide. The popularity of events on a state-by-state and national championships series is blossoming as more snowshoers gain a considerable amount of expertise.
Races are not just for the extreme athlete, but they can be for the beginner too! Race distances vary from fun runs and 3Ks up to ultra marathons. As a result, it can sometimes seem intimidating to get started.
However, the technique for snowshoe racing is very similar to trail running.
The best place to search for races and get involved is the United States Snowshoe Association, Snowshoe Canada, or the World Snowshoe Federation. Each organization hosts racing events in respective countries and all around the world.
Local areas will usually have their racing series, or manufacturers will hold their racing events throughout the winter months. Search for events at the Snowshoe Mag calendar or the American Trail Running Association.
Read More:
Run Rabbit, Run to Snowshoeing: Transition from Running to Snowshoe Racing
Readying for the Challenge of Snowshoe Racing
Training Tips for Snowshoe Racing: Triathlete Brad Zoller Hits The Snow
Don't Stress Out: Pre-Race Anxiety Tips
Hidden Secrets! Preparing for a Snowshoe Distance Race
Kids & Pets
Snowshoeing with kids and pets can be a blast! Just keep these snowshoeing tips in mind before embarking on an adventure.
Raising the Next Generation… on Snowshoes
Kids on Snowshoes: Snowshoeing Tips and Tricks That Work
Start 'em, Young! Snowshoes for Kids Two To Teens
Dog Days of Winter: Tips For Snowshoeing With Pets
Benefits & Tips For Snowshoeing With Pets
What are your snowshoeing tips as a first-timer and beginner? Please let us know in the comments below!
Are there any snowshoeing tips that we missed? Any other questions? Please feel free to contact us by responding in the comments or emailing us at susan@snowshoemag.com.
Susan Wowk most recently updated this article on September 23, 2021.