Snowshoeing is a fantastic and healthy way to enjoy the beauty of winter. Almost the only gear you need for this sport are snowshoes. While modern aluminum frame snowshoes require little to no maintenance, traditional wood, and rawhide snowshoes and wood and neoprene snowshoes require some maintenance to last for a few years. No one wants to buy anything for their feet and have it break down and be unusable after a couple of months – certainly not any type of shoe.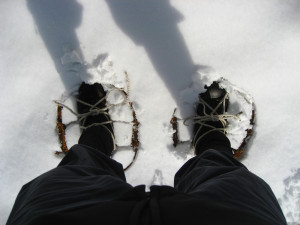 However, the effort is worth it since traditional shoes can be more silent when tracking deer or other animals that can be found in the wild, even in winter.
With wooden snowshoes you can be certain that the animals will not hear your approach and become spooked, providing you with a closer view to take a picture or a shot. Snowshoe enthusiasts have been known to maintain their old wooden snowshoes for over 15 years. With proper care, you too can make your snowshoes last for many World Series or Super Bowls, if you know what I mean. This is especially so if you own or collect antique snowshoes or enjoy owning and using handmade snowshoes for their traditional look and comfort.
Daily Inspections
During snowshoeing season, you need to inspect your snowshoes completely before you put them away each day or whenever you use them. Check the wooden frame for cracks and minor breaks and split them or tape them together using a cloth tape. By keeping your snowshoes inspected at the end of each day, you will be able to make the most of days when you can go snowshoeing.
This precaution will ensure that your snowshoe does not give way when you are in the middle of nowhere. Check the rawhide laces to make sure that they have not become abraded because of any splits in the frame. If needed, spend a day splinting the crack and varnishing over it and the abraded rawhide to strengthen it before setting off on another snowshoe trip.
You don't want to be doing this out in the wild!
Cool and Dry Storage
Each time you use the snowshoes, place them in a location that is cool and dry to reduce the effects of moisture on the wood and rawhide. For this you can hang them in a well-ventilated spot away from rodents and animals. Both rodents and your pet dog will love to chew the rawhide, so make sure to hang the snowshoe out of their reach. By providing plenty of space for drying your snowshoes between use in the winter, you will be able to prevent the wood from wrapping or from moisture leading to the formation of mold and mildew.
Annual Maintenance
Apart from daily care during the season, you need to perform an annual maintenance of the snowshoes at the end of the winter.
Wash the snowshoes gently with water to remove all dirt and debris. This is important especially if the snow you walked across had salt content. Though water and moisture are considered detrimental to snowshoes, washing them gently will help ensure that all dirt and salt are removed. These can be even more damaging to the snowshoes than plain water.
However, washing should be followed immediately by drying. When washing the snowshoes, do not apply detergents or soaps and do not leave the snowshoes soaking in water. A quick wash should be enough to rinse out the salt and dirt. The shoes should now be dried completely before the varnish can be applied.
Dry the shoes completely at room temperature in a well-ventilated spot. If possible wait for a low humidity day to accomplish this task or wait until the shoes are completely dry even if it takes a couple of days to do so.
Now use medium grit sand paper and gently remove all the flaked old varnish. The aim of this exercise is to remove the varnish from the wooden frame and rawhide or neoprene laces, not thin the frame or lace.
The marine spar varnish is available in both liquid and spray form, making it easy to apply.
Now apply three coats of varnish – marine spar is ideal – making sure to dry the varnish completely after each coat. The varnish should be applied both over and under the webbing and all over the raw hide or neoprene laces.
The coats of varnish will ensure that the snowshoe stays protected from mold and mildew and the wooden frame and rawhide laces are strong enough to protect your feet next fall.
Storage
Once the snowshoes have been completely dried after the third coat of varnish, they are ready to be stored. Again, as both moisture and heat can wrap the snowshoes, making them difficult to use, snowshoes should not be stored in attics or basements. Instead, select a cool and dry spot from where they can be hung. By hanging the snowshoes in a well-ventilated spot such as the back of your closet you will also be able to ensure that rodents cannot reach the rawhide.
Key Elements
The key elements to maintaining traditional wooden snowshoes is mending small cracks and splits at once, before they become larger or fray the raw hide, keeping the snowshoe clean, and keeping the snowshoes dry and away from high heat. Additionally, the rawhide in the snowshoes can be tempting to rodents, so the shoes should be stored away from the ground.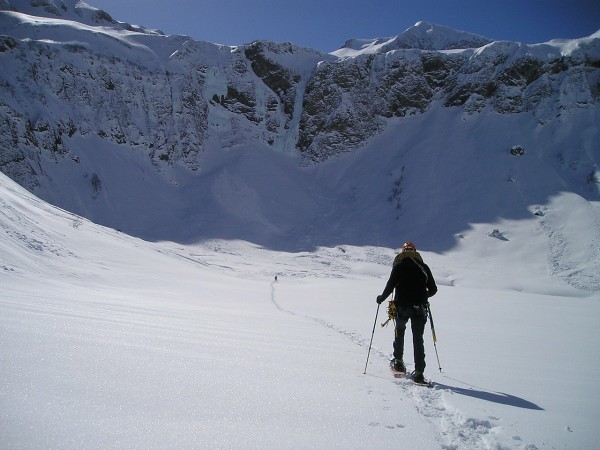 By taking care of your snowshoes at the end of the winter and making the effort to store them properly will mean that you can obtain years of pleasure from your traditional snowshoes.
Those who are unable to find the time for this basic maintenance should select modern aluminum frame snowshoes that require little to no maintenance at all.
Maintaining your snowshoes is not difficult nor does it require special skills. However, you do need to be aware of the twin evils of moisture and heat and keep your snowshoes away from them. This and the patience to wait for the snowshoes to be dry completely at each stage of the process will ensure that you do not have to go looking for new snowshoes each year.
Instead, bring out your antique or handmade traditional wooden snowshoes and enjoy the experience of spending time outdoors in the pristine snow. The silence of winter is enhanced when you use wooden snowshoes that are noise free and enables you to go closer to the deer and other wild animals that share the winter landscape with you.