Snowshoeing is known as the world's fastest-growing winter sport. Last season, despite dismal snow conditions, North America's ski resorts saw an increase in snowshoer participation. Families and couples choose to snowshoe rather than ski or snowboard; in some cases, resorts offered guided tours, moonlight treks, first-timer instruction, and more.
"Snowshoeing on and around Vermont's highest peak at Stowe Mountain Resort is both a spectacular and intimate outdoor experience," said Jeff Wise, marketing and communications director for the resort. "While snowshoeing is permitted everywhere on the mountain including the ski trails, there are close to 100 miles of designated snowshoeing trails throughout the resort's Green Mountain State forest network."
Most ski vacationers are likely to choose a variety of winter activities—beyond the gravity sports—to vary their total mountain experience. It's natural for most people to choose snowshoeing as a sport that influences fellowship while exploring the natural beauty of winter.
With snowshoeing, everyone is on the same skill level—not spread out and disengaged from others in the group. Plus, it's easy to learn and offers superior physical activity (compared to other winter sports).
So, how did we determine our top 10 choices?  No fancy polls or scientific studies. It came down to five important factors that are important to our readers:
Access to snowshoe trails and/or Nordic center
Snowshoe equipment rental availability
Selection of activities that involve snowshoeing (guided tours, moonlight treks, etc.)
Lodging options and quality of accommodations
Location to a mountain village and resort amenities
Without further ado, here are the top 10 North American ski resorts that are the most welcoming to snowshoers (with five honorable mentions):
In the heart of the Wasatch mountain range above Park City, Utah sits Canyons Resort, offering a variety of guided snowshoe tour options that last from an hour and a half, to longer "black diamond" three-hour tours, and ranging in price from $35 to $85 per person. Private tours are also available for up to seven snowshoers for $350. You can set your own pace and choose your own path, perhaps to 'shoe up to the Lookout Cabin for a gourmet lunch experience topped off with spectacular views.
However, "off-piste" snowshoeing without a guide, is not allowed "…for many reasons, including guest safety," Resort Activities Director Steve Luker explained.
9. Grouse Mountain, British Columbia, Canada
On a clear day the view from Grouse Mountain will leave you breathless. It is undeniably the most accessible outdoor playground Vancouver has to offer and definitely lives up to its alternate name, the PEAK of Vancouver. Due to its close proximity to downtown and the North Shore, Grouse Mountain appeals to locals and tourists alike.
The eight-minute Skyride tram is an experience in itself. Put 100 outdoorsy types either pre- or post-adventure crammed inside of a swift moving mode of mountain transportation—the anticipation and energy is very exciting. The Skyride climbs high above the tree tops and unloads passengers into an epic winter wonderland—and then, the Munday Alpine Snowpark awaits.
8. Sugarloaf Mountain Resort, Maine, USA
There's plenty to look forward to at this full mountain resort, according to Ethan Austin, Communications Manager, and that means around 90k of trails through the woods, he said. "No fear of running into cross-country skiers as it's normally pretty quiet," with trails of varying lengths and skill levels, including a 14k Outer Edge loop that takes off the from the Outdoor Center Lodge.
The Outdoor Center, located away from the main mountain resort, offers guided "Snowshoe Safaris" and the popular lunchtime "Shoe 'n Stew" tours, Austin noted.
7. Mt. Bachelor Ski Resort, Oregon, USA
The word "Wanderlust" stems from the merging of two German words—wander (to hike) and lust (desire). Substitute hiking for snowshoeing and then you can connect to the resort's choice of using the term Wanderlust as it relates to the world of snowshoeing. It's obvious why Mt. Bachelor chose Wanderlust as the title for the majority of its snowshoe tours: "Discover what's around the Bend, high amidst the Oregon Cascades!"
If you've ever spent any time in Oregon, you would have to agree that the perceived beauty of the state has something to do with the great outdoors—through rose colored glasses. Everything just looks prettier in Oregon.
6. Sun Valley Resort, Idaho, USA
Welcome to Sun Valley Resort—the American Shangri-La. A permanently happy mountain town paradise isolated from the outside world in Ketchum, Idaho. Easily accessible from any major city, you can even catch a direct flight from Seattle or L.A. straight into Sun Valley, the American dreamland.
Mountain man or woman—it would be doing yourself an injustice not having Sun Valley up there on your "places I MUST snowshoe this year" list. After all, the resort's backyard is an iconic Nordic playground that seems to attract the who's who of Hollywood royalty, not to mention snow culture ski god and filmmaker Warren Miller. You could be blazing through a backcountry trail when you casually pass a celebrity starlet geared up, also enjoying the famed Sun Valley great outdoors.
5. Northstar California Resort, USA
Northstar California Resort is one of seven of Vail Resorts' ski destinations. In addition, it's celebrating its 40th year, having begun operations in 1972. Northstar offers many opportunities for winter outdoor enthusiasts, including 35k of trails, shared with cross-country skiers, for snowshoeing in and around the mountain.
Trail passes can be purchased at the Tickets & Season Pass office in the Village at Northstar, and then snowshoers take the gondola or Village Express lift up to mid-mountain to access the cross-country, telemark, and snowshoe center and trails.
4. Jackson Hole Mountain Resort, Wyoming, USA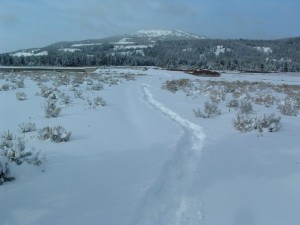 Ranked fourth for snowshoers, Jackson Hole Mountain Resort offers unparalleled access to protected space for snowshoeing, according to Anna Cole of Jackson Hole Resorts.
Cole said, "We have concessionaires who have been licensed by the U.S. Forest Service to do guided cross-country and snowshoe tours. What makes us standout from other resorts is our access to the Grand Teton National Park." Half and full day tours both include transportation, snowshoe or cross-country ski instruction, and lunch is included for a full-day tour. Phelps Lake adjacent to the Laurence S. Rockefeller Preserve are two beautiful destinations that offer several options for the intermediate to expert snowshoer.
3. Stowe Mountain Resort, Vermont, USA
With 100 miles of trails accessible in the Green Mountain State Forest network, and snowshoeing anywhere in and around the village as well as the mountain on any slopes, Stowe snowshoeing could not be more attractive.
Guided snowshoe tours with "spectacular views" of Mt. Mansfield from Stowe Mountain Lodge on their golf course are good starter courses for first-timers, before graduating to the many skilled opportunities in and around the mountain terrain. Also, "you can snowshoe to and from the town (Main Street) of Stowe on the main Rec-Path, five miles each way," Jeff Wise, Stowe Mountain marketing and communications director noted. And, enthusiasts can rent snowshoes anywhere in town.
2. Beaver Creek Resort, Colorado, USA
Snow-capped Rocky Mountains and sunshine 300 days of the year—the state of Colorado forever remains an outdoor sports adventurer's dream. Beaver Creek, Colorado—"Not exactly roughing it." How many American resorts can organically create a fusion of European luxury resort influences combined with upscale classic American style, ambiance and attitude… and own it? Not many, which is why we've ranked Beaver Creek No. 2 on your snowshoe destination bucket list. About 100 miles from Denver, transportation options are endless and easily accessible.
Beaver Creek's McCoy Park offers snowshoers 32k of crème de la crème rustic and groomed trails, incredible views from three different mountain ranges, and is one of North America's only lift-accessed trail systems.
1. Mt. Seymour, British Columbia, Canada
Mt. Seymour is a magical wonderland nestled in the heart of the North Shore, only minutes from downtown Vancouver where snowshoers, boarders, skiers and outdoor enthusiasts share mountain life harmoniously.
Planning the ultimate snow "playcation" should be as much fun as sinking your snowshoes into unchartered territory. If planning seasonal snow fun has grown into a family affair for the entire clan—Mt. Seymour should now live at the very top of your go-to-snow list. Any destination where you can get your child from school to snow in less than 30 minutes tops the charts for ultimate outdoor family play, which could be why we've ranked Mt. Seymour Resort No. 1 in North America for snowshoeing.
Honorable mentions:
1. Alyeska Resort, Alaska, USA
What to know – Snowshoe through Moose Meadows, trek the surrounding trails at the base of Mt. Alyeska, and explore the Historic Iditarod Trail while snowshoeing along Winner Creek.
2. Lake Louise, Alberta, Canada
What to know – If you have the chance, tour the Ptarmigan Ridge by snowshoe and experience the sights of Lake Louise and explore some of the most breathtaking scenic vantage points in the Canadian Rockies.
3. Crystal Mountain, Washington, USA
What to know – Take a 2 1/2-hour tour by taking a scenic ride on the Mt. Rainier Gondola to the summit of Crystal Mountain, take in the beauty of the Cascade mountain range, strap on some snowshoes and then head north along the ridgeline.
4. Telluride Ski Resort, Colorado, USA
What to know – Your guide, an expert naturalist, will accompany you to the Top A Ten Lift, where you will gather at a warming Tee Pee and strap on snowshoes. For two to three hours, you will explore both on and off piste, as you search for signs of wildlife.
5. Smugglers' Notch, Vermont, USA
What to know – Both group and private lessons are available in beginner to advanced snowshoeing. You can also sign-up for special tours and experience a memorable winter excursion. Best of all, enjoy 24k of dedicated snowshoe trails to explore off-the-beaten-path areas of Vermont's backcountry.