It's always a little tricky picking out a daypack for snowshoeing. Unfortunately, there aren't many backpacks that cater to this niche, especially when it comes to snowshoe storage. However, Mystery Ranch's Scree 32L backpack is a different story. After a dozen snowshoe outings, the Scree 32L is now our go-to daypack for longer day hikes. Our review of the Mystery Ranch Scree 32L shows the qualities that make this pack great for snowshoers.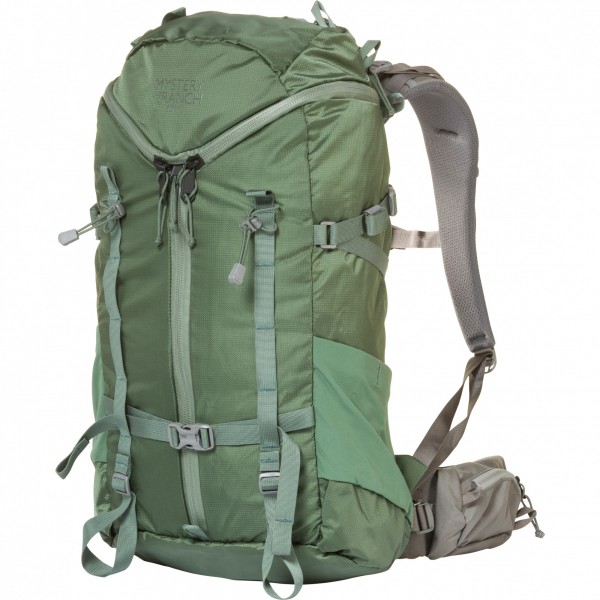 Some of the links in this article may contain affiliate links. When you purchase using these links, part of the proceeds go to Snowshoe Mag.  Additionally, as an Amazon Associate, we earn from qualifying purchases. Please see our disclosure for more details.
Fit & Comfort
In our experience, the Scree 32L offers a comfortable fit and support in the chest, shoulders, and waist.
The shoulder pads are fitted with densified urethane foam, making them very comfortable to wear. After full-day hikes (typically between 4-12 hours), my shoulders were never sore compared to other packs.
A waist belt and chest strap also provide natural support for carrying the pack. As part of the Scree's versatility, the waist belt is removable if you prefer not to use it. The Scree 32 also offers torso adjustment through the Futura Yoke, so you can adjust the torso to fit your body. Luckily, my wife and I have similar torso sizes, so there wasn't much adjustment needed, but it's a handy feature nonetheless.
The Scree 32L is an internal framed pack characterized by a frame (in the Scree's case, an HDPE frame) that sits against the back and has a large interior pocket for storage. Because of their weight distribution, internal frame backpacks are excellent for hikes that require a lot of back and forth movement (scrambling or steep climbs).
Mystery Ranch's Scree 32L is built with ventilated mesh in the back to prevent moisture build-up. On our snowshoe hikes, I didn't experience sweating because it was cool enough to where I didn't overheat. However, my back sweat a bit while summer hiking because of the internal frame. This issue isn't a downside of the Scree, just a fact of all internal frame packs since I naturally sweat quite a bit.
With all that said, I would recommend trying out the pack before buying it. It's imperative to ensure the fit and comfort are suitable for you and your body.
Read More: Choosing A Backpack: Features To Consider For Backcountry Snowshoeing
Snowshoe Storage
By definition, a snowshoeing pack needs to be able to carry snowshoes. However, snow conditions can change on the trail, especially in the spring, and there may be occasions when the trail doesn't require snowshoes. In these instances, it is essential to have a pack that allows for snowshoe storage, either by including straps, attachment points, or a pocket.
The Scree 32L has a daisy chain with adjustable loops and two small elastic bands for attachment (which we used to secure the snowshoe frame). Additionally, a full-sized clip strap conveniently holds most of the snowshoe in place. We tested our snowshoe storage out on multiple snowshoe journeys and have found it to work quite well. The snowshoes stay secure as we move and are easy to remove and reattach with gloves.
My only concern is that the elastic bands may wear out after a few seasons of use.  However, Mystery Ranch offers an excellent warranty and repair program if that happens.  According to their website, they "offer repair and replacement for issues with materials or craftsmanship." Additionally, they can repair damage due to normal wear and tear for a reasonable charge. Or, if you prefer, it would be easy to attach accessory straps (like these from Sea to Summit) as a replacement for the elastic bands.
Read More: How To Attach Snowshoes to a Pack (3 Methods)
Size
For a day snowshoeing pack, the Scree 32L is about the right size (at least for me). A typical day pack (16L) is too small for the layers I want to carry, especially in winter, and a standard overnight bag (40-50L) is too large.
For my usual snowshoeing journey, I want to plan for the coldest temperatures and snow. Typically I carry the following items at a minimum:
Then, if planning for a more extended adventure (anything over an hour or two), I might carry binoculars or journey entertainment like an SLR Camera or a mountain beer.
32L is the sweet spot for day-trip snowshoe journeys with all of these items. It can fit all of the items listed here and have room for the little extras.
Read More: Snowshoeing Dress Code: What Clothing To Wear
Pockets
There tend to be two schools of thought when it comes to pockets. Some people like them to organize their things, and some do not, as pockets can add weight. I'm firmly on the side of having pockets because I like to be organized.  For example, I hate having to pull everything out of my pack to find the teabag at the bottom.
Even with the internal frame, Mystery Ranch's Scree 32L has many pockets. Two outer pockets can easily fit my liter water bottle and most 50oz water bottles with ease. If you prefer a bladder, there is an inner pocket to accommodate a hydration reservoir. With different pocket options for water, the pack accommodates your personal preference for bladders or water bottles.
Along the waist belt, there are also two waist pockets. I liked using the waist pockets for storing my cell phone or anything I wanted to keep close at hand during my hikes, like a GPS or hand sanitizer.
There are also two pockets in the lid (where I can store my tea) and two internal side pockets (not counting the hydration pocket). To me, that's about the right amount for my pack. The two pockets in the lid are particularly useful for easily accessing gear. Though, as a note, if you store too much in the lid, the pack can become top-heavy, which has an impact on the weight distribution (at least for me).
Moreover, the three zipper design for the main pocket is incredibly helpful for snowshoeing adventures. Even with the snowshoes attached to the pack, you can use the top zippers to quickly access items in the backpack's main compartment. For example, I typically like to carry my extra water bottle or snacks at the bottom of my pack under my layers. So being able to easily access them in the middle of my snowshoeing adventure is essential. The Scree 32L's third zipper makes that a little bit easier.
 Read More: What To Bring When Snowshoeing: Top Accessories for the Day Hiker
Weight & Durability
After considering all the features, we have to discuss one of the most important specs about this pack: the weight. The Scree 32L, including the waistbelt, weighs 2.9 lbs (1.3 kg). If you remove the waistbelt, which is 6 oz or 0.375 lbs, the pack's total weight is approx 2.5 lbs (1.1 kg).
That weight is about the middle of the road for a pack of this size. Competitor packs come in about 1-0.5 lbs lighter, with fewer features. Or, you can buy a less expensive bag with more features, but it will be heavier. It's a toss-up.
But to lose weight on this pack, it would lose durability or be just a big pocket. Personally, because of this backpack's versatility, I'm okay with the one-pound trade-off compared to lighter packs.
Read More: Backpack Reviews
Fabric
Speaking of weight and durability, the fabric the Scree 32L uses is 210D Robic nylon. Again, when it comes to materials, I'm going to keep it simple. The 210D Robic Nylon is probably one of the better fabrics to use for a pack without getting into exotic materials. It is lightweight, doesn't let tears spread, and is water-resistant. The Scree is also reinforced with a double-layered bottom to provide increased durability underneath the pack.
Plus, this fabric has excellent thermal properties. It will hold up down to -20F (-30C) indefinitely or down to -60F (-50C) for short periods (like a 4-5 hour hike).
Overall
Overall, the Scree 32L is an excellent snowshoeing day pack. The fit is comfortable and adjustable, and incredibly easy to use. We can store our snowshoes quickly and still get the gear we need in the pack.  As I mentioned, this is our go-to snowshoeing daypack now, even though it is slightly heavier than other packs, and we may need to replace the elastic straps at some point.
If you're looking for a reliable and versatile snowshoeing daypack, the Scree 32L by Mystery Ranch will not disappoint. For more info on the Scree's features, check out the video below. In addition, you can purchase the Scree 32L at Mystery Ranch, Backcountry, or REI.
To complement your days off-trail, Mystery Ranch also offers everyday and travel backs, such as the Rip Ruck series and new Market pack.
Would you use the Mystery Ranch Scree 32L for your snowshoeing adventures? Let us know in the comments below!
This article was first published on August 19, 2020, and most recently updated on June 30, 2022. Mystery Ranch provided the Scree 32L backpack for testing. All views and experiences shared in the article are our own. 
Read Next: Tips & Tricks For Cold Weather Backpacking & Winter Camping