A proper backpack can be a game-changer for your outdoor and snowshoe outings. There are a few features to consider when choosing a backpack. However, two prominent features for us are 1) the space to store your layers and extra winter gear and 2) a way to store your snowshoes on your pack when they're not in use.
So, we've rounded up a few of our favorite backpacks we've tested over the years. These packs have the two features listed above and, for us, are useful and reliable options for snowshoeing. We hope they can provide insight as you choose your next backpack for your adventures!
Some of the links in this article may contain affiliate links. When you purchase using these links, part of the proceeds go to Snowshoe Mag. Additionally, as Amazon Associates, we earn from qualifying purchases. Please see our disclosure for more details.
CamelBak Mil Tac HAWG – For Ultimate Durability
The Mil Tac HAWG, a military tactical backpack, provides incredible durability for your snowshoe adventures. Made of 500- denier Cordura, this 25L daypack has a dedicated hydration pocket with a Mil-Spec Crux reservoir that provides 25% more water.
It also includes two full-size storage pockets and a simple half-length pocket accessed from the front of the pack. For even more storage, use the extensive Mountain Molle webbing on the front to hook on pouches and other attachments for your adventures.
In addition to the tough exterior, our reviewer liked the design of the hydration tubing, the pack's dimensions, and the fit.
Read More: Gear Review: CamelBak Mil Tac HAWG
Mountain Hardwear JMT 25L – For All-Around Use
The JMT 25L is a simple, functional backpack equipped to handle snowshoe outings near home, excursions in the backcountry, or everyday travel.
In our opinion, this backpack has just enough features to be useful but not overwhelming. The main storage compartment includes one internal pocket (great for a laptop if traveling), and the pack has one zippered pocket in the lid. There are two pole attachment loops for gear and two smaller daisy chains for bungees or snowshoe straps. To compress the pack, you can use side compression straps if needed.
You'll also find two mesh side pockets, grab handles in the front and back for alternative carry, and a simple chest and hipbelt for security.
Read More: Mountain Hardwear Gear Reviews
Osprey Mutant 38 – For the Mountaineer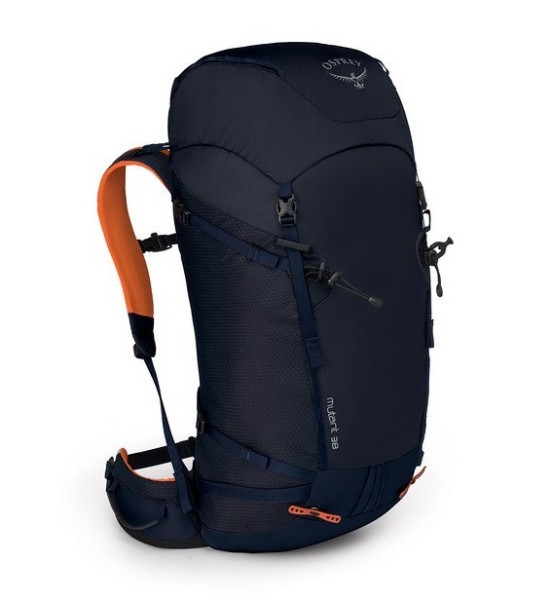 The Mutant 38 is a sleek, reliable pack with many technical features, including removable elements and reversible systems. This pack also offers a sleek design with a three-point haul system that helps for hauling the bag up steep slopes or rock walls.  Thus, it's an excellent option for snowshoers who prefer technical terrain or mountaineering.
Some of its stand-out features include a reversible hipbelt and a snow-shedding back panel that helps with ventilation. Moreover, there are plenty of external options for storage – dual loops with bungee tie-offs, front daisy chain, rope attachment, helmet carry, ski carry, and gear loops/ice gear attachments on the hipbelt.  For shedding weight, you can remove the top lid on the pack or the framesheet /dual stays on the inside. As a bonus, the Mutant 38 also includes an internal sleeve for a hydration reservoir if needed.
As our reviewer mentioned, this pack is simple and versatile enough to be used as a quick daypack or multi-day excursion.
Read More: Gear Review: Osprey Mutant 38 Backpack
Deuter Freerider Pro 28 SL – For Smaller Torsos
The Freerider Pro 28 SL offers a smaller back length (38-48 cm) with all the technical features.  Deuter is all about the mountains; this backpack speaks to that passion.
Designed as a winter-specific technical backpack, you'll find a fit that balances the load and many attachment options. For your snowshoes, you can carry them via the side compression straps or across the front of the backpack. If you're headed deep into the backcountry and avalanche terrain, you'll have an ice ax attachment, a holder for your goggles, and a safety compartment to quickly access needed gear. The Freerider Pro 28 SL is also compatible with a 3L drinking system to stay hydrated.
The fit of this pack particularly struck our reviewer (a male). In addition to the pack's smaller size, the load adjustment strap, adjustable sternum belt,  and comfortable shoulder straps are all incredibly handy features. Thus, this pack is not only ideal for most women but men with shorter torsos as well.
Read More: Gear Review: Deuter Freerider Pro 28 SL Backpack
Mystery Ranch Scree 32L – For Quick Gear Access
The Scree 32L is a comfortable internal framed backpack, ideal for full-day or multi-day snowshoe trips, depending on how much gear you're bringing with you.
This backpack features a unique three-zipper design for easy access to the gear inside the internal storage compartment. This design is convenient if you quickly need to reach an item near the bottom of the pack. You can still access your gear via the top lid if you need to attach your snowshoes to the pack.
Speaking of storage, the Scree 32L has two side pockets and three pockets in the main storage area. There are also two waist pockets for storing smaller items and two external pockets at the top of the pack. Finally, on the front side of the backpack are a daisy chain and two small elastic attachment bands, which you can use to store your snowshoes.
In addition to these features, our reviewer also liked the comfortable fit of this pack via the foam shoulder pads, chest strap, and removable waist belt.
Read More: Mystery Ranch Scree 32L Backpack Review: Versatile Daypack
Gregory Miwok 18 – For Every Size Adventurer
The Miwok 18 is part of a longtime series of sturdy and versatile backpacks by Gregory Mountain Products and is an excellent option for your snowshoes.
One of the key features, this pack comes with BioSync suspension technology that moves with the body and decreases the bounce of the backpack while you hike or snowshoe.  As our reviewer mentioned, this is one feature that speaks of Gregory's innovations and improvements to their internal frame packs.
In addition, this backpack comes with five external pockets and a pole attachment loop. There is also a hydration-specific pouch. Our reviewer particularly liked this one feature about this pack as he noted his reservoir didn't freeze in sub-zero temperatures.
This pack is truly built for snowshoers of all sizes and activity levels. The torso length is adjustable, as are the sternum and hipbelt straps. Gregory also offers a plus-size model of this backpack to accommodate larger body types, including extended-length shoulder straps, hip belts, and additional fit revisions.
Read More: Gregory Backpack Review: Ritter of Yesterday, Miwok 18 of Today
Sierra Designs Sonora Pass – For the Pocket Lover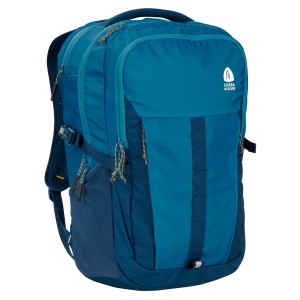 The Sonora Pass daypack offers plenty of storage (in fact, the most pockets of the backpacks on this list) to make sure everything is in place. The pack has a 27L capacity with only a 59.95 MSRP, but you wouldn't know it based on the backpack's layout.
In the Sonora Pass, you'll find two large zippered main compartments, one with a dedicated sleeve for gear or a laptop (if out and about). Then, you have a top pocket with a fleece-like lining to protect your breakables. Also, a front pocket includes two zippered compartments and internal storage for smaller items or writing utensils. If out at night, this pack also has 360-degree reflective features for safety.
In addition, you can store your water bottles in the two pockets on the sides or use the hydration pass-through for a reservoir. Also, attach snowshoes and additional items to the backpack for your hike using the front daisy chain and a strap or carabiner.
One feature in particular that stands out is the load distribution of this pack. Even with heavy gear, the Sonora Pass does an impressive job of distributing the load. Weight distribution is crucial for the Sonora Pass since it doesn't have a hipbelt.
Read More: Get Ready with the Newest Gear from Outdoor Retailer Summer 2021
Osprey Aura AG 65 – For the Multi-Day Hiker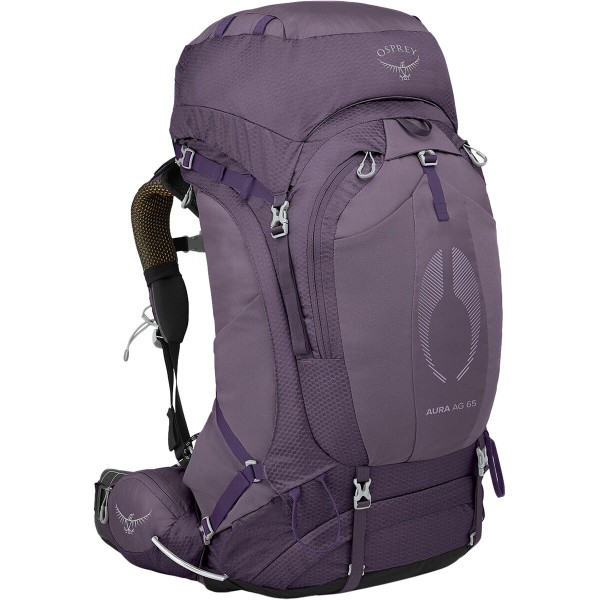 The Aura AG 65 is a lightweight, breathable, and easily accessible pack. It is specifically designed for women and is an excellent option for those who enjoy multi-day outings.
The pack has an adjustable torso size, shoulder adjustment, and hipbelt adjustment to ensure it fits your body. Also, the backpack includes dual compression straps on the top and bottom for gear so that you can adjust accordingly depending on your load size. These compression straps can also be used to store your snowshoes as a side carry.
Regarding storage, you have a large top pocket for easy gear access and tall pockets on either side for water bottles or snacks. Moreover, this pack has small pockets in the hipbelt for essential items (like a phone or ID), an internal sleeve for a hydration reservoir, and a bottom sleeping bag compartment. You can also access the main storage area from zip access on the sides of the pack. For our reviewer, this access was one of the favorite features.
Read More: Osprey Aura AG 65 Backpack Review: Carry Your Dreams
Have you used any of these backpacks for snowshoeing or for storing your snowshoes? Which pack do you prefer? Please share your thoughts with us in the comments below.
Read Next: What To Bring When Snowshoeing: Top Accessories for the Day Hiker