With fall just around the corner, we continue to gear up for the snowshoeing season! Twice a year, Outdoor Retailer, the world's leading business-to-business outdoor sports show, provides an opportunity to connect with the community, learn the trends, and discover new brands and new gear on the market. After attending their summer show in Denver, CO, we can't wait for the latest hiking and camping essentials to be released!
Without further ado, here is a sneak peek at the outdoor gear and outdoor brands that we're particularly excited to add to our packs this fall and winter!
Please note: Snowshoe Mag independently selected all products featured.
Some of the links in this article may contain affiliate links. When you make a purchase using these links, part of the proceeds go to Snowshoe Mag. Additionally, as an Amazon Associate, we earn from qualifying purchases. Please see our disclosure for more details.
---
LOWA
For almost 100 years, LOWA has been crafting premium quality outdoor boots and shoes. Today, they produce three million pairs of shoes a year and are the lead manufacturer in several European countries, including Germany, Switzerland, and Austria. While at Outdoor Retailer, Snowshoe Magazine learned of some of LOWA's newest releases and innovations.
Taurus Pro GTX Mid
One of their newest hiking boots, the Taurus Pro GTX Mid, is an excellent lightweight boot for hiking, adventuring, and of course, snowshoeing. Moreover, this boot is versatile and great for beginners in the outdoor space.
It provides traction via 5mm deep lugs and has a Goretex lining so your feet will stay dry. In addition, this boot has moderately stiff construction, which offers support and allows the foot to retain its natural flex. Furthermore, it's durable with LOWA's DuraPU frame technology.
Even though these boots are built to last, you can extend the life of your boot even further with LOWA's repair and resole service, performed by their master cobblers at their factory in Germany.
Read More: Snowshoeing Footwear: Tips for Choosing Your Boot
---
Ignik
Founded in 2019, Ignik began as the result of the founders witnessing the horrid impacts of climate change on the wilderness, landscape, and people of the Arctic. Now, they provide sustainable, high-quality heating solutions that enable more individuals to get outside and explore the outdoors.
Fire Can
Ignik's new FireCan, with a release in Oct 2021, is a propane-powered firepit that offers a safer eco-friendly campfire experience (even in winter). Wildfires and burn bans have become commonplace, and the FireCan is a portable, easy-to-use solution that replaces wood campfires.
The container for the FireCan is durable, made out of heavy-duty steel with a high-temperature powder coating. It also has mesh sides for larger heat output and foldable legs that provide a raised surface. Furthermore, the included hose and adapter pair perfectly with Ignik's Gas Growler or any standard size 5 or 20 lb propane tank.
Read More: Tips and Tricks for Cold-Weather Backpacking and Winter Camping
---
Klean Kanteen
A family and employee-owned certified B corp company, Klean Kanteen is all about the people, the planet, and their product. Their bottles, canteens, and food containers are solutions for social change to replace single-use plastics via versatile construction, a durable finish, and safe, environmentally friendly materials.
Narrow Collection
Released in spring 2021, the Narrow collection is a new lightweight, slim design for our favorite Klean Kanteen bottles. The narrow version of these bottles allows for easy storage in cup holders or pack side pockets. In addition, the Narrow collection allows for easier grip and handling for those with smaller hands (and for kids)!
You can find this streamlined design in select sizes of the Single Wall Classic, Vacuum Insulated Classic, and Kid Kanteen bottles. For snowshoeing, the 12 oz or 20 oz narrow Vacuum Insulated Classic bottle can keep your beverage hot for up to 16 hours!
Read More: Nutrition for Winter Activities: A Beginner's Guide
---
Gobi Heat
This female-owned, U.S based company is a leader in the heated apparel industry. With their diverse range of styles and heating capabilities, anyone can fit their match and grow to love the cold weather!
Terrain Heated Camping Chair
Gobi Heat's newest addition, the Heated Camping Chair, released in spring 2021, uses conductive thread heating technology to increase the coziness of your outdoor adventures.
This camping chair has two heat panels (one in the seat and one in the lower back) adjusted via a three heat-setting LED controller. The low setting heats up to 113°F / 45°C, whereas the high reaches a whopping 131°F / 55°C.
Powered by a 7.4V 6500 lithium polymer battery, the heat can last up to 9 hrs on low, 6 hrs on med, and 4.5 hrs on high.  The Terrain Heated Camping Chair is also reasonably portable, weighing about 11 lbs (5 kg), and can accommodate up to 300 lbs / 136 kg.
Read More: Feel the Heat: A Review of Gobi Heat's Ridge Women's Heated Hoodie
---
Morakniv
A company based in Sweden, who recently celebrated its 130th anniversary, Morakniv is guided by ecological, economic, and social sustainability. They are continually evolving to make the best quality knives possible while working to reduce their climate impact. As Morakniv mentions, making extremely good knives is a complicated process!
Sheath Survival Kit
Morakniv's Survival Kit is an excellent addition to your emergency preparedness kit and upgrades your current equipment. Ideal for the backcountry hiker or hunter, the kit attaches to a Garberg or Kansbol polymer knife sheath. It includes a fire starter (and reflective paracord) and a diamond sharpener for resharpening your blade.
Read More: Why It's Smart to Carry a Knife When Snowshoeing
---
Sierra Designs
California-based Sierra Designs emphasizes its social responsibility and sustainability model in all of its outdoor gear and apparel. Their mission centers on empowering people to get outdoors. In fact, as part of an initiative to increase access and participation, they partner with many outdoor non-profits. After all, everyone deserves access to suitable gear for outdoor adventures and exploration.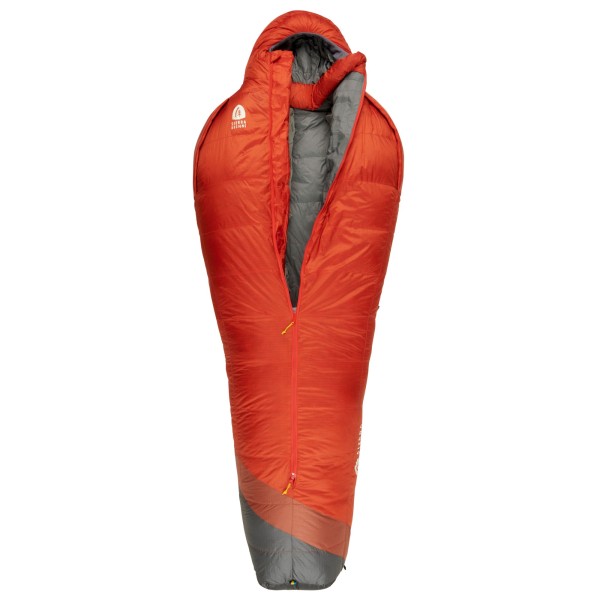 Mobile Mummy 15°
In October 2021, Sierra Designs will release the Mobile Mummy 15°, a new take on the original Mobile Mummy. Composed of 20-denier nylon ripstop and 800 Fill Power Dri-Down, the Mobile Mummy 15° is comprised of 55% recycled materials. This sleeper is made for wearable comfort with zipperless arm ports. But, no need to worry about cold air as the hood, zipper and arm ports have reinforced draft tubes. The Mobile Mummy 15° is available in both a Men's and Women's model, with a weight of about 2 lbs (0.9 kg).
Read More: The Snowshoe & Tent Experience
---
Shwood
An original wooden sunglass manufacturer, Shwood, was founded in 2009 and is known for the uniqueness of each frame and material. Moreover, the company is constantly experimenting and pioneering new natural materials into their eyewear, including stabilized seashells and oxidized metals. No matter the materials, though, you can bet that it is the world's most premium component.
ACTV Performance Sunglasses
Shwood's ACTV collection offers the performance sunglass features needed while hiking or snowshoeing, combined with a classic sunglass style. These sunglasses are built for the outdoors. They include a 7-layer reflective coating with 100% UVA/UVB protection and polarized optics with smudge-resistant coating. In addition to being anti-fog, the ACTV collection has face-locking adjustable nose pads and rubberized adjustable temple tips to prevent any slippage.
CAMP
Recently launched, CAMP, created by Shwood, offers a sustainable, quality pair of sunglasses at an affordable price. The CAMP collection is built for the outdoor enthusiast with polarized and impact-resistant lenses that offer 100% protection from UVA and UVB rays. Furthermore, the collection offers a secure fit via stainless steel spring hinges, and comfort and durability via the adjustable temple tips. When the sun goes down, you can also use the sleeping bag travel pouch for storage.
---
UCO Gear
Founded in 1971 in Washington, UCO is all about utility, comfort, and originality. Known for their candle lanterns and fire-starting tools, UCO creates a wide array of camping accessories, including those required for tasty meals in the outdoors. It is, after all, at mealtime and around the campfire where the community can happen.
Eco 5 Piece Mess Kit
An expansion on their mess kit collection, the Eco 5 Piece Mess Kit is made from recycled polypropylene and is FDA food-safe. The mess kit is an excellent companion for a backcountry camping outing and includes all the essentials: a bowl, a lid that doubles as a plate, a two-piece switch spork, and a handy shock cord tether.
Read More: The Winter Campfire: A Primer for Snowshoers and Campers
Which new outdoor gear or outdoor brand are you most looking forward to adding to your pack this fall or winter? Please share your thoughts with us in the comments below.
Read Next: Snowshoeing Gear Favorites