The boot you choose for snowshoeing is almost as important as the snowshoe itself. The three critical components for your snowshoeing boot are that they keep your feet warm, dry, and comfortable.
In addition to these three components, other features are helpful, though not all are essential. For example, one boot feature that is not as critical for snowshoeing is traction or grip. Since your snowshoe will provide traction via crampons, the intensity of the boot's grip is not as critical.
Though, if in ice or slush conditions, you won't need your snowshoes. So, I recommend wearing a traction device (read our Yaktrax review) over your boots in these conditions to provide additional traction and ease of mind.
To help with your boot selection, we've rounded up a few of our favorite boots. The list below is not all-encompassing. However, it's based on snowshoe boots we've tested over the years and a selection we enjoy.
For the mid-height hiking boots on this list, we recommend using gaiters to prevent any snow from getting into your shoes, especially if in deep snow. For frigid days, you can couple your boots with an extra layer of socks to keep your feet toasty.
Some of the links in this article may contain affiliate links. When you purchase using these links, part of the proceeds go to Snowshoe Mag. Additionally, as Amazon Associates, we earn from qualifying purchases. Please see our disclosure for more details.
Muck Boot Arctic Sport and Arctic Adventure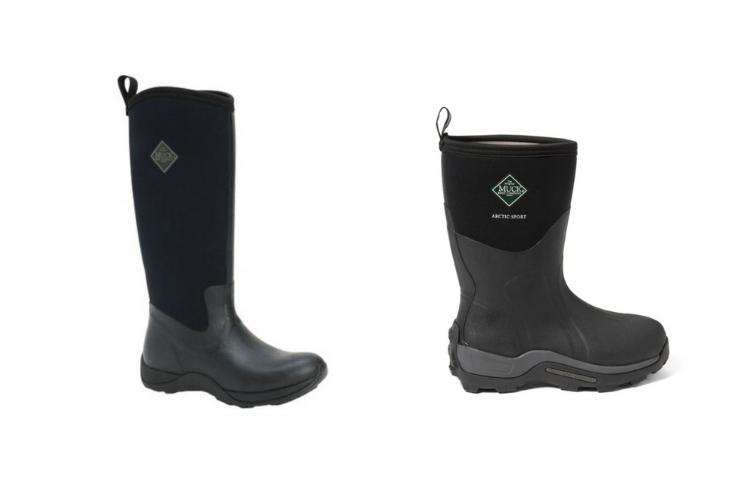 The Men's Arctic Sport and Women's Arctic Adventure are incredibly warm, functional boots for winter adventures.
Both boots feature fleece lining that is both warm and durable, and the Arctic Sport also includes 2mm of thermal foam under the footbed for added warmth. The Arctic Adventure is rated down to -20F (-30C), while the Sport is rated to -40F (-40C).
Made of rubber and neoprene, these boots are 100% waterproof. In addition, they are flexible to the shape of your foot and absorb impact, helping to prevent blisters. Just remember to look at Muck's boot and shoe size guide since these boots can run a little big.
For extra comfort and support, both boots also feature an EVA foam midsole. The Arctic Adventure is available in 16," and the Arctic Sport is 13″.
Read More: Gear Review: Women's Arctic Adventure Muck Boot
Shop the Arctic Sport at REIShop the Arctic Adventure at Amazon
Merrell Moab 3 Mid Hiking Boot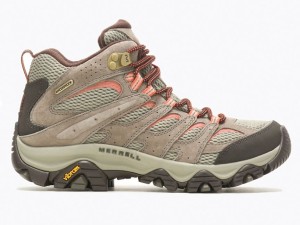 The Moab by Merrell is a classic boot with incredibly versatile features. The original Moab came out in 2007 and has been updated throughout the years, with the Moab 3 recently introduced.
One update to the Moab has focused on improved cushion and support. As a result, this shoe provides medium support, multiple shock absorption features, and rigidity on rugged terrain. The Moab 3 boots are truly comfy and light on the joints.
The Moab 3 also includes a waterproof membrane to seal out water and mesh lining for breathability. Like many other boots on this list, it has a textured heel for your snowshoe binding.
Read More: Gaiters for Snowshoeing: A Buyer's Guide
Shop Men's at REI Shop Women's at REI
Sorel Women's Joan of Arctic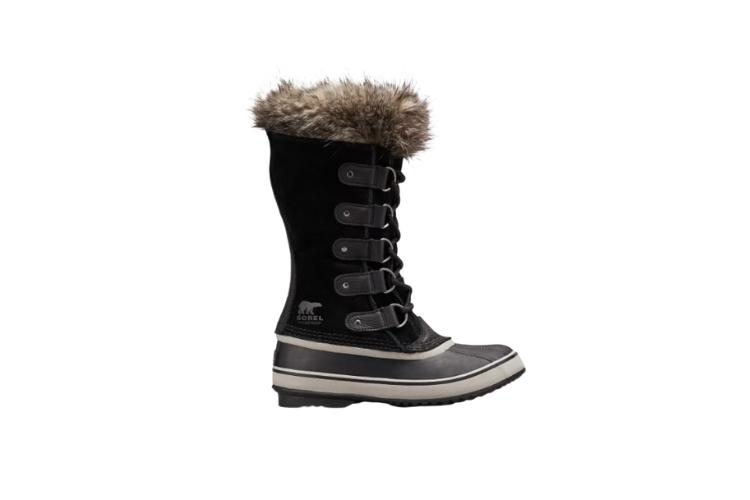 The Joan of Arctic is one boot that put Sorel on the map and continues to be a go-to for winter use. Not only are they fashionable, but they keep your foot warm, dry and comfy.
Sorel built this boot for cold weather. They're waterproof and include 6 mm of washable recycled inner boot insulation and a frost-felt plug. Based on the insulation, they recommend this boot for temperatures down to -25F (-3C). If you need extra warmth, this boot is large enough to accommodate insoles, foot warmers, or heavy socks.
There are also over a dozen styles of the Joan of Arctic to choose from, so you can choose the one best for you.
Read More: The Sorel Women's Boot Review: Tofino vs. Joan of Arctic
Lowa Taurus GTX Mid Boot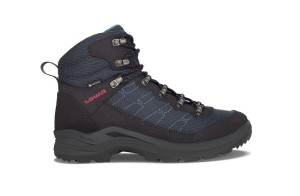 Though it's a light hiker, the Taurus GTX has all the helpful features of a snowshoeing boot. Thus, it's one of our regular snowshoe boots.
First, it has waterproof and breathable Gore-Tex lining to protect the feet from getting wet. Second, it has a textured heel which helps keep the heel binding strap in place. Third, these boots are lightweight at only 1.1 pounds per shoe. Finally, they support the foot, and the lacing stays tight, so the boot doesn't come uptied while moving.
Regarding traction, this boot has 5mm deep lugs for grip, which performs decently on the snow if needed. Some reviews have mentioned the lack of cushion in this shoe. We haven't had that issue. Though, the snow typically provides a cushion in winter conditions.
Read More: Snowshoeing Footwear: Tips for Choosing Your Boot
Shop Men's at REI Shop Women's at REI
Wolverine Men's ShiftPlus Polar Range BOA Winter Boot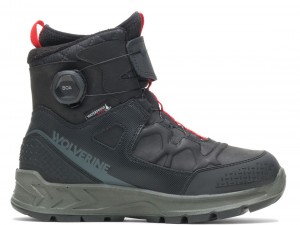 The Men's ShiftPlus Polar Range BOA Winter Boot has all features for those frigid snowshoeing days.
With 600g PrimaLoft Gold Aerogel insulation, these boots are rated down to -40F (-40C). We've tested these boots down to 15F (-9C), and boy, have they been warm. These boots are also waterproof with Wolverine's Waterproof Plus breathable membrane and include a textured heel.
This boot is available with standard shoelaces or with a BOA closure. We've tested the boot with the BOA, and the closure is very quick and easy to use with gloves. It keeps the boot very tight. The ShiftPlus Polar Range has such strong ankle support that it can be tough to get on and off. But once on, your foot remains comfortable, secure, and stable.
Read More: Wolverine Winter Boot Review: Men's ShiftPlus Polar Range BOA
Jack Wolfskin Terraventure Texapore Hiking Shoes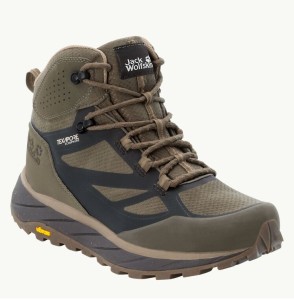 Made of recycled materials, the very stylish Terraventure Texapore has excellent cushioning and a soft lining, making this shoe very comfortable.
In addition to the comfort, this shoe offers waterproof protection via the recycled Texapore Ecosphere. The Terraventure Texapore also has texture and a slight indentation at the heel to secure a snowshoe binding and is lightweight at only 2.2 lbs per pair. If needed, these shoes also have a decent grip.
As a note, this boot has very thick lacing. From personal experience, I recommend tying your laces in a double knot to keep them tight and support your foot, especially if navigating uneven terrain.
Read More: Definitive Guide: How To Choose Snowshoes for Your Needs
Shop Men's at Dick's Sporting Goods Shop Women's at Amazon
Which boots do you use for snowshoeing? Have you used any of the shoes above? Please let us know in the comments below.
Read Next: 7 Beginner Snowshoes for Varied Terrain