So, you're headed out on your first snowshoe adventure. You're in for a treat! But, first things first. You need a pair of snowshoes. With so many models available, choosing snowshoes that are right for you as a beginner can be tricky.
A few factors go into your snowshoe choice, and one feature I tend to gravitate towards is versatility. To be fair, certain snowshoes excel in specific terrain or conditions, and there is no single snowshoe that genuinely does it all. But we can get close and look for models that are easy to use, provide decent traction for steep slopes, have good floatation in deep snow, and are at a lower price point.
In this list, we've rounded out a few snowshoe options for those just starting that offer versatility. The list below is not all-encompassing. Instead, it is based on our reviews and a selection of snowshoes we enjoy.
Some of the links in this article may contain affiliate links. When you purchase using these links, part of the proceeds go to Snowshoe Mag. Additionally, as Amazon Associates, we earn from qualifying purchases. Please see our disclosure for more details.
1. Atlas Access & Women's Access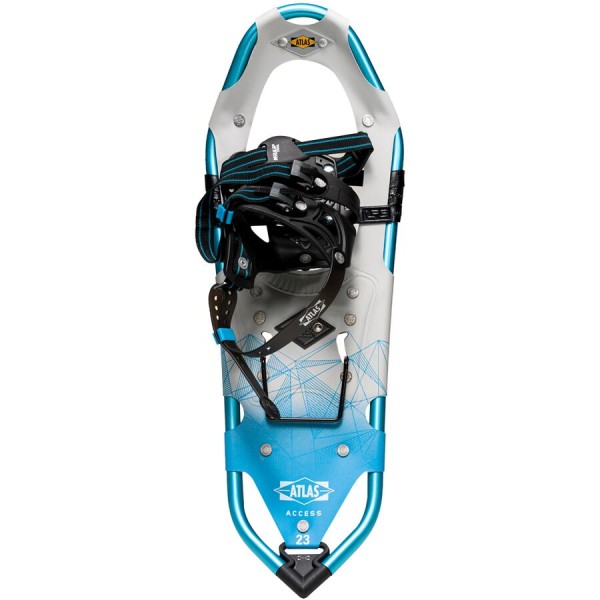 The Access and Women's Access (formerly Elektra Access) offer unique features that make them versatile 'shoes.
You have the v-tail frame for deep snow tracking. Then, there are two front points, two side teeth under the toe for uphill grip, and four angeled ice tips on the heel cleat for downhill grip. For support, the easy Wrapp Trail binding requires a quick tug for a secure fit. This snowshoe also offers a heel lift to reduce strain on the calf for those steep uphill climbs.
Our reviewer was particularly impressed by the ease and fit of the binding, the lack of kicked-up snow, and the helpful heel lift.
The Atlas Access is available in 25″ (recommended up to 200 lbs / 91 kg). Or there is a 30″ model (recommended up to 250 lbs / 113 kg). The Women's Access is available in 23″ (recommended for up to 160 lbs/ 72.5 kg) or 27″ (up to 200 lbs/ 91 kg). Both pairs have an MSRP of 169.95 USD.
Read More: Snowshoe Review: Atlas Elektra (Women's) Access
Buy the Access at BackcountryBuy the Women's Access at Backcountry
2. Tubbs Flex RDG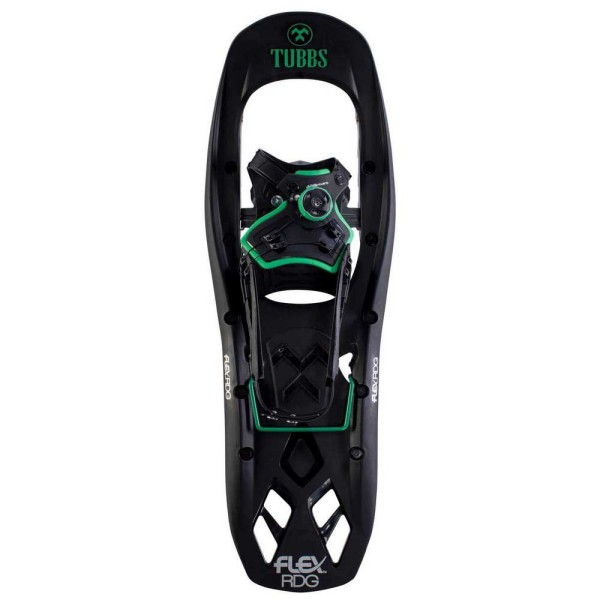 The Flex RDG is an excellent option for day hiking. It has a few unique features, one of which is its Flex Tail technology, which absorbs shock from the heel and reduces stress on your joints. As further support, the Flex RDG has a heel lift (like the Access above) to reduce calf fatigue.
These snowshoes also use a Boa Closure and CustomWrap for the binding (which we're a fan of, as is our reviewer).  If you haven't used this type of binding before, it's a push of a button and a twist, and then you're secure.
For traction, this snowshoe offers a toe crampon and side traction rails. The side rails help traverse slopes, while the toe crampons help ascend.
The Tubbs Men's Flex RDG comes in a 24″ model, which can fit shoe sizes 8-13 (US) or 40-47 (EU), and is recommended for up to 200 lbs (91 kg). The women's model comes in a 22″ model, which can fit shoe sizes 6-11 (US) or 36-43 (EU), and is recommended for up to 160 lbs (72.5 kg). The MSRP for both models of this 'shoe is 189.95 USD.
Read More: A Review of the Adaptable Flex RDG Snowshoe by Tubbs
Buy the Flex RDG at AmazonBuy the Women's Flex RDG at Amazon
3. Wildhorn Outfitters Delano X2
One of the newest snowshoes on the market, the Delano X2 is genuinely a versatile snowshoe. You'll have the traction for those steep climbs, the floatation for deep snow, and a comfortable, stable binding – for an affordable price!
In my review of the Delano X2, I was surprised at how well these snowshoes performed. First, the wide surface area provides floatation in deep snow, and the design prevents snow from being kicked up. Also, the multiple crampons beneath the top, the ball of the foot, and the heel provide the grip.
For those who prefer it, the Delano X2 includes a heel lift to alleviate muscle strain when climbing. Finally, your feet will stay secure on the trail with an easy strap binding and grip pad for the fool.
The Delano X2 is available in a 22″ (recommended load of 80-160 lbs / 36-72.5 kg) or 28″ (recommend load 160-235 lbs / 72.5 – 106.5 kg). You can find both sizes at Wildhorn Outfitters for USD 159.99.
Read More: Delano X2 Snowshoes Review: The Affordable Performance Snowshoe
Buy the Delano X2 at Wildhorn Outfitters
4. Yukon Charlie's Pro Series
The Pro Series (formerly Pro II) are versatile go-to snowshoes with an easy-to-use binding for a beginner and features to help the body on those steep climbs.
The binding on the Pro is the Fast Fit II binding, a one-pull binding that can be easily used with gloves. In addition, the Pro features an integrated heel lift to alleviate stress on the calf muscle and a Free Flex axel system to keep movements free-flowing and natural on slopes. Our reviewer of the women's model was particularly impressed by the ease of the binding and usefulness of the heel lift for steep terrain.
Furthermore, this snowshoe features semi-flexible decking through Yukon Charlie's Tech Weave technology and durable aluminum rocker frame. It also includes crampons beneath the toe, though the traction may not be as aggressive as the Access or RDG.
The Pro Series is available in a 25″ or 30″ model. The weight recommendations are 200 lbs (90 kgs) and 250 lbs (113 kgs), respectively. The MSRP is 125.99 to 169.99 USD, depending on size and if you'd like the complete snowshoe kit.
Read More: Yukon Charlie's Pro Series (930) Snowshoe Kit for the Backcountry
5. Crescent Moon Gold 13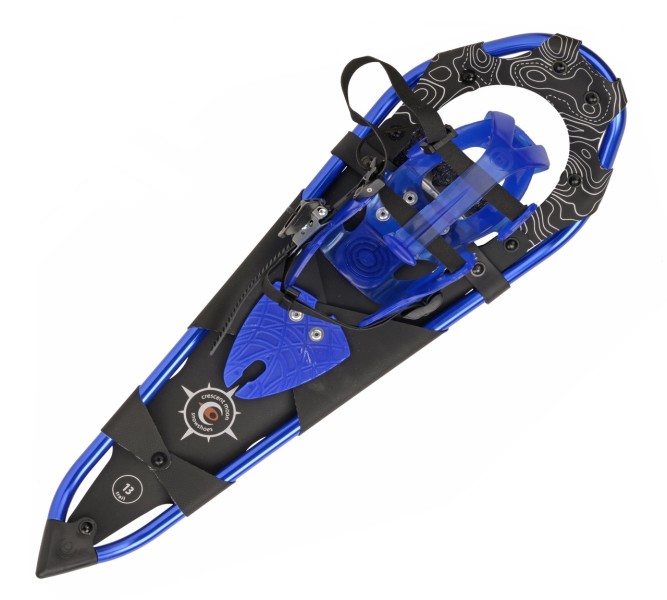 The Gold 13 by Crescent Moon is a women's specific snowshoe with a teardrop shape. These snowshoes offer the comfort and grip needed for many conditions as a beginner. For those looking for a larger or gender-neutral 'shoe, the Gold 9 is an excellent alternative as it has all the same features as the Gold 13.
Like other models featured in this list, the Gold 13 snowshoes offer a quick pull binding and are easy to get on and off your feet. Our reviewer also noted how supportive these bindings are for the foot. She said that the binding keeps the foot aligned properly without any contortions, even with the foot being raised. Keep in mind that the binding fits shoe sizes W 6-12.
Where this snowshoe shines, though, is the grip. In moderately icy or steep conditions, the three-claw system features a climbing toe claw, crampons underneath the heel, and several beneath the ball of the foot.
Crescent Moon's snowshoe also provides adequate floatation for weights up to 165 lbs (75 kg). Again, though, if you are heading into particularly deep conditions, you may want to choose a snowshoe with a broader deck, such as the Tubbs RDG or the MSR Evo.
Read More: Crescent Moon Gold 13 Trail Snowshoes: Grip You Can Count On
6. MSR Evo Trail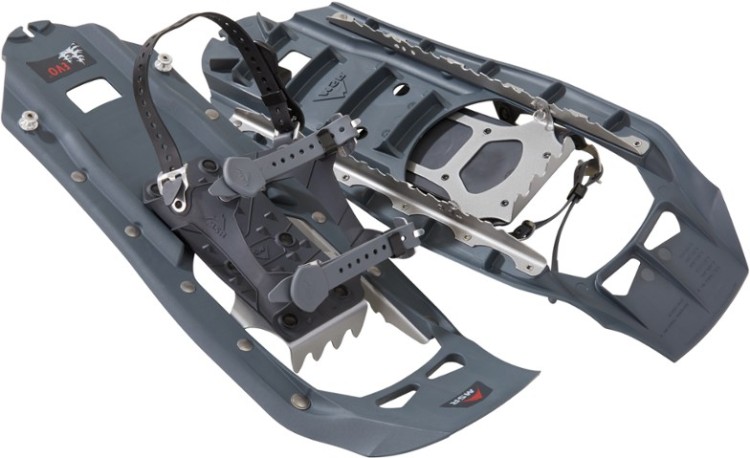 The Evo Trail by MSR is an incredibly popular pair of snowshoes for a beginner, with excellent performance at a low price point.
This snowshoe provides grip via steel tracking rails and plastic brake bars molded along the length of the decking. In addition, the snowshoe has four crampons at the toe of the snowshoe. This combination provides the traction needed for rolling terrain in various conditions.
Also, the DuoFit binding includes two straps across the foot and an ankle strap. All straps are freezeproof and maneuverable with gloves. These bindings accommodate 4.5-15 M or 35-48 EU shoe sizes. Depending on your foot size, this snowshoe binding is also one of the easiest to fit ski and snowboard boots.
The Evo Trails are available in a 22″ model with recommendations for weights up to 180 lbs (80 kg). In addition, you can add MSR's Modular Tails to the back of the snowshoe and increase the recommended weight up to 250 lbs (113 kg). The MSRP of the Evo Trails is 139.95 USD.
Read More: MSR Gear Guide: Snowshoes and Snowshoe Accessories
7. GV Wide Trail

For those looking for larger-size snowshoes as a beginner, the Wide Trail by GV is a great option.
This lightweight aluminum snowshoe excels in deep snow and off-trail in the backcountry. In fact, our reviewer raved about how this snowshoe outperformed other models in limiting sinking in deep bottomless conditions in the Arctic. In addition to deep snow performance, this snowshoe comes with decking that withstands cold temperatures down to -45 C (-49 F).
For traction, there are multiple crampons underneath the toe and heel for grip. Furthermore, another crucial element for powder conditions, the aluminum crampons are coated with a Teflon-based paint to limit the build-up of snowballs.
The binding on the GV Wide Trail is a ratchet binding for use with or without gloves. Plus, the textured footrest with a tapered tip is ideal for foot placement. Furthermore, the pivot bar eliminates any foot twisting when snowshoeing.
This snowshoe is available in 11 x 38, 12 x 33, and 12 x 42, with an off-trail. The recommended weight is up to 250 lbs (113 kg), up to 220 lbs (100 kg), and up to 280 lbs (127 kg), respectively. The on-trail recommended weight is up to 320 lbs (145 kg).
The GV Wide Trail MSRP is 319.99 CAD, approximately 250 USD.
Read More: Gear Review: GV Wide Trail Snowshoes
Buy the Wide Trail 11x 38 at AmazonBuy Wide Trail All Sizes at GV
Overall
Though some snowshoes on this list may excel in certain areas, all of the snowshoes above are dependable options for variable conditions. Versatility is, in our mind, the best feature for those looking to purchase their first pair of snowshoes.
What was your first pair of snowshoes? Do you have a favorite pair of snowshoes for a beginner that can handle versatile terrain? Let us know in the comments below.
This article was first published on Dec 8, 2021, and was most recently updated on January 23, 2023 
Read Next: Snowshoeing for Beginners: The First Timer's Guide