Are you looking for some gift ideas for this holiday season for the snowshoer and outdoor enthusiasts in your life? We've rounded up some gift ideas for snowshoers for inspiration. Now, you can avoid procrastination and get something they'll love!
We've chosen the gifts below independently and hope they inspire you to have a happy holiday season, snowshoers and non-snowshoers alike!
Some of the links in this article may contain affiliate links. When you make a purchase using these links, part of the proceeds go to Snowshoe Mag. Additionally, as an Amazon Associate, we earn from qualifying purchases. Please see our disclosure for more details.
Oboz Women's Sapphire 8″ Insulated B-Dry Boot
The Sapphire 8″ is made of waterproof leather to keep the elements out, and it includes 200g of 3M Thinsulate insulation to keep your feet toasty. For traction, these boots have a winterized outsole for grip in cold conditions and snow (down to 10F/-12C in our experience)
Since the Sapphire has a side zipper (which hasn't slipped down for us), you can get these boots on and off quickly while still providing foot stability.
A similar option for men, though without the zip-up feature, is the Bridger 8″ Insulated Boot.
Read More: Snowshoe Footwear: Tips for Choosing Your Boot
Purchase the Oboz Sapphire on Amazon
Hillsound Armadillo LT Gaiters
To prevent snow from getting into your boots while snowshoeing, gaiters are key. There are a few features to remember when choosing a gaiter, and the Hillsound Armadillo LT has all of them.
The Armadillo LT is a knee-length gaiter perfect for deep snow. It also offers waterproof and breathable construction with a 1000-denier nylon lower cuff that makes it incredibly durable. In addition, this gaiter is designed to fit the form of your leg, and the TPU-coated nylon in-step strap keeps the gaiter connected to your boot.
Plus, the Armadillo LT Gaiter comes with a limited lifetime warranty!
Read More: Gaiters for Snowshoeing: Features to Consider
Purchase the Armadillo LT at Amazon
Yaktrax Summit Traction Device

When the trail becomes icy or slushy, a traction device is a perfect addition to your pack. The Yaktrax Summit is one of our go-to devices for those days.
They include a BOA closure on the heel so you can tighten them to your liking and maintain a secure fit. The Summit includes 12 carbon steel spikes (very durable), all triangular in shape and ⅜ inches long. The spikes are connected via a stainless steel chain.
Choose the size best for you from S, M, L, or XL, with the caveat that you can tighten as needed using the BOA closure.
Read More: Yaktrax Reviews: The Ascent and Summit for Slippery Climbs
Purchase the Yaktrax Summit on Amazon
MSR Evo Trail Snowshoes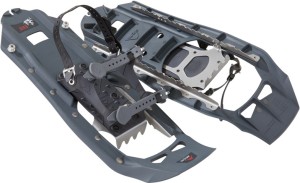 The Evo Trail by MSR is a favorite of many snowshoes and one of the best snowshoe options for those just starting with the sport. These snowshoes are incredibly versatile for all types of terrain.
The traction on the Evo Trail is great for rolling terrain. It features four toe crampons, steel traction rails along the length of the snowshoe, and brake bars underneath the heel that are molded directly to the 'shoe to help with ascending and descending hills.
The binding is the new Paraglide binding with roller buckles and toe stops for a secure fit. The binding is also freezeproof and is easy to use with gloves or mittens.
Finally, the Evo Trail is one of MSR's models with the option of a modular tail. The tails attach to the back of the snowshoe and provide extra floatation in the snow when carrying heavier loads. So, you have the maneuverability of a smaller snowshoe size that fits your foot without additional sinking.
Read More: 7 Beginner Snowshoes for Varied Terrain
Ruffwear Climate Changer Fleece Dog Jacket
Let's not forget about our pets! They can be part of the family and make excellent snowshoeing companions, but they must be protected from the cold. For short-haired pups on the go, try the Ruffwear Climate Changer.
This dog jacket is made with recycled polyester fleece that keeps your dog warm without the extra weight. The material is quick-drying and breathable, and the reflective trim on the jacket is excellent for snowshoeing at night. In addition, the Climate Changer was recently updated to include a shorter length and better snugness on the sleeves, so your dog will not only be warm but happy!
The Climate Changer is available in sizes xx-small to x-large with various colors, including blossom (above), canyonlands orange, cedar green, and glacier.
Read More: The Dog Days of Winter: FAQs for Snowshoeing With Dogs
Purchase the Climate Changer Dog Jacket at Amazon
Sea to Summit Stretch Loc TRU Straps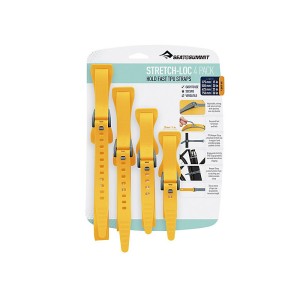 These straps are an excellent option for strapping your snowshoes to your pack via attachment points. These could make a great gift or stocking stuffer for the snowshoer this holiday.
The Stretch Loc TRU Straps material grips your items to prevent slipping after being fastened, and the non-slip buckle ensures that your items are secure. Since the straps are also pliable, they are easy to adjust and tighten.
The straps are available in 4 sizes – 15 in (38 cm), 20 in (51 cm), 25 in (63.5 cm), and 30 in (76 cm). However, you can combine the straps if you need more length, great for larger-sized snowshoes.
Read More: 8 Backpacks for the Snowshoer
Purchase Stretch Loc TRU Straps at Moosejaw
TSL Symbioz Racing Snowshoes
For those interested in snowshoe racing or who enjoy running and want to transition to racing, the Symbioz Racing snowshoe is an excellent option for a fast time on the course.
These snowshoes are incredibly aerodynamic and lightweight, at just 1.3 lbs a pair. Plus, the hyperflex material moves with your foot, so it won't feel bulky or heavy when racing.
For races that require extra grip and traction, you can add moveable rear crampons under the heel of the foot. To ensure a secure footing, make sure to attach and wear both ankle straps in the binding.
Read More: Choosing Running and Racing Snowshoes Starts Here
Purchase the Symbioz Racing Snowshoe at Amazon
Seirus Xtreme All-Weather Gloves
The Serius Xtreme All-Weather Gloves are truly versatile gloves that can be used for everyday wear or on your snowshoeing adventures. They are lightweight and breathable while providing the insulation to keep your hands warm to about 20 degrees F (at least in our experience)
Made of nylon and spandex, these gloves are also comfy and keep the fingers nimble. These are best used as water-resistant gloves however, not waterproof.
Read More: Keep Your Hands, Feet, and Head Warm for Snowshoeing
Purchase Men's at AmazonPurchase Women's at Amazon
Free Touring Junior Pole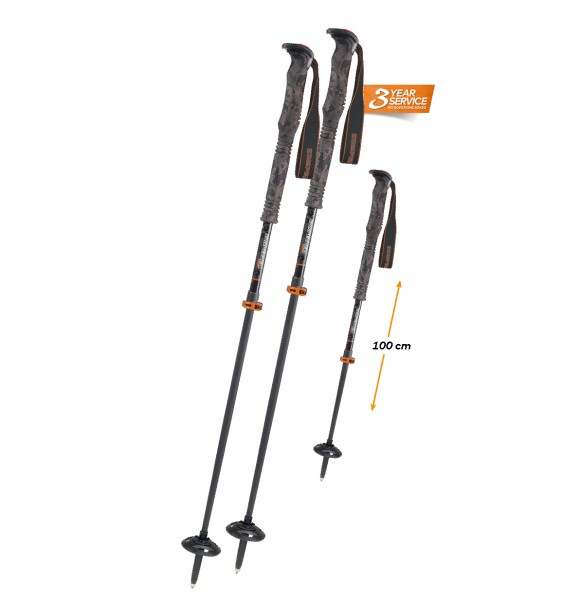 This 2-section pole is made for smaller users and is sturdy, reliable, and robust to tackle any terrain. The extended grip zone of the Free Touring Junior provides flexibility and allows for rapid changes to adapt to what's ahead, and the padded strap gives you security and comfort.
This pole is made with an aluminum upper segment and a titanium lower portion that securely lock together at the chosen length. It can extend from 105cm to 120cm and handle inclines up to 28 degrees.
For those who want a longer pole, the Free Touring TI has the same features as the Free Touring Junior but extends from 105cm to 140cm.
Read More: Komperdell Gear Guide: Snowshoes, Accessories, and Poles
Purchase the Free Touring Junior at Komperdell
Park Pass or Donation
National parks and recreation areas can be a snowshoer's paradise! What better way to support our parks and provide the gift of easy access for snowshoers than by buying a pass?
In the U.S., the America The Beautiful Pass provides access to over 2,000 recreation areas and is valid for a full year. Similarly, Canada offers the Discovery Pass for access to over 80 sites!
In addition to the passes, you could always show your support by placing a donation in honor of your favorite snowshoe.
Purchase America the BeautifulPurchase Discovery Pass
Read More: Adventures To Add to Your Snowshoe Bucket List
What gift recommendations do you have for the snowshoers in your life?
This article was first published on November 24, 2020. Susan Wowk most recently updated it to include new gifts on December 1, 2022. 
Read Next: Snowshoeing For Beginners: The First-Timer's Guide