Are you looking for some gift ideas for this holiday season for the snowshoer and outdoor enthusiast in your life? We've rounded up some gift ideas for snowshoers for inspiration. Now, you can avoid procrastination and get something they'll love!
We've chosen the gifts below independently (unless otherwise noted).
Some of the links in this article may contain affiliate links. When you make a purchase using these links, part of the proceeds go to Snowshoe Mag. Additionally, as an Amazon Associate, we earn from qualifying purchases. Please see our disclosure for more details.
---
Baffin Cush Unisex Slipper
The Cush Slipper by Baffin is the perfect slipper for winter camping or indoor lounging. Initially, this line was designed as a "tent shoe" for arctic researchers and explorers.
With an anti-slip base and soft nylon upper, the Cush protects against the elements. These slippers also include synthetic insulation through Thermaplush (wicking layer that provides warmth even when wet) and the Form-fitting B-Tes foam for comfort.
Furthermore, the Cush Slippers are slip-on with a drawstring closure and are incredibly easy to put on cold feet. As someone with constantly cold feet, I am very grateful for the Cush Slipper!
Purchase the Cush Slipper at Amazon
Read More: Snowshoeing Footwear: Tips for Choosing Your Boot
---
Jack Wolfskin JWP Atmos Jacket
The JWP Atmos would be an excellent mid-layer (or outer layer if the weather allows) to gift a fellow snowshoer. The jacket is made of ripstop construction that is wind-resistant and water-repellent. But, it also has synthetic fiber insulation that keeps you warm in damp conditions.
This jacket would also be great for the winter runner as it's breathable, stretchy, and lightweight, with two hand pockets, a chest pocket, and an adjustable hem.
Purchase the Women's at Amazon Purchase the Men's at Amazon
Read More: Snowshoeing Dress Code: Tips for What Clothing to Wear
---
Crescent Moon Kids Foam Snowshoe

Made with the same unique materials as the Eva and Luna foam snowshoe, Crescent Moon's new foam snowshoes for kids are incredibly lightweight, easy to use, and recyclable.  This snowshoe fits shoe sizes 11Y, 13Y, and 5sz and is a great first snowshoe for kids age 5-7 or the next move up from a toddler's snowshoe.
The kid's foam snowshoe is recommended for flat and rolling terrain in packed snow conditions and is available in ocean blue, volt green, and candy pink.
Purchase Kids Foam Snowshoes at Crescent Moon
Crescent Moon Snowshoes sponsored this item. 
Read More: Start 'Em Young: Snowshoes for Kids Two to Teens
---
Hillsound Armadillo LT Gaiters
To prevent snow from getting into your boots while snowshoeing, gaiters are key. There are a few features to keep in mind when choosing a gaiter, and the Hillsound Armadillo LT has all of them.
The Armadillo LT is a knee-length gaiter perfect for deep snow. It also offers waterproof and breathable construction with a 1000 denier nylon lower cuff that makes it incredibly durable. In addition, this gaiter is designed to fit the form of your leg, and the TPU coated nylon in-step strap keeps the gaiter connected to your boot.
Plus, the Armadillo LT Gaiter comes with a limited lifetime warranty!
Purchase the Armadillo LT at Amazon
Read More: Gaiters for Snowshoeing: Features to Consider
---
BioLite AlpenGlow Lantern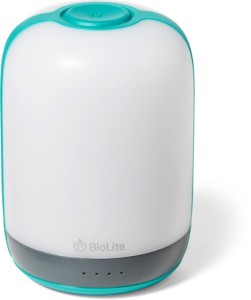 The AlpenGlow 500 works great for camping or hanging out at home and provides 360-degree lighting of up to 500 lumens via a ChromaReal LED.
There is a wide range of modes to choose from, some of which are pretty fun! With a shake of your wrist, try the candle flicker, color party, or fireworks to spice it up. Or keep it in the cool or warm light setting for a more practical approach to match your needs.
The AlpenGlow Lantern also comes with a nesting hook for easy hanging and a UBS charge-out port for extra devices like your phone or other BioLite lighting.
Purchase the AlpenGlow Lantern at REI
Read More: Tips and Tricks for Cold-Weather Backpacking and Winter Camping
---
MSR Evo Trail Snowshoes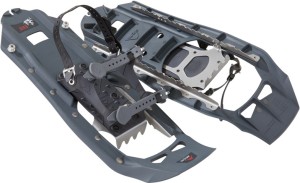 The Evo Trail by MSR is a favorite of many snowshoes and one of the best snowshoe options for those just starting with the sport. These snowshoes are incredibly versatile for all types of terrain.
The traction on the Evo Trail is great for rolling terrain. It features four toe crampons, steel traction rails along the length of the snowshoe, and brake bars underneath the heel that are molded directly to the 'shoe to help with ascending and descending hills.
The binding is MSR's classic DuoFit binding that fits a wide variety of footwear (including most large boot sizes), is freezeproof, and is easy to use with gloves or mittens.
Finally, the Evo Trail is one of MSR's models that has the option of a modular tail. The tails attach to the back of the snowshoe and provide extra floatation in the snow when carrying heavier loads. So, you have the maneuverability of a smaller snowshoe size that fits your foot without additional sinking.
Read More: Definitive Guide: How To Choose The Perfect Snowshoes For Your Needs
---
Ruffwear Climate Changer Fleece Dog Jacket
Let's not forget about our pets! They can be part of the family and make excellent snowshoeing companions, but they need to be protected from the cold. For short-haired pups on the go, try the Ruffwear Climate Changer.
This dog jacket is made with recycled polyester fleece that keeps your dog warm without the extra weight. The material is quick-drying and breathable, and the reflective trim on the jacket is excellent for snowshoeing at night. In addition, the Climate Changer was recently updated to include a shorter length and better snugness on the sleeves, so your dog will not only be warm but happy!
The Climate Changer is available in size xx-small to x-large with various colors, including blossom (above), canyonlands orange, cedar green, and glacier.
Purchase the Climate Changer Dog Jacket at Amazon
Read More: The Dog Days of Winter: Tips for Snowshoeing with Pets
---
Sea to Summit Stretch Loc TRU Straps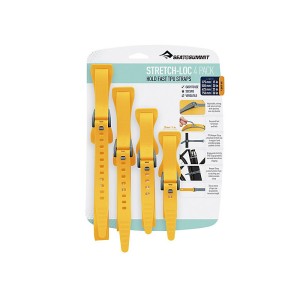 These straps are an excellent option for strapping your snowshoes to your pack via attachment points. These could make a great gift or stocking stuffer for the snowshoer this holiday.
The Stretch Loc TRU Straps material grips your items to prevent slipping after being fastened, and the non-slip buckle makes sure that your items are secure. Since the straps are also pliable, they are easy to adjust and tighten.
The straps are available in 4 sizes – 15 in (38 cm), 20 in (51 cm), 25 in (63.5 cm), and 30 in (76 cm). However, you can combine the straps if you need more length, great for larger-sized snowshoes.
Purchase Stretch Loc TRU Straps at Moosejaw
Read More: Choosing a Backpack: Features to Consider for Snowshoeing
---
Rocky Mountain Soap Company Foot Butter
After a long day of snowshoeing, rest up those feet and take care of them. Feet do so much for the body but can easily be neglected.
This foot butter by Rocky Mountain Soap Company is made of 100% natural ingredients, including beeswax, cocoa butter, vitamin E, and essential oils. These products soothe and protect, hydrate, and heal damaged skin.  Not only do they smell delightful, but they're good for you and the Earth!
Purchase Foot Butter at Amazon
Read More: Must-Have Winter Skin Care Tips for Snowshoers
---
TSL Symbioz Racing Snowshoes
For those interested in snowshoe racing or who enjoy running and want to transition to racing, the Symbioz Racing snowshoe is an excellent option for a fast time on the course.
These snowshoes are incredibly aerodynamic and lightweight, at just 1.3 lbs a pair. Plus, the hyperflex material moves with your foot, so they won't feel bulky or heavy when racing.
For races that require extra grip and traction, you can add moveable rear crampons under the heel of the foot. To ensure a secure footing, make sure to attach and wear both ankle straps in the binding.
Purchase the Symbioz Racing Snowshoe at Amazon
Read More: Choosing Running and Racing Snowshoes Starts Here
---
Trailheads Power Stretch Running Gloves
The Power Stretch Running Gloves are designed for winter activities that get your heart pumping, especially in over single-degree weather. These activities could include winter running but also hiking and biking.
The 4-Way Stretch Fabric includes two layers: an outer layer that is both wind and abrasion-resistant and an inner layer that wicks moisture away from the skin. Furthermore, these gloves are touch screen compatible, and the palm grips enhance hand dexterity.
These gloves are available in small, medium, and large sizes.
Purchase Women's Gloves at AmazonPurchase Men's Gloves at Amazon
Read More: Covering The Extremities
---
Mystery Ranch Zoid Cubes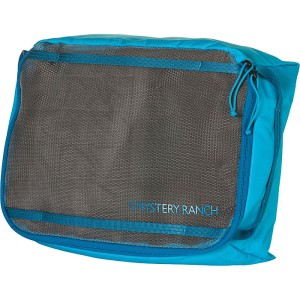 These packing cubes by Mystery Ranch are an excellent way to organize your pack.
Whether you're embarking on a backpacking adventure, hunting trip, car camping, or travel, these nylon cubes make it easy to find those little items that would otherwise get lost in a larger backpack.
The handles on the sides and top make the Zoid Cube easy to handle when maneuvering out of your pack. Moreover, the mesh lid allows you to see what is stored inside without opening the cube.
The Zoid Cubes come in small, medium, and large in various colors, including black, hunter, techno, and vice.
Purchase the Zoid Cube at Moosejaw
Read More: Adventures to Add to Your Snowshoe Bucket List
---
Bonus: Wild North Co Shop Snowshoe Sticker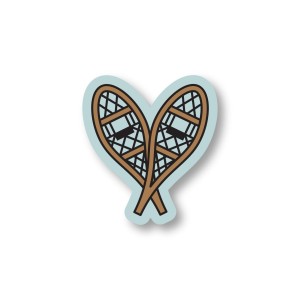 As a fun bonus, this snowshoe sticker is a great stocking stuffer for the snowshoe lover! Add it to your water bottle or outdoor snowshoe journal, and feel the snowshoeing spirit!
Purchase the Snowshoe Sticker at Etsy
---
We hope these gifts inspire you and you have a happy holiday season, snowshoers and non-snowshoers alike!
What gift recommendations do you have for the snowshoers in your life?
This article was first published on November 24, 2020. Susan Wowk most recently updated it to include new gifts on November 14, 2021. 
Read Next: Snowshoeing For Beginners: The First-Timer's Guide