On a visit to Colorado in 2005, I went snowshoeing in Rocky Mountain National Park (RMNP). I drove to Bear Lake, elevation 9,475 feet (2,888 m), located not far from Estes Park. Hiking on a trail high above the lake, I explored the surroundings. When arriving at an off-trail area with an overlook, I decided to get a closer view.
So, I broke trail and hiked across the snowfield, and stopped. Curious about the snow depth, I expanded my collapsible hiking staff as far as it would go and pushed it down until it hit the ground or possibly rock. I was stunned when realizing that I was standing neck-deep in snow. It suddenly dawned on me that if I fell over in this deep snow, most likely, I would not be able to get up and could suffocate. At that point, I quickly collected my composure, slowly turned around, and got my butt back on the packed trail.
This Midwesterner who snowshoed so many years in the flatlands of Wisconsin was not prepared for the powder snow-covered mountains out west. Over many years of snowshoeing, I humbly learned many lessons through experience, but my Colorado adventure was most humbling.
In May of 2021, my wife Liz and I moved from central Wisconsin to Longmont, Colorado, not far from the foothills along the Front Range of the Rocky Mountains. Our retirement plans included moving west where there are warmer winter temperatures and less snow. However, during winter, driving just 30 to 40-minutes due west puts me into mountainous snow country where I can snowshoe to contentment.
Below are a few tips (and trails) for Midwesterners to safely snowshoe RMNP in the winter.
Some of the links in this article may contain affiliate links. When you purchase using these links, part of the proceeds go to Snowshoe Mag. Additionally, as an Amazon Associate, we earn from qualifying purchases. Please see our disclosure for more details.
Lookout for avalanche dangers
According to the Colorado Avalanche Information Center, out of 255 avalanche fatalities in 12 western states from 2011-12 through 2020-21, the greatest number of fatalities occurred in Colorado (64 fatalities, followed by Alaska with 32). Therefore, when visiting RMNP in winter, one tip is to know that much of the park lies in avalanche terrain.
Before heading onto mountain terrain again, locals strongly advised me to learn about avalanches. So, to prepare for snowshoeing in the mountains this time around, I completed an online avalanche course through the Colorado Mountain School, titled "Avalanche Awareness Clinic." Their informative program included valuable information on risk management, mountain terrains such as slope angles, use of resources including weather and avalanche prediction websites, trip planning, and avalanche safety equipment.
The course recommended that people planning winter activities in mountainous areas where there are avalanche risks should take an advanced in-the-field, hands-on Avalanche Safety Course – Level 1, certified by the American Institute for Avalanche Research and Education (AIARE). Depending on the organization that teaches the course, costs run from $535 to $700 for a 3-day course.
For now, I'm only going on trails rated as having no avalanche danger. Therefore, I will not be taking the Level 1 course, at least not until I plan to venture further into the mountains.
Read More: Why All Snowshoers Should Be Avalanche Aware (Even Beginners)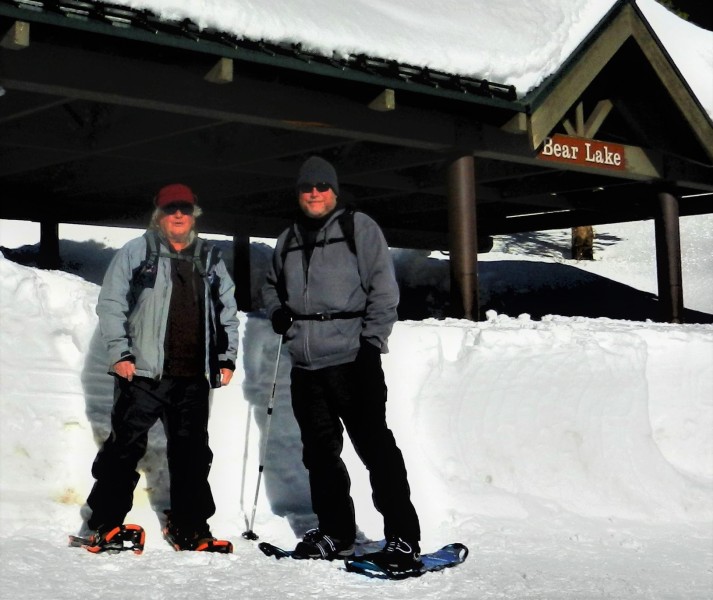 Return to the scene of the calamity
This winter, I returned to RMNP, and I hiked the same area I did many years ago. But this time, I was better prepared and stayed on the trails. So, if you go, here are a few tips for places to snowshoe in RMNP during the winter months.
Bear Lake
Bear Lake is located 9 miles (14 km) on Bear Lake Road from the RMNP Beaver Meadow park entrance on Hwy 36. The lake is rated as a no avalanche area, and you can find more info in the Bear Lake Winter Trail Guide.
Together with my bro-in-law, Mark Zentner, a former Wisconsinite and a 23-year resident of Longmont, we put on our snowshoes at the Bear Lake trailhead and snowshoed along the shoreline of the frozen lake.
As I remembered from my last adventure there, the view of this 11-acre alpine lake, surrounding landscape, and mammoth mountains in the background was again awe-inspiring. It was so rewarding to return there, now older and wiser, yet slower.
Nymph Lake
After exploring other terrains around Bear Lake, we returned to the main trailhead near the Ranger Station. Mark and I then decided to take the mile-round hike on a snow-packed trail to Nymph Lake, one of three lakes along that trail. Dream Lake and Emerald Lake are the other two, with low to moderate avalanche danger.
Along this gradual incline, we had a pleasant hike among towering pines and encountered spectacular views of neighboring mountains. Finally, coming to the very small frozen Nymph Lake, we were surprised to see small groups of hikers gathering on and along the lake. It seemed as popular a location for winter visitors as Bear Lake.
Sprague Lake
A few other trails with no avalanche danger are located in this segment of RMNP, only short distances from Bear Lake.
For example, Sprague Lake trails start only 4 1/2 miles (7 km) from the entrance. A half-mile trail (.8 km) around Sprague Lake is a nice short hike through some heavy tree cover. Sprague Lake Trail itself traverses 3 miles (5 km) along a ridge with some climbing and descending and offers views of neighboring mountains.
Cub Lake
Cub Lake is also located off Bear Lake Road by a couple of miles. This trail offers a 4-mile (6.5 km) snowshoe loop with some rocky areas and a climb overlooking the lake.
Deer Mountain
Heading northwest for 4 miles (6.5 km) from the RMNP entrance is Deer Mountain trailhead. This trail is a 6-mile (9.5 km) round trip to Deer Mountain and back, culminating at an altitude of 10,013 feet (3,050 km) and an elevation climb of 1,075-feet (327 km) with views of the Continental Divide and Longs Peak. All along the trail are great mountain views.
Snow differences from Midwest to West
In addition to avalanche awareness, there are snow differences from the rolling trails of Wisconsin compared to high-altitude trails in the Colorado mountains. At higher elevations in winter, particularly from December through March in RMNP, blizzards and deep snow are common. Many variables are at play with mountain snow conditions.
According to the National Snow and Ice Data Center, "How much snow accumulates in a particular area depends on much more than latitude and time of year. Differences in elevation, vegetation, proximity to the coast, and prevailing wind and weather patterns create different 'snow climates.' While Colorado skiers often enjoy relatively dry, fluffy 'champagne powder,' for instance, California skiers usually work with wetter 'Sierra cement.'"
Temperature, sunshine, wind, precipitation, and elevation are variables that impact snow conditions in the Colorado mountains. At higher elevations, the temperature is colder, dropping about 3.3 degrees Fahrenheit (16 degrees Celsius) on a cloudy or snowy day to 5.4 (14.7 degrees Celsius) on a sunny day for each added thousand feet (305 m) of elevation, according to a Colorado National Parks report. Cold temperatures are associated with powder snow. Therefore, more powder lies high in the Colorado mountains.
On the other hand, crusted snow conditions are a result of changing temperatures and sunshine. Warming and thawing melt snow surfaces, and nighttime cold temperatures freeze them. The wind packs and firms up snow, making snowshoe travel more accessible than deep fluffy powder. Powder snow does exist in the Midwest, especially following a snowfall where it is freezing in northern areas. But in general, Midwest snow is often packed and firm.
Read More: Shoeing in the Midwest (A Little Different Than East or West)
Tips to keep in mind when exploring RMNP
Here are a few tips to keep in mind for Midwesterners planning to snowshoe in the Colorado mountains.
Research before you go
Planning should be the first step in any snowshoeing adventure in or around mountains out west. Plan ahead by doing research online and via reference books.
I use Snowshoe Routes: Colorado's Front Range by Alan Apt, published in 2011. Or, get Apt's 2017 copy of Ski and Snowshoe Routes: Colorado's Front Range. Other good books include Snowshoeing Colorado by Claire Walters and Winter Trails Colorado by Andy Lightbody and Kathy Mattoon.
Assess potential risks
One essential tip for traveling in RMNP in winter is to learn about avalanche danger ratings for various mountain trails. The North American Public Avalanche Danger Scale includes no rating, low, moderate, considerable, high, and extreme. For those without AIARE Level 1 training, be sure to locate trails that have no avalanche danger and be wary of warning signs and danger zones. If planning to snowshoe in no avalanche danger areas as I do at this point, I recommend going online, sign-up and completing the Avalanche Awareness Clinic course.
Before heading out on any mountain trail, go online to check weather conditions at NOAA's National Weather Service. Also, check avalanche conditions at Colorado Avalanche Information Center (CAIC).
Also, assess other potential hazards such as terrain, snow conditions, weather, and possible gear failure.
Read More: Safety First: Snowshoeing Hazards and How To Avoid Them
Bring your daypack
In addition to your snowshoes and poles, items to take with you in a daypack include a first aid kit (like this one), trail or topographic map and compass (and/or GPS), emergency shelter tarp/blanket (like this one), fire starter, candle, matches in a waterproof case, flashlight or headlamp, knife, sunglasses and sunscreen, extra clothing, food, and water.
For those in potential avalanche areas, besides AIARE Level 1 training, purchase or rent and carry a transceiver (also known as a beacon) that transmits an ongoing signal for rescue purposes. Other gear includes a collapsible probe used to locate buried victims in an emergency and a sturdy metal shovel to dig them out. You can also purchase a kit that includes all of the gear above, like Backcountry Access's TS Rescue Package.
Read More: What To Bring When Snowshoeing: Top Accessories for the Day Hiker
Use your route finding skills
Be aware that trails are not as easily found in winter as in other seasons. The RMNP Winter 2021-Spring 2022 newsletter presents the following tip, "Park trails are not marked or maintained for winter use. Therefore, route finding skills are important. Don't rely on others' tracks which can lead you astray."
Also, note that you should not rely on cell phones in the backcountry. Service is not available in most of the park.
Read More: Compass and Map Reading 101
Prep for the altitude
Apt writes, "Altitude's effects are unpredictable, especially for those who are visiting from sea level." He recommends arriving a day or two before venturing anywhere over 5,000 feet (1,524 m) elevation to acclimate to the altitude.
Don't drink alcohol the night before and especially not during high-country traveling. Alcohol causes dehydration that can result in altitude sickness. Instead, plan your visit to a microbrewery after completing your adventure in the mountains. And, take along and drink plenty of water on the trail to keep hydrated.
Read More: Up Your Elevation Awareness: The Importance of Acclimation with Tips and Tools
Stay within your capabilities
Finally, stay within your level of capability when snowshoeing. Don't take unnecessary risks. Instead, go on mountain trails that are compatible with your experience, physical stamina, and with respect to your skills with avalanche safety. Leave a trip report with someone and with the park service. Consider going on a guided hike provided by a reputable organization if you are a first-time visitor.
Get your park pass
In planning a winter trip to RMNP, one tip is that you won't need a timed-entry permit reservation (required only from May 28 to October 11). But you will need a park pass or pay an entry fee. I have a senior pass that gets me and my guest in at no cost.
Go west, young man! – Or in this case, old man
Major life changes can be most challenging. Moving from Wisconsin to Colorado was not easy for Liz and me, given our retirement ages. But we are settled into our comfortable home in the friendly and colorful town of Longmont (population 98,711, and elevation at 4,984 feet/1,520 m).
The online 2021 Livability Journal Communications wrote regarding Longmont, "With a lively downtown, innovative craft breweries and ample opportunities for outdoor recreation, this city is one of Colorado's true hidden gems." My most enjoyable Bear Lake in Rocky Mountain National Park is just a 46-mile (74 km) drive from Longmont to snowshoeing heaven.

A bit of trivia – The Weather Channel reported that the most snowfall measured in 24 hours took place just over a century ago on April 14, 1921, in the Rocky Mountains at Silver Lake, Colorado (elevation 10,220 feet/3,115 m). The snowfall measured 75.8 inches (192 cm). That is 6.3 feet (1.9 m) of snow in a single day. Reportedly, the snow kept falling after 24 hours, and the next day a total of 95 inches (240 cm) of snow fell from the 32.5-hour blizzard.
Have you explored areas of the west, including RMNP? What tips do you have for acclimating from the Midwest to the West and RMNP in winter? Please share your thoughts with us in the comments below.
Read Next: Winter Hiking Safety 101: A Beginner's Guide for Hikers and Snowshoers