This winter, a few hundred people will compete in snowshoe races throughout New Mexico. Many more will take a recreational approach to the sport, hiking snow-packed trails or creating new backcountry routes. Both competitive and casual snowshoeing are on the rise. Why? "Because so many people don't like sliding!" says Geoff Goins, owner of the Enchanted Forest XC Ski and Snowshoe Area in Red River, NM. Goins is referring to the major difference between skiing and snowshoeing: the latter is all grip, no glide. "Anyone can do it," he says. "You just need stamina." So, instead of hibernating this winter, up your endurance, and check out the following areas before the snow melts.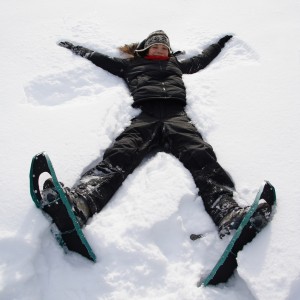 Chama
Snowshoers frequent the Chama Chile Ski Classic course long after the January 15 XC ski and snowshoe event has passed. "The race site is a groomed trail," explains Race Director Mary Ann DeBoer. The catch? The event, about 12 miles north of Chama, is actually in Colorado, and the closest place to rent snowshoes is Pagosa Springs. Stay in the Land of Enchantment by visiting the 20,209-acre Edward Sargent Wildlife Area, which will offer groomed trails for the first time this season. A $5 permit allows your five days of snowshoeing through aspen meadows and oak groves. Chamavalley.com
Enchanted Forest XC Ski and Snowshoe Area (Red River)
Snowshoeing is 25 percent of business at Enchanted Forest. "More than 1,000 snowshoers come though each year," says owner Geoff Goins. Since 1993, Goins, along with his wife, Ellen, have enticed snowshoers with moonlight hikes, yurt rentals, and races. On January 14, February 18 and March 17, enjoy an old-fashioned barbecue and 4-kilometer trek during the Headlamp Snowshoe Cookout. Or, just buy a day pass ($15), and explore the 18 kilometers of snowshoe-specific trails. The park, which rises as high as 10,040 feet, has attracted novices and pros alike, including USSSA champ Laurie Lambert. enchantedforestxc.com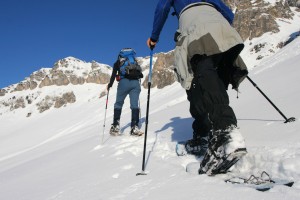 Sandia Crest (Albuquerque)
Sign up for the Sandia Peak Snowshoe Race, Albuquerque's only organized snowshoe event, or head to Cibola National Forest and attempt the course solo. The 3.2-mile route sits at 10,678 feet and offers spectacular views of the Duke City, the Rio Grande, and the Turquoise Trail. Bob Lowder, Friends of the Sandia president, recommends using the Sandia Tramway for easy access to the mountain. "Areas to snowshoe range from the wide, level expanse of the Tram service road at the Ellis Trailhead, to fairly level ski trails or break-your-own trails through the forest," he adds. sandiasnowshoe.com
Santa Fe
Although the Norski Track Ski Trail is home to the Santa Fe Snowshoe Classic, a 3.6-mile race held in January, this area is not regularly open to snowshoers. Instead, opt for other trails off Hyde Park Road, such as Aspen Vista, a 6-mile trek up a forest road to Tesuque Peak (12,040 feet) and the most popular route in the Sangres. For a more rolling route at a lower elevation, try the Chamisa Trail, which connects to the Windsor Trail after 2.5 miles. Turn around there, or wander alongside Tesuque Creek. fs.fed.us/r3/sfe/recreation/districts/espanola/trails/winterrec.html
Taos
Tackle New Mexico's highest mountain, 13,161-foot Wheeler Peak, in Carson National Forest. Or, hike an easy 2.5 miles to Bull of the Woods Pasture and spend the night in a cozy yurt stocked with cooking equipment and a wood burner. "A large dining table, games, cards, and lanterns make this a charming getaway," says Alyson Hyder, Executive Director of the Taos Ski Valley Chamber of Commerce. Five bucks gets you an Access Permit to snowshoe the valley's Northside, which offers a 1,300 acre, well-marked trail system. Watch out for bighorn sheep, elk and mule deer as you tromp among Aspens and evergreens. snowshoetaos.com
Valles Caldera
Traverse the Valle Grande – three miles of rolling terrain in the middle of the 89,000-acre Valles Caldera National Preserve – or climb peacefully through mountain forests to 11,254-foot Redondo Peak. About 80 percent of the 37 miles of trails are groomed, although going off-piste is allowed. Wander along the east fork of the Jemez River to spot elk, coyotes and bald eagles. Snowshoe by the light of the almost-full moon on February 4 and March 3 at the Caldera's Moonlight snowshoeing events. Permits ($10) and rentals are available at the Valle Grande staging area, although the Coyote Call Trail, on the south side of State Highway 4, is free. vallescaldera.gov
New Mexico Race info:
January 7
Santa Fe Snowshoe Classic (3.6 miles)
santafestriders.org
January 15
Chama Chile Ski Classic (5k)
chamaski.com
January 21
Sandia Peak Snowshoe Race (5k)
sandiasnowshoe.com
January 28-29
Low 02 Challenge (10k; Nationals qualifier)
enchantedforestxc.com
Visit skinewmexico.com for snow reports.