Taking advantage of a foot of powder, we snowshoed under a clear, blue sky in the small town of Chama, New Mexico. Our snowshoeing location of choice was Edward Sargent Wildlife Area, only a 5-minute drive north of Chama. We were practically alone aside from a few snowshoers far in the distance, and able to leisurely enjoy the mountains, streams, and forests surrounding us. Luckily, Edward Sargent Wildlife Area is not the only option for those wishing to snowshoe around Chama. Here, we focus on several trail options, as well as events for snowshoeing enthusiasts.
Chama, a small town of around 1,000 people, is a beautiful mountain town at 7870 feet (2399 m), located just 7 miles (11 km) from the Colorado-New Mexico border. In the summer, the city is home to the Cumbres and Toltec Scenic Railroad. This grand adventure draws visitors from around the country who wish to explore the Rocky Mountains by train. In the winter, though, the railroad is closed, and the area becomes far less populated. The smaller crowd offers plenty of unexplored terrain for snowshoers wishing to get off the beaten path.
Read More: Snowshoe New Mexico: Where To Go In The Land Of Enchantment
Snowshoeing Trails Near Chama, NM
Chama has several snowshoeing trails within and near the city to check out! Just be sure to bring your own snowshoes with you. Or, you can rent snowshoes an hour north of Chama at Pagosa Mountain Sports in Pagosa Springs, CO.
Edward Sargent Wildlife Area
One of the largest draws to Edward Sargent Wildlife Area, as the name suggests, is the opportunity to view the vast array of wildlife in the park. Elk, deer, porcupines, coyotes, black bears, mountain lions, snowshoe hares, beavers, turkeys, and a variety of other birds reside in the park. You never know what animal tracks you may find along your journey! With this in mind, though, certain areas of the park are restricted during hunting season. So, please review the park guidelines beforehand to make sure you're prepared.
Read More: A New Found Passion: Wildlife Tracking & Identification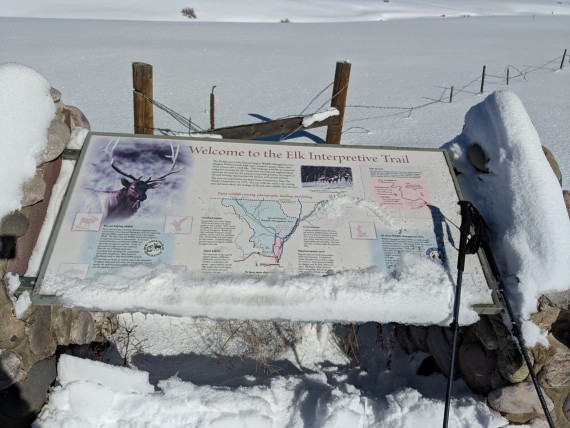 The Elk Interpretative Trail, just to the north of the parking area, is a short 1/3 of a mile (0.5 km) to a wildlife viewing area. Even though the trail is short, it's wise to take snow conditions into account. We were the first to break trail in about a foot of fresh powder. So it took about 45 minutes or so round-trip. If no wildlife is out for the day, the viewing area offers a beautiful view of the park and surrounding area.
Alternatively, once in the parking area, you can snowshoe northwest onto state rd 29, which is unplowed. Following NM 29 for approx 1 mile (1.75 km) from the parking lot will provide you access to additional snowshoe trails in the park (like this loop), as well as views of the Rio Chamita and surrounding mountains.
Rio Grande National Forest
Located in southwest Colorado, Rio Grande National Forest offers several snowshoeing trails worth exploring if you're staying near Chama.
One sure way to add some extra beauty to your outing (I mean you can never have too much), is to snowshoe along a river. If you are a waterway lover, the Chama River Trail follows the river to the confluence for a view of the Upper Chama Basin. This 4.9-mile (7.8 km) trail has relatively gentle terrain and is excellent for snowshoeing beginners.
The Red Lake Trail is a 5.2-mile (8.3 km) easy-moderate trail and only 24 miles (38.6 km) north of Chama. Snowshoe through the La Manga Creek Valley up to an alpine plateau to catch views of the Continental Divide.
Chama Chile Ski Classic & Winter Fiesta
Each January, the Chama Chile Ski Classic brings avid snowshoers and skiers from around the area to celebrate winter athleticism in this multi-day event. Located about 12 miles (19 km) outside of Chama, the event will be Jan 18-19, 2020. Bring the family for a weekend getaway for some fun racing and recreational activities!
For interested racers, the weekend begins with an 18K freestyle and 6K snowshoe junior race. Notably, the junior competition is also a qualifier for the USSSA Nationals in Leadville, CO, in February. Then, on day 2, races include a 12K or 6K classic ski, 12K or 6K snowshoe race, or 12K or 6K combined event.
If you're new to the racing game, the 1K or 3K rookie race is a noteworthy starting point. Dip your toes in the water….er snow and see if competitive snowshoe racing is of interest!
After or between race activities, engage in the plethora of clinics and tours offered throughout the weekend. Choose to participate in the beginner cross-country ski clinic, freestyle skiing clinic, advance cross-country ski clinic, and ski waxing clinic. Or if exploring the area is more of your style, jump on the guided snowshoe tour at Edward Sargent Wildlife Area or ski tour of the Spruce Hole Area & Yurt.
To refresh and to have some fun, there will be yoga, music, and a costume contest as part of the event. Then, after Sunday, you can non-competitively snowshoe or ski the groomed course. The course is available on Monday, 1/20, or the following weekend on Jan 25th or 26th.
Go Snowshoeing Near Chama, New Mexico!
Whether you explore the trails near the town or in the surrounding area, Chama will provide the beauty you've been looking for in an area off the beaten path.
Have you gone snowshoeing in the Chama area or participated in the Chama Chile Ski Classic? We'd love to hear about your experience in the comments below!
Read Next: The Divine Spirit of Snowshoeing At Angel Fire, New Mexico