Here's a twist on the whole backcountry lighting market: A solar-powered light that's actually affordable.
What a concept.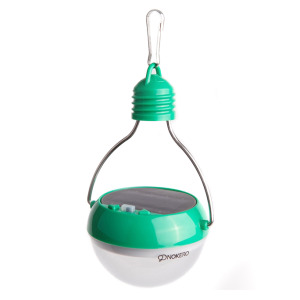 Some of the links in this article may contain affiliate links. When you make a purchase using these links, part of the proceeds go to Snowshoe Mag at no additional cost. Furthermore, as an Amazon Associate, we earn from qualifying purchases. Please see our disclosure for more details.
Marketed by Nokero as "the most economical solar light on the market," the Crestone Solar Light Bulb is almost ideal for off-the-grid living or backcountry travel, effectively paying for itself in less than two months by eliminating the need for candle power or kerosene. The light works in a range of both indoor and outdoor situations, including cooking, reading, and emergency lighting.
And, it's worth noting that the four-LED Crestone is no slouch in the brightness department. It delivers 13 lumens of light in "high" mode, and five lumens in "low" mode, nearly as much as traditional powered gas or electric light, and plenty for most chores around camp.
It will also run for up to eight hours on a single solar charge and can operate in temperatures ranging from -20-55 degrees Celsius (-4-131 degrees Fahrenheit). The lamp is housed in an ABS plastic body with a polycarbonate plastic globe, so you're going to have to work hard to break or damage it.
It's cheap, it's effective and it's all but impossible to break it. What more is there to say?
Please note the Crestone N200 Solar Light Bulb is no longer available. Nokero offers an updated version for $19.99, the N233 Solar Light. The N233 can be purchased directly from Nokero's website or from Amazon.
This article was originally published on Oct 11, 2014. It was updated to include new information on February 24, 2021.