A good backpack is a wonderful thing. Few pieces of gear encourage otherwise sensible people to develop irrational emotional attachments to inanimate objects like the nylon pouches we sling over our shoulders. It is for good reason I suppose, nothing makes a hiking trip more enjoyable than a well-fitting pack and nothing makes one more miserable (and painful) than one that doesn't sit right. With that in mind, I always have my reservations about testing out a new model. That goes double when the pack in question is as radically innovative as the MindShift Rotation 180 Panorama.
On the surface, the rotation seems fairly ordinary. The outer material is comprised of alternating panels of lightweight and heavy-duty ripstop nylon. Admirably, for a day hiking pack, the Rotation is not overburdened with tie-on points, shock-chord and zippers. The result is a smooth finish that is unlikely to get snagged on branches and thorns as you bushwack your way to the next lookout. That being said, the pack could do with a side pouch that is able to securely hold a water bottle. Granted, a 1.5 liter water bladder fits well into the designated zip-pouch, but on a sub-zero excursion the first thing to freeze is often the straw in such an arrangement, making a traditional bottle a necessity that the Rotation is ill-equipped to carry.
However, it needs to be recognized that the Rotation 180 is not about the exterior, it is about what lies inside. This bag is was designed to solve a very specific problem. Imagine you are an avid nature photographer who enjoys trekking into hard to reach places. A constant problem you face is balancing the discomfort of hiking with your camera slung around your neck with the inconvenience of having to stop and remove it from your pack whenever you want to take a picture. The Rotation 180 ingeniously solves this problem by having the waistband attached to a zippered pocket that sits inside the main bag, but that can be rotated out to face forwards, allowing access to your camera without having to take off your pack.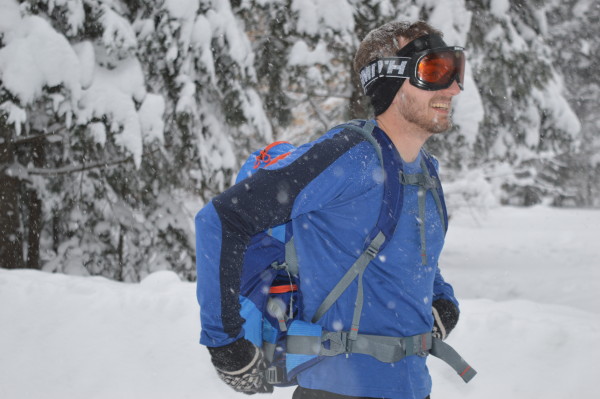 When I first received the Rotation I immediately put in on in my apartment and got to trying this out. I was convinced that it would be next to impossible to return the pouch to the main pack after accessing whatever was inside. I am happy to report I could not have been more wrong. The rotation is smooth and the access pouch is of a perfect size for a DSLR camera, lenses, sandwiches, bear spray, or anything else you want to toss in. The magnetic flap that seals the pouch into the main pack is easy to open and close, especially if you harbor a childish fascination with moderately strong magnets (as I do). The only drawback is that the storage capacity for other items in the part of the bag that doesn't rotate is a little lacking. Toss in a rain coat and a first aid kit, and you are pretty well at capacity.
All in all, the MindShift Rotation 180 is a great backpack for day hikes with the goal of snapping a few pictures. The pack features attachment points for a tripod, and has an available rain cover to protect your camera (even when the rotating pouch is exposed). The harness is comfortable, the bag is reasonably lightweight, and it is fairly rigid, making use of hard foam panels to protect delicate gear. The Rotation 180 also has a bigger brother, called the Rotation 180 Professional which is also available in a deluxe model if you need extra storage. What I will say is that the segmented interior makes this pack a tough sell for multi-day adventures. Even still, I would highly recommend it for all the shutterbugs who love to hike.
For more information on the MindShift Rotation 180, visit http://www.mindshiftgear.com/products/rotation180-professional.