I have a history with the Hydro Flask lineup of double wall vacuum insulated reusable water bottles. They've been there for me through the thick and thin of every snowshoe outing, every summer hike, and every camping trip. My love affair with the Hydro Flask started with the 21 oz. Standard Mouth Vacuum Insulated Stainless Steel Water Bottle. Today, my Hydro Flask family has increased by two: the 18 oz. Wide Mouth Stainless Steel Flask (with Hydro Flip lid) and the 64 oz. Wide Mouth Stainless Steel Growler.
In my review of the Standard Mouth flask, I described it as a "workhorse." (Read the review.) Simply, the flask contained it all (before and after the trail): hot coffee, cold energy drink, and some runny Cream of Wheat. It kept it hot… and it kept it cold—whatever the purpose.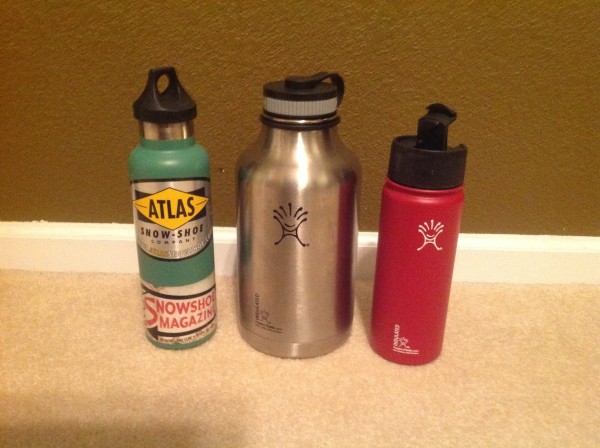 Beyond using the flask for its sole purpose, I used the butt-end of the bottle to hammer in some tent stakes. It left a few marks on the flask's non-toxic powder coating, but nothing that won't prevent it from doing its job into the future.  Plus, my flask is covered in stickers, which increases its "coolness" factor—a personalized approach I take when most things have a blank slate. It was begging for some stickers, honest.
Over the past few years, I've discovered that most plastic water bottles have become a nuisance.  The lids tend to become misplaced—if they're not attached—altogether disconnecting from the bottle and rendering it useless as a sippy cup. Or, worse, the dishwasher machine melts the bottles beyond recognition (because I'm too lazy to hand-wash them) and then they find their way into my recycle bin.  (Note: Yes, I recycle. And I care.)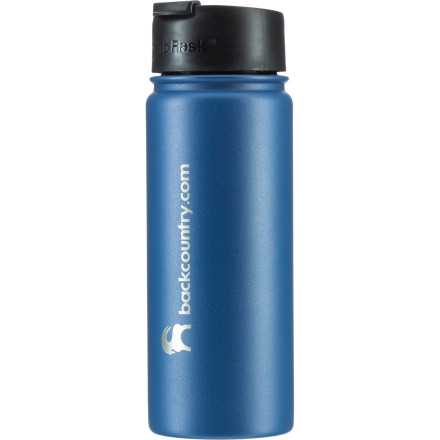 While every Hydro Flask is completely recyclable, there's no reason for it to find its way to the bin—unless it's been used as a hammer and it's damaged. Be kind to your Hydro Flask, for it will return your kindness by keeping your hots hot (for up to 12 hours) and your colds cold (for up to 24 hours). No plastic water bottle can compare!
While the Standard Mouth Hydro Flask has multiple purposes (as you've read), the two new additions to my flask family have a more specified purpose.
The 18 oz. Wide Mouth Stainless Steel Flask (with Hydro Flip lid) is my new go-to coffee mug. While it's not as tall as the Standard Mouth—and no metal opening that can scald your lip when drinking hot liquids—the 18 oz. Wide Mouth flask is just right. It fits in most cup holders and doesn't become top heavy when full.
Keep in mind: If you purchase the Wide Mouth flask with the flat cap, you'll need to purchase the Hydro Flip lid separately ($4.99 each on the Hydro Flask website).
My one complaint is that the Hydro Flip lid doesn't sit flush with the opening of the flask. Which means that coffee (or other liquids) can get lodged in between the lip of the flask's mouth and the cap—in essence, slightly dripping down your chest when becoming dislodged. To prevent unwanted shirt stains, only wear dark colors when drinking from a flask with the Hydro Flip lid in place.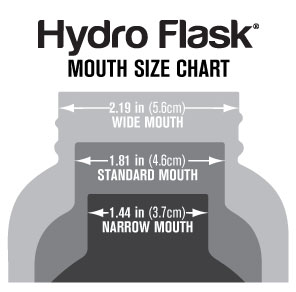 The 64 oz. Wide Mouth Stainless Steel Growler is a hoss. I wouldn't consider it a water bottle; it's more like a milk keg (and pretty much functions like one).
And why is it called the Growler? It's simple: It can carry a growler of beer (half a gallon… or 64 ounces). Sure, you can put other liquid refreshments in the Hydro Flask Growler, but why would you? Use it for beer. Use it for its sole purpose.
The first beer to enter the bowels of my Hydro Flask Growler was 64 ounces of Tommyknocker Brewery's Imperial Maple Nut Brown Ale. So tasty! Yes, have some. And have it in a Hydro Flask Growler.
For more information on Hydro Flask, visit www.hydroflask.com.
To purchase Hydro Flask products, click here.