So you have taken the plunge and started to snowshoe, first off, awesome decision! Picking up the sport of snowshoeing was one of the greatest decisions I have ever made. Not only is it easy to do, (you know what they say, if you can walk you can snowshoe) it is amazing exercise, a great way to reconnect with nature and a way to spend time with friends and family. Do you want to know the real reason why I love to snowshoe though? The food and drink. Seriously. I know you must be thinking I am out of my mind. What can you possibly eat and drink that has to do with snowshoeing? Let me introduce you to something, the après-snowshoe drinks.
What better way is there to warm up after a long winter hike than to come indoors and take a long slow slip of something delicious? It simply cannot be beat. Let me paint this wonderful picture for you. Your cheeks are rosy, tinted red from the cold air, your toes are slightly cold, haven't had time to warm up yet and your muscles feel well worked. You shake off your snowy jacket, turn the fireplace on and sit down with friends over a mug of butterscotch hot chocolate or gingerbread cider, sharing pictures and memories of your day. Sound delicious right? Luckily for you I have tested the following recipes time and time again, and have perfected them to my liking, and I truly hope that you enjoy them as well. Click on the links to go directly to the ones you want, or scroll through. Many of them use ingredients you have lying around the house while others require a little more planning. Although I have named my favorite brands, feel free to experiment and use yours. As a bonus, I have included some of my favorite trail mix recipes at the end, and even one that my kids won't complain about.
So what are you waiting for? Strap those snowshoes on, go out and explore and come home to one of these amazing drinks, and remember, the best part about this is sharing the experience with others.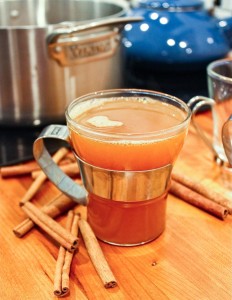 Cinnamon Bun Hot Buttered Rum (Serves 4)
This is one of the best rum recipes I have ever made and truly warms your insides.
For the Spiced Simple Syrup:
1 cinnamon stick
4 cloves
1/2 lemon
1/2 cup sugar
1/2 cup water
For the Cinnamon Batter:
1 stick or 8 tablespoons of butter, room temperature
1 cup brown sugar
1/2 teaspoon ground cinnamon
6 ounces of rum
16 ounces boiling water 
For the Spiced Simple Syrup (Can make ahead of time): Combine cinnamon, cloves, lemon, sugar, and water in a small saucepan and bring to a simmer over medium heat, stirring frequently. Cook until sugar has melted, remove from heat, and allow to cool to room temperature before straining. Syrup can be stored in an airtight container in the refrigerator for up to 5 days.
For the Cinnamon Batter: In a small bowl mash together butter, brown sugar, and ground cinnamon, and mix until all the ingredients are evenly incorporated.
Divide batter between 4 mugs; pour 1 1/2 ounces of rum into each mug, followed by 1 teaspoon spiced simple syrup. Pour 6 ounces boiling water in each mug and stir until batter is dissolved. Serve hot garnished with cinnamon sticks.
Yule Tide Toddy
This winter warm up combines my favourite Canadian ingredient with one of my favourite Bourbons!
2 ounces hot water
1½ ounces Makers Mark Bourbon
½ ounce Amaro (Italian bitter)
¼ ounce maple syrup (I prefer to buy mine from roadside stands)
3 dashes of Apple Bitters
Cinnamon stick, to garnish
Combine all ingredients except garnish in a glass, preferably a snifter glass. Stir well, and garnish with cinnamon stick.
Bacon Bourbon Hot Chocolate (Serves 4)
I know what you're thinking, bacon and hot chocolate? Just trust me on this one.
4 thick-cut slices of bacon
1/2 teaspoon corn starch
1/4 cup cocoa powder
1 tablespoon sugar
a pinch of salt
3 cups whole milk
4 ounces milk chocolate chips
4 ounces bittersweet chocolate chips
4 ounces Frangelico
4 ounces Bourbon
Whipped cream
chopped toasted hazelnuts for garnish
Cook bacon in a large skillet over medium-low heat until crisp. Transfer bacon to a paper towel-lined plate. Pour fat into a small bowl and stir in corn starch with a fork.
In medium saucepan, stir cocoa with sugar and salt. Stir in bacon fat/corn starch mixture, milk, milk chocolate, and bittersweet chocolate. Heat over medium heat until, stirring constantly, until chocolate is melted and mixture is hot. Gently whisk to completely homogenize mixture. Make sure the heat is not too hot or it will burn!
Add the Frangelico and bourbon. Pour into individual serving cups. Top with whipped cream, chopped toasted hazelnuts, and a strip of bacon. Serve immediately.
Gingerbread Cider (Serves 4-6)
Non-alcoholic treat, perfect for the whole family.
1/2 gallon 100% Apple Cider
1/4 tsp ginger
1/4 tsp nutmeg
1/2 tsp cinnamon
1/3 cup sugar
dash of cloves
Pour the apple cider, sugar and spices into a big pot.
Heat up the cider to temperature that is desired.
Let simmer for about 20 minutes and serve!
Mulled Wine (Serves 4-6)
Everyone has their take and twist on mulled wine, here's mine!
750ml red wine (we suggest Merlot or Cabernet Sauvignon. A cheap bottle will do)
¾ cup castor sugar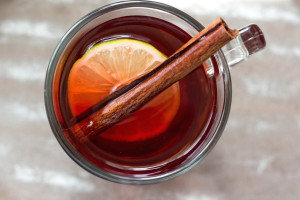 1/2 cup orange juice
1 lemon peel
1 orange peel
1 cinnamon stick
5 cloves
1 tsp fresh nutmeg
pinch of ginger
Place all ingredients except the wine into a large pot or saucepan and place on medium heat. Add just a small bit of red wine to the pan to ensure the sugar is covered and let it cook for 4-5 minutes until it becomes thick and sticky. This should let all the spices infuse well.
Once the mixture has become sticky enough, add the rest of the wine and turn down the heat. DO NOT BOIL! Let cook for 5 minutes and serve hot with slices with fresh orange.
Chai-Spiced Hot Chocolate (Note: One of the more difficult drinks to make. Serves 4)
Many ingredients but so worth it!
1 teaspoon cardamom seeds
1 teaspoon cinnamon
10 whole cloves
4 peppercorns
1/2 teaspoon nutmeg
4 fennel seeds
1 tablespoon ground ginger
4 cups milk
3/4 cup dark cocoa
1/3 cup honey
1 tablespoon teaspoon vanilla extract
pinch of salt
Using a coffee grinder or a mortar combine the cardamom, cinnamon, cloves, peppercorns, nutmeg, fennel seeds, and ginger.
Heat the milk over medium heat, and whisk in the cocoa, chai mixture, and pinch of salt. When milk is just starting to steam, turn heat to low, and steep for 10 minutes, stirring frequently. Heat mixture back to steaming, add the vanilla extract, and strain into mugs. Garnish with a dollop of unsweetened whipped cream and serve.
Trail Mix
These days trail mix goes well beyond the basic mix, mainly consisting of raisins and peanuts (ewwww) and has evolved into some pretty awesome combinations that are perfect for hitting the trails with. According to legend, it was invented in 1968 by Hadley Food Orchards to be eaten while hiking or doing strenuous activity, hence the name. Why it's so good for snowshoeing? Trail mix is lightweight, portable and full of energy-dense ingredients all factor in, plus it's simple to make. Combine your favorite dry ingredients and stash them in an airtight container and voila! I tend to follow this simple ratio when I make my own.
50% Nuts (almonds, cashews, hazelnuts, peanuts, pecans, etc)
30% Dried Fruit (apple chips, cherries, cranberries, figs, blueberries, banana chips, etc)
10% Seeds (chia, flax, pumpkin seeds, sunflower seeds, etc)
10% Other (pretzels, M&M's, flaked coconut, cereal, granola, chocolate chips, etc)
Over the years I have tried many different variations but my absolute favorites are the following
The Tropics: Macadamia nuts, dried blueberries, flax seeds, flaked coconut and white chocolate chips. One thing to note about this one is if you carry the trail mix in your inside jacket pocket sometimes the white chocolate chips can melt.
Power Up: Goji berries, dried blueberries, pumpkin seeds, dark chocolate chips and pistachios. I make this one when I need an extra boost of energy.
Family Trails: Apple cinnamon Cheerios, goldfish crackers, dried blueberries, pretzel sticks, peanut butter chips, almonds, flax seeds and M&M's. Probably the least healthy one on the list but it keeps the kids energized and they don't complain about 'mommy's yucky trail mix.'
My Go To: Almonds, dried cranberries, banana chips, flaked coconut, granola, chia seeds and white chocolate chips. This is my go to trail mix, I always have these ingredients in the cupboard in case I decide to take a surprise trek.
Hopefully those awesome recipes inspire you to strap on those snowshoes and get outside! Snowshoeing truly is the ultimate sport for anyone of all ages and I hope you enjoy it just as much as I do!