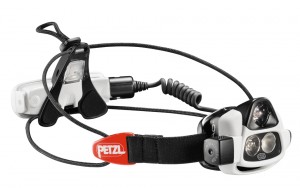 Trail running at night is one of the great pleasures of life. In order to do it safely, you need a proper light source to guide your way. That is where the Petzl NAO steps in.
I have owned a few different Petzl headlamps over the years and I really enjoyed their effectiveness and quality. The NAO takes a huge leap forward in what you can expect from a headlamp.
Firstly, the unit itself is very lightweight, even though it may initially appear bulky. It's certainly not the lightest unit on the market at 187g, but with its easy-to-adjust ZEPHYR strap system, the weight is evenly distributed. I have run at least 20 times with it over the past few weeks and have yet to notice any jostling or shifting, even at faster paces on uneven trails.
The most innovative thing about the NAO is the Reactive Lighting System. Basically, an integrated light sensor is oriented in the same direction as the eyes; it measures and analyzes reflected light in order to instantly and automatically adjusts the headlamp's beam pattern (wide and/or focused) and light output to the user's needs.  So, it allows the athlete to move along the trail without ever having to adjust the light to the surroundings, making your adventure in the wilderness much safer and enjoyable.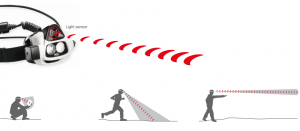 The sensor doesn't react well to cold temperatures. When you exhale, the fog that occurs from your breath will often times interact with the reactive lighting system causing it to dim. Knowing in advance that this can occur makes it easy to prepare for–as it only lasts a few seconds until the sensor is clear of the obstruction.
Petzl provided a handy graphic that shows the battery life in comparison to the light's lumens and distance: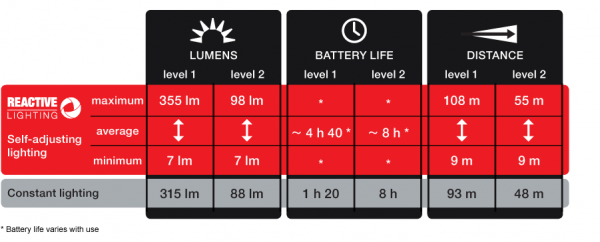 This graphic seems pretty accurate from my personal experience, but I think we can assume that in the colder temperatures of winter the battery life will vary downwards.
The battery system is also pretty innovative. You can use either a rechargeable Lithium Ion battery via USB or two AAA batteries.
The last thing about the Petzl is the ability for the user to change and customize the lighting in a myriad of ways using a free-to-download OS software (www.petzl.com/OS). This software allows the user to customize the lighting to regulate light intensity and lighting time and distance. You can register up to four activity profiles on the headlamp for direct activation based on your needs, create up to five lighting levels per mode, and create and share personalized profiles.
The NAO has proven itself as my go-to headlamp for trail running during the dark winter months and you can be assured it will be yours as well.
For more information on Petzl, visit http://www.petzl.com.  To purchase Petzl products, click here.