If you are into hiking or snowshoeing, trekking poles will help you maintain balance and overcome any uneasy terrain. Climbing hills can especially turn into a tricky endeavor and may lead to a fall without solid snowshoe/trekking poles. Moreover, a well-built pair of trekking poles will help you maintain your rhythm and protect your ankles, knees, and hips when going downhill.
Finding a well-built pair of poles is not always easy because there are so many options on the market. This scenario is why I've decided to take Crescent Moon Adjustable Hiking (Trekking) Poles on a hike and test them out. Now, let's see what these beauties have to offer for hiking and snowshoeing enthusiasts.
Some of the links in this article may contain affiliate links. When you make a purchase using these links, part of the proceeds go to Snowshoe Mag. Additionally, as an Amazon Associate, we earn from qualifying purchases. Please see our disclosure for more details.
Technical Specifications
The packaging for these trekking poles by Crescent Moon is very light, at only 1.8 pounds (800 g). Therefore, unboxing is a straightforward process. Once I got them out of their original packaging, I closely inspected the poles.
Material
Crescent Moon decided to make their Adjustable Hiking (Trekking) Poles out of an aluminum alloy. This choice has made their product durable and incredibly light, with the poles themselves weighing less than 1 pound per pair.
The grip is made out of polyurethane, and its ergonomic design makes it really convenient to grip. In addition, it has a fine structure, making the pole usable with or without gloves.
The pole tips are made of carbide tungsten. This material is very durable and strong. It is even used in the manufacturing of armor-piercing rounds. What does this mean to you? You will be able to put these pole tips against all kinds of surfaces – snow, ice, iced earth, grass, and rock and they won't even feel it.
Slightly pointed towards the end, these tips should easily penetrate any surface and help you maintain your balance, even on the steepest of climbs. Don't worry. You get caps to protect your pole tips once you decide to holster them.
Mechanics
When I received Cresent Moon's adjustable trekking poles, they were collapsed, and their length was 24 in (61 cm). Since these are 3-section telescopic poles, though, their length is adjustable thanks to the locking mechanism, and they can be released up to 53 in (135 cm). I find this extra convenient, as their max adjustable length is more than twice their collapsed length.
The locking mechanism is of the twist type. Therefore, adjusting the desired length is very easy. All you need to do is turn the bottom of the poles counterclockwise, pull the bottom of the pole to your desired size, and turn the bottom back clockwise.
Furthermore, the straps on both poles come with adjustable webbing. I found this very practical, as you can set the straps short and secure the grip to be tighter. In any case, if you don't like these to be too tight, you can loosen them up and use them just as a precaution not to lose your pole or in case you lose your balance or stumble on some rocks or grass.
Finally, these adjustable trekking poles by Crescent Moon come with standard snow baskets designed to serve their purpose well enough. However, Crescent Moon has left us with the option to replace the baskets easily. This option means that you can put the ones that you prefer on at any time you want.
Read More:  Are Two Poles Better Than One?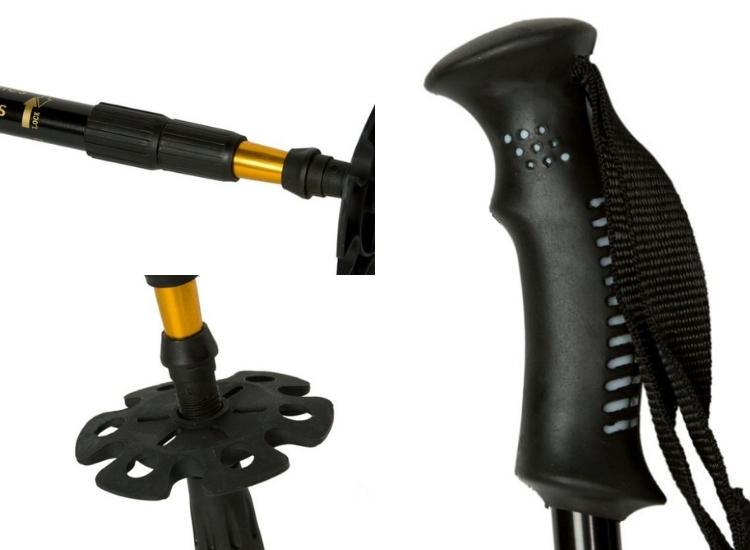 Benefits
After testing Crescent Moon's adjustable poles, there are several benefits to keep in mind.
Adjustable length
Thanks to their telescopic build, you can adjust these poles' lengths in one simple action. This feature makes the poles incredibly practical when you have to go through any technical terrain.
You can adjust their length to make your climbing and descending easier. This adjustment also makes the poles perfect for many people, as they can change the pole's length according to their height. In fact, Crescent Moon recommends these poles for those between 4'6″ (1.37 m) and 6'4″ (1.93 m) tall.
If you need to store the poles, you can also shrink your poles to their minimum length and put them on your backpack.
Read More: Choosing a Backpack: Features to Consider for Snowshoeing
Incredibly light
Thanks to the new technologies and light materials that Crescent Moon has used to build these poles, each pole's weight stands at about 0.5 pounds (227 g). As a result, you'll be able to hike without even feeling that you have the poles in your hands.
The lightweight design is especially convenient for hikers who bring large and heavy backpacks on their adventures. The light structure of the poles won't overburden you once you strap them onto your pack.
Great durability
Since Crescent Moon's Adjustable Hiking (Trekking) Poles are made of aluminum alloy, they are durable and able to withstand hikers' maneuvers and harsh elements. This material is beneficial when hiking near ice or rock.
The price
The price range of these poles ($61.95) places them in the more affordable ones. So, they are an excellent choice for those who don't want to go all out investing in hiking and snowshoeing gear.
Read More: Snowshoeing for Beginners: The First-Timer's Guide
Considerations
With all the benefits of these poles, there are a few other considerations as well.
Polyurethane Grip
Although ergonomic in design, the polyurethane grip still feels artificial. For example, compared to the poles with cork and foam grips, these don't provide the same comfort level, and the hands don't fall naturally into place.
However, Crescent Moon does offer a blue or white aluminum trekking pole with a cork grip as an alternative.
Standard Baskets
While the standard baskets may be more than enough for recreational outings, they may not be quite enough for longer backcountry treks.
The Final Verdict
The materials used in the pole design make them lightweight and durable, and the telescopic body design sets them apart from the poles in the same price range. However, the grip and standard baskets may not be best for everyone.
So, overall, these adjustable trekking poles by Crescent Moon are an excellent option for beginning or recreational hiking or snowshoeing enthusiasts.
This article was originally published on Nov 3, 2018, and was most recently updated on Nov 29, 2021. The opinions in this article are the author's own opinion of the gear mentioned. 
Read Next: What to Bring When Snowshoeing: Top Accessories for the Day Hiker