Poles can be an incredibly helpful accessory for snowshoeing and have several benefits. They can provide extra balance and stability on the trail and be an aid when ascending or descending hills. For many snowshoers, poles can also reduce the strain on joints, especially the knees.
However, whether to use poles while snowshoeing is a matter of preference, and there are factors to consider. But, if you decide to use poles, here we present some of our favorite pole options for snowshoeing.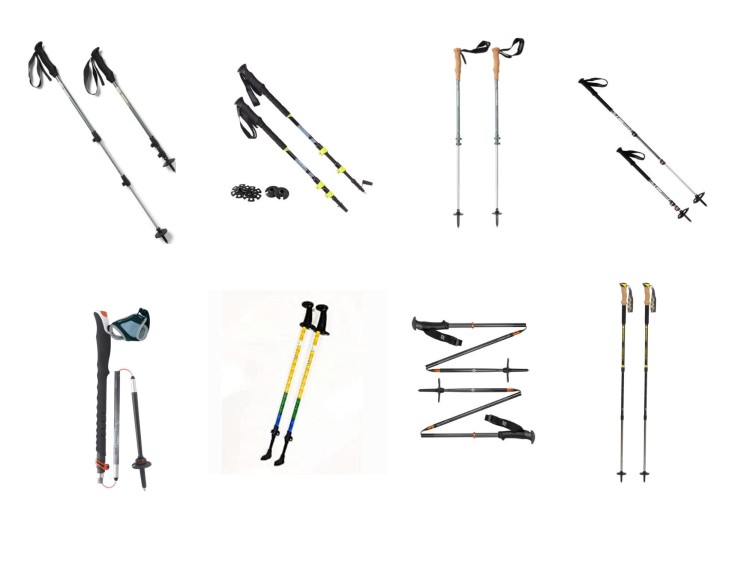 Some of the links in this article may contain affiliate links. When you purchase using these links, part of the proceeds go to Snowshoe Mag. Additionally, as Amazon Associates, we earn from qualifying purchases. Please see our disclosure for more details.
Mountainsmith Carbonlite Pro – For the Mountaineer
The Carbonlite Pro is made of a blend of carbon and 7075 aluminum and weighs a mere 1.15 lbs per pair. These poles also include a spring-loaded anti-shock system that's kind on the joints.
Regarding adjustments, this three-section pole uses a twist lock with easy-to-see pole markings. When fully extended, the Carbonlite Pro is 54 inches, while when fully collapsed, it's at 27 inches.
This pole also includes extended-length cork handles that contour the hands and soft straps for comfort.
These poles offer a rubber cap to cover the carbide pole tips for the snowshoe season. Also, the hiking baskets are removable and can be replaced with a snow basket sold separately. The pole without the baskets retails for 79.95 MSRP.
Read More: Why To Use Snowshoes on Your Next Mountaineering Adventure
TSL Connect Carbon 5 Trekking Poles – For the Tech Lover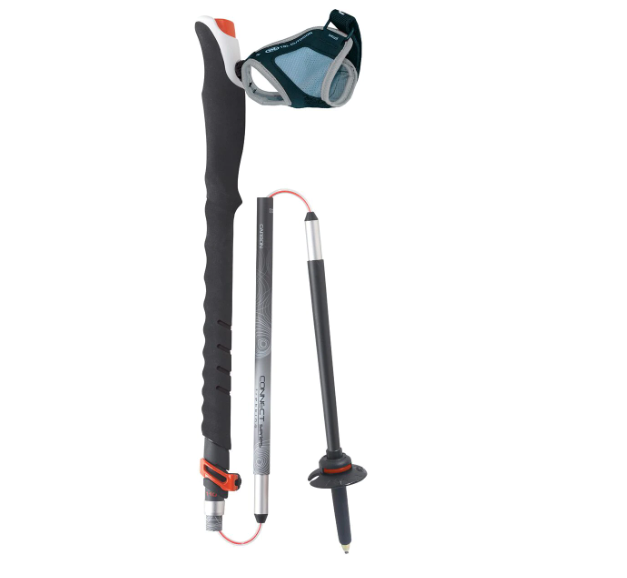 The Connect Carbon 5 poles by TSL  include a wide array of innovative technology. As the name suggests, these poles are crafted from lightweight and shock-absorbant carbon. So, each pole is only 8 oz (about 1lb per pair).
The Connect Carbon 5 are some of the smallest poles when collapsed and fold down to only 16.5 inches (42 cm). To adjust them, you can use the external lock (flip system) for a fast and secure adjustment. The poles are 51.2 inches  (130 cm) when fully extended and 43.3 inches (110 cm) at their shortest.
The handle is an extended-length EVA foam with removable magnetic ergonomic wrist straps for support and accuracy on the trail.
Moreover, these poles include a tungsten tip durable for any terrain and a detachable crossover end piece for the tip that adjusts to the ground and increases traction as you hike. The Connect Carbon 5 also has two interchangeable basket sets that can be switched out via the easy push and pull system.
This model of the Connect Carbon 5 retail for 169.95 MSRP. The price may vary depending on the features included.
Read More: Outdoor Retailer Summer Show 2022 Trends
Black Diamond Carbon Compactor Ski Poles – For Convenience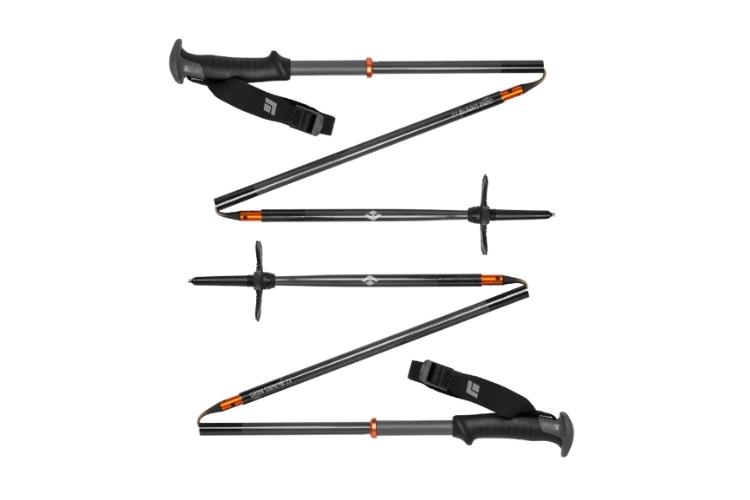 These three-section poles come with Z-pole technology, which allows you to deploy your pole with a single push of a button. This convenience factor was one of our reviewer's key features.
In addition to this technology, the Carbon Compactor Ski Poles are made of very lightweight carbon fiber. Their shortest pole of 115cm (43 in) weighs only 500 g (1lb 1.6 oz) per pair.
Black Diamond has also recently updated the deployment system of these poles to improve the pole's durability and ease of use. These poles come in at 199.95 MSRP.
Read More: Black Diamond's Carbon Compactor Pole Review: The Height of Performance and Convenience
REI Trailbreak Trekking Poles – For Deep Snow
The Trailbreak Trekking Poles are made of 7075 aluminum for strength and offer soft foam grips and wrist straps for comfort.
These three-section poles also have an oversize lever adjustment for quick adjustment. Just make sure the level is fully tightened and locked before each use. The maximum extended length is 55 inches (140 cm), and the minimum extension is 41 inches (105 cm). The Trailbreak Trekking Poles are 25 inches (63.5 cm) when completely collapsed.
These poles offer a large trail basket on the end of the poles, which is helpful for floatation in deep conditions. The Trailbreak Trekking Poles sell for 69.95 MSRP.
Read More: Tips for Using and Choosing Your Pole: Two Poles or One?
Yukon Charlie's Pro Trekking Poles – For the Budget-Conscious
The Pro Trekking Poles are three-section poles with an easy-to-use adjustment system. The pole length is adjustable from 65 cm – 135 cm (25 to 53 inches).
These poles are made of 7000 aluminum at a weight of 1.3 oz per pair.  In addition, the grip is a comfortable EVA foam grip, which is comfortable and easy on the hands. These poles also include interchangeable snow and trekking baskets so that you can use them all year round.
At only 49.99 MSRP, the Pro Trekking Poles are a great option if you're looking for a low-cost, versatile pole. You can also purchase the poles in a kit, which includes a pair of Yukon Charlie's Pro snowshoes.
Read More: Yukon Charlie's Pro Series (930) Snowshoe Kit for the Backcountry
MSR DynaLock Explore Backcountry Poles – For Versatile Terrain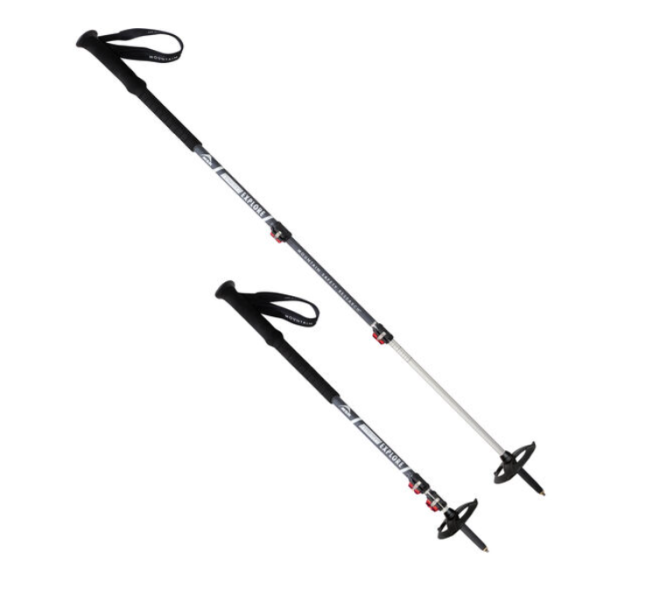 The DynaLock Explore Pole is a mid-range, versatile pole suitable for a wide variety of hikes – both recreational and technical.
The locking mechanism, one of the favorite features of our reviewer, is easy to use. It requires you to flip the lock, pull the proper adjustment, and flip back. Once you adjust the first time and know your length, the pole markings help you find the appropriate adjustment quickly.
Made of 7075 aluminum and with an extended EVA foam grip, the DynaLock Explore is durable and comfortable. Moreover, these poles are pretty standard weight, about 1 lb 4 oz per pair. These poles are 109.95 MSRP.
Read More: MSR DynaLock Explore Pole Review: A Hike Up Mt Quandary, CO
Urban Spirit Poles – For the Fitness Enthusiast
The Urban Spirit Poles are Nordic walking poles designed to amp up your snowshoeing, hiking, or walking adventure. These fitness poles can help strengthen your core, work out your upper body and burn more calories.
These poles are also durable, made of high-grade aluminum, and have a carbide steel tip (with snow baskets). The recommended weight-bearing capacity per pole is about 90 lb (40 kg).
In addition, the design is ergonomic, including a CoreGrip handle to reduce wrist strain, a wide ledge instead of a strap to reduce injury, and anti-vibration features to take pressure off your lower joints.
Regarding adjustment, these two-section poles include a flip locking system that can adjust for heights between 4'2″ (128 cm) and 6'2″ (188 cm).
Finally, this specific pole is also one with a cause. The graphic was created by Winnipeg-based Indigenous artist Jordan Stranger to inspire walkers to follow a path to good health and spiritual well-being. Furthermore, the Spirit Poles were developed to promote awareness of Nordic walking in preventing and treating Type 2 diabetes, with a donation of 2% of the proceeds of Spirit Pole sales going to the National Aboriginal Diabetes Association.
These poles are 109.99 MSRP.
Read More: Snowshoeing for Improved Fitness with Nordic Walking Poles
Komperdell Ridgehiker Cork Powerlock – For Durability
The Ridgehiker Cork Powerlock is just one of over two dozen styles of poles crafted by Komperdell.
These poles are simple yet durable. The Ridgehiker Cork Powerlock pole is a three-section pole made of 7075 aluminum and weighs in at 0.6 lb (268 g) per pole.  Their Powerlock adjustment system is their strongest lock, also made of forged aluminum.  Finally, the pole's tip is tungsten carbide, a durable tip that can handle navigation on changing terrain.
The Ridgehiker Cork Powerlock collapses down to 25 inches (64 cm), with adjustments from 41 inches (105 cm) to 55 inches (140 cm).  The wide range of extensions in this pole makes it an excellent option for those both tall and small individuals.
This pole's handle is cork, providing a comfortable, sturdy, and antibacterial grip. It also includes a padded hand strap for extra comfort. For snowshoeing, the Ridgehiker Cork Powerlock includes vario baskets for easy swaps between summer and winter hiking.
Read More: Snowshoe Skills for the Hills
Have you used any of the poles above for snowshoeing? What other poles are your favorites? Please share your thoughts with us in the comments below.
Read Next: What To Bring When Snowshoeing: Top Accessories for the Day Hiker