Mammoth Lakes (the town) and Mammoth Mountain (downhill skiing) offer over 320 miles of trails, many for winter enthusiasts, including snowshoers.  Sometimes, though, getting away from the primary access points like trails affords opportunities for less crowded spaces. Another way to enjoy the winter wonderland of this Eastern Sierra mountain town is to instead make-your-own-adventure.
After talking with locals, I learned that it is not uncommon for snowshoers and cross-country (xc) skiers to wander off into the forest behind the Mammoth Mountain Inn and Mammoth Mountain Chalets. So, I embarked on an adventure!
Snowshoeing Off-Trail at Mammoth Mountain
I parked where everyone else was parking for skiing the mountain, carried my snowshoes up the road, and walked behind the Inn. In a clearing of the forest, I put on my snowshoes and then set out in the direction of Minaret Vista.
I had no set agenda/plan for the late morning wander among the trees. Though, I knew that the snow-covered road was to my left, as was the mountain. So, I stepped and poled my way around. I noticed from the get-go there were several tracks from fellow snowshoers and xc-skiers, along with booted individuals.
No one was there, where I was, but I could see downhillers through the trees on occasion, as well as hear the tweets of birds. The air was cold, somewhere in the upper teens. But, with the sun shining from time to time through the clouds, and with my body moving, I was warm. I'm glad I dressed in layers, and it was not too long before I shed my hat.
Read More: Destination Snowshoe: Mammoth Lakes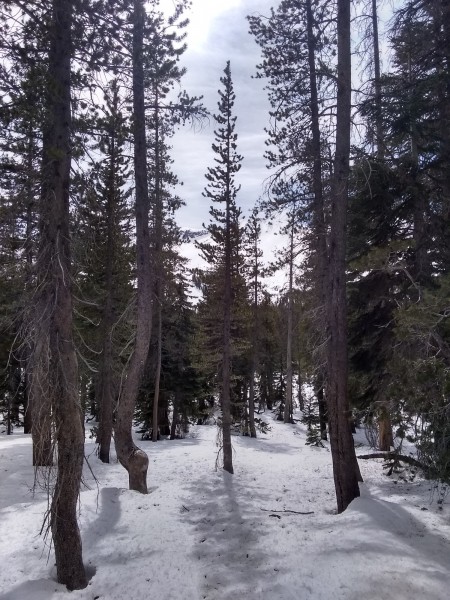 All in all, it was a nice little outing. Not too strenuous, though a few bumps here and there did require some exertion. Since I had no set destination, it made for a more relaxing walk, of sorts. I noticed bird tracks in the snow more so than other outings. Also, snow piled up on downed trees and a pine cone that seemingly was pulled apart and broken into pieces, likely from an animal seeking the nuts deep inside, was more noticeable.
It had been a while since I put on my 'shoes and wandered with no set destination. After an hour and a half of making my own adventure, I decided that I needed to do it more often. Give it a go, sometimes, but be sure you have your bearings!
Read More: A New Found Passion: Wildlife Tracking & Identification
Additional Info If You Go
If you're driving from Mammoth Lakes (town) up to Mammoth Mountain (skiing), the Upper Gondola area is where Mammoth Mountain Inn is located. It sits back on your right, opposite the ski mountain. You could also park at the main lodge on Mammoth Mountain. Behind the Inn, however, is where locals go wander to get away from the crowds and a couple of hours of exercise.
In town, there are lots of options for lodging and food. Mammoth Brewing Company in the village area has tasty grub and craft beer, as does Distant Brewing on the southeast side of town near the Vons grocery store. Petra's Bistro and Wine Bar is superb and Stellar Brew and Natural Café provides what you need for your caffeine fix and healthy food options.
Have you been snowshoeing at Mammoth Mountain? Have you created your own adventure? Please share your experience with us in the comments below.
Read Next:
Snowshoeing Under The Light Of The Silvery Moon In Mammoth Lakes, CA
Snowshoeing For Beginners: The First- Timer's Guide
All California Destinations & Trails