The coffee I bought an hour ago has done the trick. No longer yawning, I cruise interstate 80 heading out of Reno's industrial center with a jittery awareness. West of the glitz of downtown are the scraggy sage brush-covered foothills of the Sierra Nevada Mountains.
It's here the weather starts to change. A minute ago the sky was blue, and clear. Now, my drive is taking me into a spectrum of grays – from smoky-whites and charcoals to a churning mix of saturated, slate-colored tones. The morning news indicated Truckee, my destination, was in for it. But winter, having finally decided to arrive in this part of the Sierra, couldn't spoil my plans to snowshoe Lake Tahoe's northern shore. I feel restless, perhaps caffeine-induced, and a bit intoxicated as I speed along the Truckee River.
The fast ascent delivers me to a surprisingly sunny Truckee but the view is limited to the river valley itself. The higher peaks are caught in the cauldron of grey and, for the moment, are invisible. I have time to take a driving tour and note that while the area has long offered a refined rustic vibe, over the last decade the quieter northern shore of Lake Tahoe has added sophistication to its list of descriptors. Without losing its mountain town charm, Truckee's cultural offerings have evolved: there are grown-up dining choices (five Zagat-rated restaurants in town), up-to-the-minute boutiques, art galleries, and luxury lodging options.
But first things first, lunch. I meet Katie Schaffer, an avid snowshoer and 30-year resident, at the Pacific Crest Grill at Bar of America (www.PacificCrestGrill.com). The restaurant is in a striking corner-building in the center of Truckee's downtown. And while part of the historic brick building has housed many businesses, including a hotel and even a Bank of America, the bar area, where we are seated, has been a long-time watering hole for residents and visitors alike.
A look at the menu shows Executive Chef Scott Allen's leanings toward Asian, Italian, French and Mediterranean fare. It's an assorted list of traditional-meets-modern that includes seasonal dishes with organic themes. I'm torn between the Fattoush Salad with yogurt marinated chicken or grilled fish tacos with jalapeno and lime-marinated pacific red snapper. I opt for the tacos and kick the conversation off with, "Katie, where should I snowshoe?"
She generously offers her favorites – from organized, groomed routes to spots to park and trudge off into the forest. I can barely write fast enough. Katie mentions options along the interstate at Donner Pass, to the west of Truckee, and tells me about Royal Gorge Cross Country Ski Center; specifically its well-marked trail to Point Mariah. (While mainly a cross-country ski center, Royal Gorge rents snowshoes.) "The trail to the Point skirts the back of the peaks located along the Pacific Crest Trail and looks down on the North Fork of the American River," Katie adds.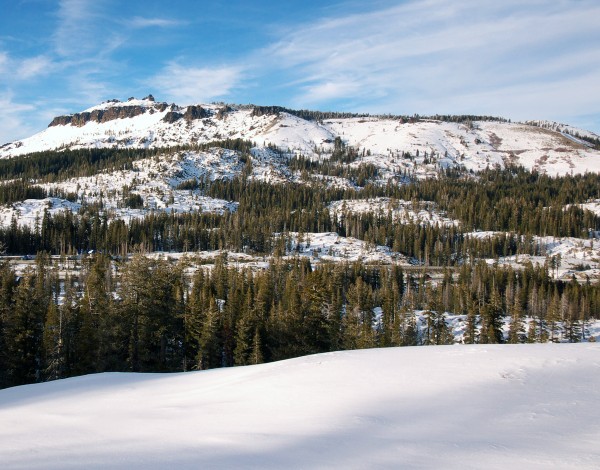 Another option near the summit is Donner Memorial State Park. Miles of hiking trails turned snowshoe trails in winter months are a draw and Katie recommends a classic two-mile loop to the Murphy Cabin site where members of the Donner Party endured the winter of 1846-1847. All that remains of the historic cabin is a large boulder that formed part of a wall.
We finish lunch at 1:00 pm and I ask Katie to recommend a quick and easy, late-afternoon snowshoe. She mentions Castle Peak area and her description intrigues me – lofty Sierra views and travel along the Pacific Crest Trail. But, before I head out, I need to get settled and drive a short distance across town to check in at my hotel.
I'm not sure what to expect as I make the turn into the Hampton Inn and Suites Tahoe Truckee (www.HamptonInnTruckee.com). I am familiar enough with the Hampton brand to know it is part of the Hilton family of hotels but I am surprised to find it in this seemingly secluded part of Tahoe. Set back behind a line of lodgepole pines, the exterior of the property has a modest presence. However, the interior is much richer.
A tapestry of textures welcomes me and, despite outside temps beginning the daily downward trend, the lobby is warm. I plop down on an overstuffed leather ottoman and admire the arts and crafts-inspired furnishings. Melody Rebbeck, general manager, greets me and gives me a quick tour. The hotel, she says, was built in 2005 and received the "Best Hampton Design" for the brand's North American properties. Towering beamed ceilings in the dining area and a center-piece river-stone fireplace confer a feeling of pastoral style. I am pleasantly delighted and happy at the prospect of making the Inn my basecamp.
My corner suite on the third floor overlooks the Martis Valley and Mount Baldy. While I don't spend much time in my room, I notice the jetted, over-sized tub and fireplace and make a mental note to set time aside to enjoy the Inn's amenities.
Now 2:00 pm, I take Katie's advice and opt for a quick jaunt on the Pacific Crest Trail. I meet my friend Holly and the two of us head toward Donner Summit and the Castle Peak exit. It's a short drive and we gear up in Boreal Mountain Resort's parking area. The trail ascends through a pine and fir forest and we follow a stomped path. While it is evident this is a popular snowshoe, it's Wednesday afternoon and we have the forest to ourselves.
As we gain altitude, we begin to notice the diverse geology in the area. Evidence of a glacial and volcanic past are captured in the surrounding peaks, including Castle (9,103'), Basin (9,015') and Andesite (8,219'). Our time is limited and I am soon regretting our choice: I want to keep climbing into the high-country but we decide to hike one hour in and turn around. We get far enough for a taste of the spectacular views this trail affords and catch a glimpse of distant Donner Peak (8,019') and Mounts Lincoln (8,363') and Judah (8,243').
On our way back to the hotel, we swing by Truckee River Winery (www.TruckeeRiverWinery.com). The Winery's tasting room is located in a bright red barn that sits back from busy Brockway Road. Though we are dressed in our outdoor gear we don't look out of place and slip in to two seats at the bar. For $5 we sign on for a complete tasting of Truckee River's wine suite. Katy Jones, director of sales and marketing, pours and starts us off with their Russian River Valley Chardonnay before we proceed through a number of reds, including a table wine, Merlot, Zinfandel, and a trio of Pinot Noirs. We finish with a peppery Port. The wines are fantastically smooth – not what I expected when I entered the barn – and Katie is an expert guide on all things grape. We leave with an appreciation for small vintners and a few new favorites to add to the wine rack.
Holly decides to stay for dinner and we both change clothes before heading back out for an evening in Truckee. To re-fuel our late afternoon efforts, we head to Cottonwood Restaurant & Bar (www.cottonwoodrestaurant.com). Cottonwood sits high above the town of Truckee and offers diners a spectacular birds-eye view of downtown. At the door owner Mike Blide greets us with a smile and gives us a tour of the historic building, considered one of the oldest ski lodges in the country. He tells us the rough-hewn walls are made of railroad ties salvaged from the area's early logging operations. The place is warm and cozy and we take a seat at the bar while we wait for a window table.
Bartender Chris pours us chardonnays while I peruse Cottonwood's menu. It's an interesting mix of local and sustainable fare. Once seated, we order from our server, Betsy, another local snowshoer. While the pine nut crusted Southeast Asian basa is very tempting, I can't resist the chance to sample one of Cottonwood's signature dishes – butternut squash enchiladas with ancho chile mole and white cheddar cheese. Holly plays it safe and orders the special, a sushi-grade salmon with wild rice. The food arrives and it is delicious and filling. We linger afterwards to strategize our next day of activities before heading back to the hotel.
Overnight, the region receives a dusting of snow. It has a powerful impact on my view. With temps in the single digits, frost colors the Martis Valley below in a monochromatic white and, in the early morning light, the sky is pale blue. I dial up the heat on the thermostat and crawl back in bed to watch the news. The weather forecast tells me 'blue-bird and cold.' Holly and I decide to wait until the sun has had a chance to warm the earth and head to the lobby for breakfast.
The Inn offers a hearty start. Both hot and cold choices ensure we are fueled for the endurance-minded adventures we have planned. After breakfast, we gather our gear, pack lunch, and drive to Squaw Valley's Nordic Center to hike one of the many snowshoe trails. We spend a few hours touring the open meadow that sits center and take in views of famed Squaw Valley slopes. The sun feels warm despite the wintry temps.
Unfortunately Holly has to return to work and says good-bye. I decide I'm not finished snowshoeing for the day and check out a spot Katie Schaffer recommended – a place locals call Sage Hen. The directions are what you might expect: "take highway 89 north for roughly eight miles. Cross Prosser Creek, pass the Emigrant Trail trailhead, which, by the way, is another great snowshoe; keep going until you drive over a small bridge at Sage Hen Creek. But don't stop here; wait till mile marker 7.5 and then you'll see a garage with a door just as you crest a hill."
There are enough details in the description that I make it. I follow a snow-covered forest service road for a two hour out and back. I don't encounter any other people and am happy to have a chance to enjoy the solitude Tahoe has to offer.
Back at the hotel I relax in my room. It's hard to pull myself away from the comfortable accommodations but I am determined to experience Truckee's nightlife, even if it means happy hour and dinner on my own. I'm starting to feel like a local as I navigate back to Truckee's downtown, find free parking, and nab a seat at the bar at Moody's Bistro (www.MoodysBistro.com). It's crowded and lively for a Thursday night. I enjoy a blueberry tea (Grand Marnier and spiced tea) while I talk with other like-minded visitors. It's fun but I'm hungry and I have heard great things about Fifty Fifty Brewing Co (www.FiftyFiftyBrewing.com).
Fifty Fifty is Truckee's local brew-pub. It's a bit hidden in a mountain-style strip mall but there's plenty of parking and, again, I am lucky and get a seat at the bar. The beer menu features brews that poke fun at the region like the Donner Party Porter, Rockslide IPA, and Foggy Goggle Belgian Wit. I decide to order one of their flagship beers – the Manifesto Pale Ale – and one of their specialty sandwiches – a seared yellow fin tuna with bacon, lettuce, and tomato.
I sleep well and wake up feeling refreshed. For my last day in Tahoe, I explore the Village at Northstar at Tahoe as well as Northstar's snowshoe opportunities. It seems like an early start at 8:30 am, but skiers and snowboarders walk briskly toward the gondola. I grab a soy latte at Starbucks, skirt the ice skating rink, and get in line at the ticket window. Even though I am here to snowshoe, access to the trails require a lift ticket ($26.00 for all day) and short gondola ride to the day lodge. I'm the only snowshoer as I fall in line behind a group of skiers from Houston.
The gondola whisks us up the slope, passing over million dollar homes and towering pines. I step out at the top into the base area for downhill ski operations. To my left is a small building with a sign stating it is Northstar's cross-country ski and snowshoe starting point. Inside, I ask one of the staff for a map and a recommendation. He points toward the uphill rise of a groomed skate-ski track and I set off. As I hike away from the ski area and into the woods the din of chairlifts fade. After a short distance on the track, the snowshoe trail markers lead off the groomer and onto a trail that has a surprising amount of altitude gain. I pass two other snowshoers before settling into my own rhythm in the forest.
In half an hour I cover a good distance and find myself at the shore of a small reservoir and the edge of a meadow. In the clearing I see the Caboose Hut (a warming hut housed in an old train caboose set atop railroad ties). Inside is sparse, but there is water and a place to rest before moving on.
I spend the rest of my time weaving my way through the forest; crossing groomed cross-country tracks while following Northstar's trail icons. At various points throughout I am delivered glimpses of the regions mountainous terrain and, at my turn-around, am treated to views of the blue jewel, Lake Tahoe. I return the same way. Sounds of skiers and snowboarders tell me I am back where I started.
It's a fun day and I'm exhausted but reluctant to leave. Despite the four hour drive south in front of me, I decide to celebrate one last time with a quick appetizer at Mikuni Japanese Restaurant and Sushi Bar. The trendy décor and quality of the sushi is a surprise and I make a note to have dinner here the next time I am in Tahoe.
Driving toward home, I circumnavigate Lake Tahoe's northeast shore. Views ahead of are snow-covered sand beaches and frosted pine trees. Making a left turn onto highway 50, I notice a sign for Spooner State Park and realize winter's transformation of this vast region offers far too many snowshoe opportunities than my short three days and tired legs can handle. I make yet another mental note to return here soon.
For some of the best luxury accommodations in Tahoe, research Inspirato's residences in Northstar: http://www.inspirato.com/destinations/tahoe-california. For more information about an Inspirato membership, click here.