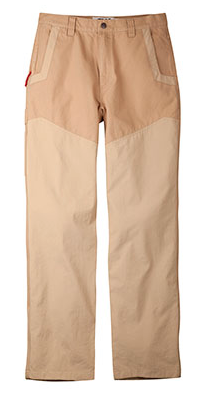 You'd expect me to be partial to Mountain Khakis, since I live in Jackson, Wyoming, and Mountain Khakis is a Jackson-based enterprise.  But after wearing their original field pants out snowshoeing these past few weeks, I'm more than partial.  I'm an enthusiastic, diehard believer.
These pants are so strong and durable that I'm confident they will hold up to years of use out on the powder.  Somehow, though, Mountain Khakis has made their original field pants super-strong and super-durable without sacrificing comfort or flexibility, both of which these pants have in abundance.
Most pants of this type are too heavy and too stiff.  They don't bend with your body as you move.  So we wouldn't even think of wearing them for our winter sports activities.
But Mountain Khakis' original field pants are made of cotton canvas that is strengthened by triple-stitched seams and chap-style reinforcements on each leg.  The heel cuffs are further protected with "mud flaps" that are extra long.  And the pants have a diamond-shaped action gusset.
The result is that we can move with fluidity while staying comfortable and surprisingly dry.  The pants fit great, function superbly, and hold up well.  They shed moisture and they provide great protection against the wind.  And it is very unlikely that the material will break or split.
During all my time out snowshoeing, Mountain Khakis' original field pants kept my legs warm and dry.  I also like the zippered pocket, which helps keep my valuable stuff safe while I'm moving around on the snow.
Since Mountain Khakis did not specifically design its field pants for snow sports, I was a bit dubious when I first put on a pair.  But Mountain Khakis has delivered for us snowshoers and they have earned my long-term loyalty.  I love the Yellowstone color of my first pair but will soon be adding their Ranch-colored field pants to my collection.  Whichever color I'm wearing, from now on, when I'm snowshoeing you'll never find me in any other pants.
To check out Mountain Khakis' original field pants:
http://www.mountainkhakis.com/products/men/pants/ms-original-field-pant.cfm