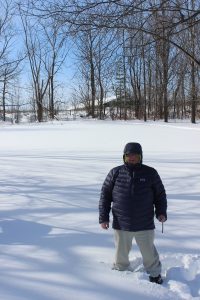 Helly Hansen has come up with a cool new way to stay warm and comfortable while snowshoeing and winter hiking. The Odin Veor down jacket might be one of the best jackets available today for active outdoor enthusiasts. It's a very light down parka with an ingenious venting system that works very, very well.
Helly Hansen says the fabric on the coat is 25D down-proof, lightweight with DWR
90/10 Goose down with 800 fill-power (Allied Down). That makes it warm, but not suffocatingly so. It's not what I would call a "standing-around" jacket… this puppy is designed to keep you warm while you're on the move. Mind you, I find it isn't bad while just lounging outside, to temperatures down to about -15 Celsius.
The strength of the jacket, though, lies in what the company describes as "strategically placed back airflow baffles and front zipper vents. The baffles on the back are smartly covered up by overlapping fabric, while the front zipper chest vents are easily accessible on their own. Once you open those vents, more-than-adequate ventilation begins immediately.
The system reminds me of a Misty Mountain three-in-one jacket I purchased about 20 years ago with somewhat similar zippered vents. That system never worked as well as I thought it should, but Helly Hansen has gone a long ways toward making its version nearly ideal. I also have a heavy down parka made by Columbia Sportswear featuring the same concept, which also doesn't work quite as well.
The jacket has the "versatility to be worn under a shell or on its own," the company literature says, and that's definitely true. It's such a thin, light coat it would be easy to put a shell over it, especially in wet conditions, although I haven't had to do so yet. I've worn it snowshoeing in temperatures down to -18 C, and the system really does work to curtail sweating. My biggest problem while snowshoeing is always trying to avoid overheating, and the Odin Veor does that about as well as anything I've tried.
I've also used it extensively while shovelling my 100-meter laneway, and it's ideal for that as well. That's the only time so far I've been able to work up a real sweat in it, and it's been far better than anything else I've tried. That's not to say there isn't some room for improvement. The Odin Veor lacks a double-zipper, which is always desirable, particularly for a longer coat. I've been puzzled for years as to why it isn't a standard feature on a winter jacket. Such a zipper is always a welcome convenience while fiddling with snowshoe harnesses.
The hood is very functional, convenient and warm, but I find the system to tighten the shock cords inconvenient. It's very similar to my Columbia heavy down parka, which I've never liked at all. The system just doesn't come intuitively to me. The fit of the jacket is also fairly good, although I would suggest it could be slightly looser, more akin to an Icefall jacket I have that is also made by Helly Hansen, but that's me being picky. I'm stocky enough that a regular/athletic fit doesn't suit me as well as it might.
The jacket also features mammoth hand-warmer pockets and a stuff suck that will come in handy to back-country types. All in all, this is a jacket that a lot of people will want.
T.S. Giilck