I have the seen the light when it comes to water purification. The light from a SteriPEN Adventurer Opti, that is.
The Adventurer Opti is a highly portable ultraviolet water purification system from the big brains at SteriPEN. I was intrigued to try the system out, since it's basically a miniature version of a Sterilite system I use to treat my household drinking water. That's a necessity when you're on a well system in farm country, as I am.
It would be fair to say I've been bedazzled by the device, which is about the size of an older iPod Nano – which is pretty darn compact. That includes a convenient carrying case that you can strap to your belt or lash to a pack with complete expediency.
More so than most people, a reliable and consistent supply of drinking water is crucial to me when I'm outdoors. I've struggled with a chronic kidney/bladder condition for about 10 years now, meaning I have to keep myself exceptionally well watered.
I've tried various methods for dealing with that challenge, up to using a hydration pack, which has been the best solution. However, for shorter trips even a three-litre pack isn't always enough for me, especially in exceptionally hot or cold weather, and that's why I've been seeking at least a good backup system, particularly for long trips where carrying sufficient water isn't feasible. Longer trips have been very difficult for me to plan.
The Adventurer Opti fits that niche and then some.
It's so simple to use its almost idiot-proof. You pop the glass cover off the unit; use a button to select the setting for eight or 16 ounces (0.5 or one litre), dip the unit in and stir until the main light shuts off and the indicator light flashes green. For larger units of water, you increase the dosage. You can't get much easier than that.
An added bonus is that the unit doubles as a flashlight, with a fairly adequate beam for use around campsites or a power outage at home. On the trail, it's a little less useful, but would make for a great backup light.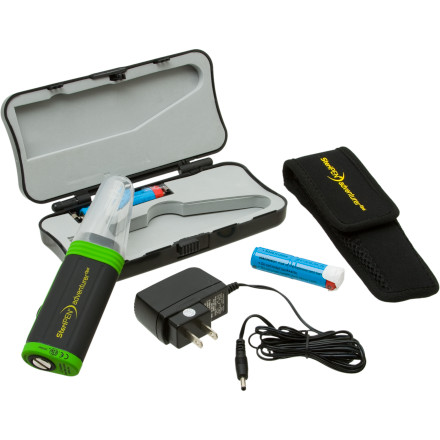 There are only two areas where the Adventurer Opti is lacking somewhat. First, it doesn't come paired with a filter, although one is available from SteriPEN. While the company says the device will work with turbidity in the water, its best to use it with clean, clear water. That means taking along something to use as a filter or strainer, which isn't necessarily a big deal.
Just to see how well the unit functioned, I used some spare coffee filters to strain some water along a creek on one of my favourite nearby trails, and then used the Opti on it. The water came out clean and palatable with no ill effects.
One thing worth mentioning is that you need to have a wide neck bottle of some sort to fully immerse the Adventurer Opti.
Ultraviolet light systems kill approximately 90 – 99 per cent or more of viruses, protozoa and bacteria in water.
Second, the Adventurer Opti uses two CR123 batteries rather than more the more common AAA to AA batteries. That's one thing that makes it so lightweight, but for extended trips, you might have to carry extra batteries specifically for it.
All in all, though I'd give the Adventurer Opti 4.5 stars out of five.
For more information about the SteriPEN Adventurer Opti, visit www.steripen.com/adventurer-opti. To purchase the Adventurer Opti, click here. To purchase the Adventurer Opti with Solar Charging Case, click here.