It is likely that applying ice to sore muscles and joints is the last thing on the mind of any snowshoer who just spent a few hours in cold temperatures and snow.
There is plenty of research to validate that icing [cold compression therapy] is one of the simplest, safest, most effective and critical measures of recovery, injury prevention, and rehabilitation. Despite the wealth of supporting facts and published expertise the majority of active consumers fail to commit to a consistent icing regimen after a workout.
Enter Moji – The Smart Icing Alternative – and its revolutionary recovery line of cold compression products that make icing more practical and efficient than ever before. After more than two years of in-depth research and development the Moji team has created a line of innovative cold compression products that incorporate a patent-pending two-piece design. These products provide optimal coverage and comfort without loss of mobility.

Cold compression therapy is most often viewed as a vital element for injury recovery and rehabilitation. Cryotherapy [cold therapy] continues to be a proven and beneficial adjunct to manage inflammation and soft tissue injury. Icing can also reduce tissue pain and inflammation associated with the microtrauma of regular snowshoeing. Cold therapy has an impact on the metabolism, pain response, and hemodynamics of tissue; thus, aids in the management of the inflammatory response.
Cryotherapy reduces tissue temperature, which slows the rate of chemical reactions, thereby decreasing the demand for energy. Lowering the metabolic energy demand allows more cells to survive the period of anaerobic energy production.
The combined effects of decreased energy requirements, reduced blood flow, analgesic response, and swelling reduction diminish the inflammatory response of the tissue, thereby enhancing a shortened healing response and hastened return to snowshoeing.
The benefits of using compression with cold therapy include improved contact between the skin and the cold source, greater reduction of blood flow to the region, and an increased insulation effect to help further reduce tissue temperature. Compression assists the control of edema formation that may arise secondary to microtrauma experienced during snowshoeing or after an injury.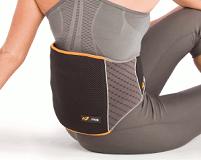 Moji has assembled a multidisciplinary team of designers, engineers, world-class athletes, doctors, trainers, therapists, and physiologists to redefine the concept of cold compression therapy. Its cutting-edge 'cold cell' design provides optimal cooling while its unique compression wrap provides maximum comfort and mobility. The cold cell design features a composite of 18 individual cold cells engineered for a soft and supple feel that conform to the body for maximum comfort, flexibility, and range of motion. Each cell gel is encased in a unique film employing a high-tech Drilex fabric layer which eliminates condensation and leaking.
The Moji compression wrap ensures optimal comfort and mobility by utilizing Polartec four-way stretch fabric to provide a unique combination of compression that focuses cooling solely to the targeted areas. Four neoprene stretch tab fastening points allow the user to further customize the fit to his or her preference. A 20-minute icing protocol is recommended for each session.
The Moji product line at this writing consists of the Moji Back, the Moji Knee, and the Moji 'To Go' – a stainless steel thermally insulated canister that keeps the Moji cold cell in its 'frozen state' up to six hours. Moji 'To Go' is a portable cooling device that eliminates confinement associated with conventional and often cumbersome plastic icing methods. The company plans to introduce a full line of products beginning in 2010.
I heartily recommend these products as part of your long-term recovery routine. Visit http://www.gomoji.com for more product details, to visit its interactive library, or to correspond with its knowledgeable staff.