While on a recent moonlight snowshoe walk, I was very happy to be wearing the Litebelt 100, a convenient waist pack that also features a 100 lumen LED light at waist level and rear flashing red lights that can be turned off. I used the two zip pockets for carrying items like a cell phone, car keys, compass, and reading glasses.
The Litebelt 100 is part of the GoMotion wearable light products lineup that was introduced in 2006 by Jonathan Craig and Bob Hunnewell. This pair of Boston-based innovators wanted to extend their running endeavors long after the sun set, much to the appreciation of runners and hikers the world over.
The companion to the Litebelt 100 is the Reactor Lightvest that features 100 lumens at chest level. In addition to reflective stripes and piping, it also comes with rear flashing red lights.
According to Kate Ketschek, GoMotion Marketing Rep, "GoMotion lights combine all the elements required for a safe walk or run at night. They offer a high-output LED with a wide, adjustable beam worn on the core of the body, below the eyes for better viewing of objects on the ground. Also, the reflective materials on the front and back, coupled with bright red flashing LEDs at the rear, serve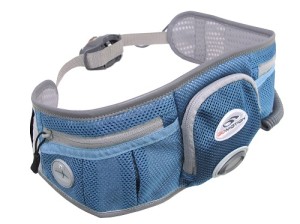 as a warning to cars coming up from behind. The belt takes three AA batteries, and a low battery light will alert you before it goes dark."
The Litebelt 100 is light weight at 385 grams. Its comfortable design features a breathable hex mesh, and is available in orange or blue. The Litebelt 100 retails for $59.95. Product highlights include:
• Three-level beam intensity
• Flood to spotlight beam control
• Adjustable beam angle
• Two flashing rear LED Taillights
• Three AA Energizer batteries included
• Low battery signal
The Reactor Lightvest features super-lightweight, adjustable mesh padded straps, 100 lumen LED at chest level for maximum visibility and comfort. The Reactor Lightvest retails for $74.95. Additional features include:
• Three-level beam intensity
• Spot-to-flood beam control
• Adjustable beam angle
• Two flashing red LED tail-lights
• 3 AA Energizer batteries included
• Low battery indicator
• Breathable hex-mesh padding
• Safety orange and reflective trim
GoMotion lights have three brightness settings, 110-degrees of beam-angle options, and an adjustment knob to change the beam width from narrow to wide. The company advertises the battery life as eight hours on high, 18 hours for medium, and 54 hours on low.
For more information on GoMotion's innovative line of products, check out their website at www.GomotionGear.com.