With so much competition among base layer brands, the battle of the base layer is on! Not only does it take time to properly review a critical piece of gear, the verification of claims by high-tech gear manufacturers like Columbia's Omni-Heat requires various weather conditions and sporting activities.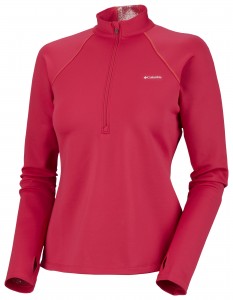 Choice and selection of your base layer depends on the demands of your sport, the weather conditions and your overall level of performance.  In winter, a base layer is a must if playing outdoors but for cross training and year round sports like trail running, needs and demands are different. Making the right choice can be harder than you think, especially if standing in front of a wall of big brand options and unaware of the benefits of their varying technologies.  Once thing is for sure – don't cheap out. Quality will pay off in the long-term and outlast the lost leader either on or off the trail or mountain.
I compare wearing a base layer to creating a protective shield against the elements. No matter what thickness you opt for, a good layering system should feel like wearing nothing at all.

Do you overheat or are you always cold? Either way, the Columbia Omni-Heat system regulates it all.  If you're always cold, Omni-Heat keeps you warm by reflecting back the heat you generate. If you are Mr. or Ms. Sweat-a-lot, it provides an escape route for unwanted moisture and heat thus lightening the load and making you look like a dry hero at the finish line.
Does Columbia's Omni Heat system really work? I'll back Columbia and say that yes – it truly does make your own heat… BUT you have to work for it.  To get the garment to really work to its full potential, get moving. Pick up the pace and feel the magic of Omni-Heat. Do nothing…expect nothing.
I found the most notable difference between the Columbia Midweight Top and Tight and the Extreme Fleece Top and Tight to be thickness and comfort.  The feel and fit of the Midweight baselayer is light and snug.  The material serves as a second skin and gives better body cling.  For runners, stretch and fit, overall comfort and a wicking gusset and waistband will put this product on your top gear list.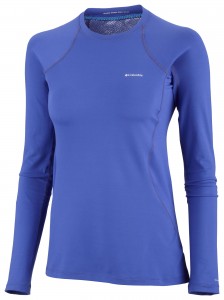 On the other hand, the Extreme Fleece feels like you are layered.  It's meant for low to mid aerobic activity in extreme conditions, so movement isn't as important.  At the same time I found the sizing to be a little off. Go smaller with the high loft fleece as the material has some give and fits looser than the Midweight.  Columbia even thought of stacking Omni-Heat thermal reflectivity at the nape of your neck where snow and cold air seem to migrate in colder temperatures.  Bonus!
Columbia's Omni-Heating system's ability to "make your own heat" is extremely appealing on many levels.  My initial question… could my base layer perform as good as it looks?  Tiny little thermal high tech reflective dots line the entire fabric. Both the Midweight and Extreme Fleece Long Sleeve Tops and Tights are constructed with this incredible "Thermal Reflective Omni-Heat" technology that is heat activated during sporting activities. My advice, move if you want to stay warm – and you will.
For more retailers and information visit www.columbia.com. To purchase Columbia gear, click here.