If you think only famous names in trail and snowshoe headlights make quality headlamps, and battery companies only manufacture batteries, you'll miss a gigantic leap in engineering and a hop to the front of the wearable headlight class by the Energizer Bunny's lithium LED entry.
Why you need to know this is . . . the light is like having an Audi headlight beaming from your noggin powered by a  car battery, except the appliance itself is a compact lightweight device. The power comes from just three light Ultimate AA e2 Lithiums.
In a stroke of engineering mastery, Energizer's development team has lept to the title of "Best in Class" for a snowshoe or dirtshoe endurance athlete who spends many of those midnight hours making way on difficult trails down in deep forests.
Wearing multiple flashlights attached to numerous places on my person — like hands, waist, and head — has been a staple of night treks as I realized more light kept me in the game longer, increasing enjoyment and distance covered. As ultra runner Zach Pierce told me, "You look like a Martian."
Now the game is changed — I now resemble a locomotive barreling down the trail rail with that amazing beam leading the way.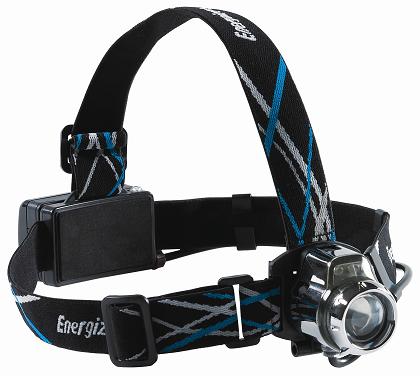 The game changer is the Energizer LED Headlight with its machined aluminum alloy head and aircraft-grade casing hardware. Having experimented with larger headlamps some years ago, I found them heavy, but the low-weight of this whole new hardware is incredible, only about nine ounces. I've worn wool boggins weighing more than that.
The light source is a Cree XR-E LED. Why is this important? Cree, Inc., one of many enlightened companies in North Carolina and a $5 billion name, is out to change the world one LED at  a time, basically pulling the incandescent bulb from use by outdating them faster than we can buy them.  They explain the XLamp XR-E LED "is leading the LED lighting revolution with its unprecedented lighting-class brightness, efficacy, lifetime and quality of light."
The LED will still maintain 70% of its brilliance after 50,000 hours of use — just about what I would need to finish the McNaughton 500 mile trail ultra. So Energizer combines Cree's "bulb" to their lithiums, and off we go "Back to  the Future" quicker than Marty McFly cay say, "Ah, Jesus Christ, Doc, you disintegrated Einstein!"
Fortunately, the brain has reappeared at these two companies. Innovation in this trail headlamp includes a focusing lens ring allowing a dial-in spot beam, but when you can light up the entire mountain by yourself, why mess with that. There are selections of brightness but I spend all of my time on high . . . beam that is.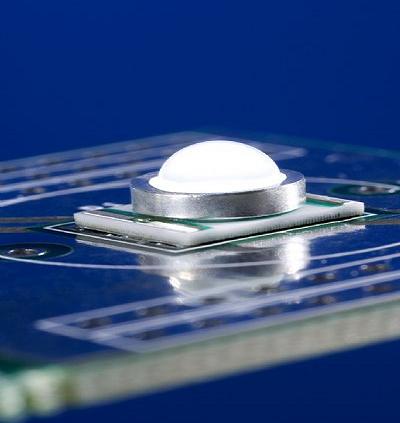 My experience is I will get fewer hours than what the literature estimates (11) with the batteries but I want bright and will change lithiums happily after three hours or so. The battery pack is detachable leading to the possibility of having replacements locked, cocked and ready to rock in one's bag or backpack, but thus far a separate pack is not an option.
There is a boost option that will increase the lumens 30 per cent to a powerful 130, but the only reason I can see for that setting is to direct landings of 747's. It is that bright. Trailing the light, attached to the rear head-mounted battery pack is a green LED that blinks incessantly, aiding in either finding the light in a nighttime bag or someone finding you if the headlamp is off. Not only is the hardware lightweight, the straps are comfortable with easy fit adjustments and black stretch material striped white and aqua.
The whole device feels lighter than an angel's halo. The up and down multi-adjustable light casing holds its position well, yet provides you with the ability to make a small change up when climbing steep stair-step rocks or downward with the glow closer to the feet when trailing down root and rock infested switchbacks. The whole device is claimed to be weatherproof and the battery pack is leak resistant though the  times when I tested the weather was dry.  For those of us who have the capacity to break things on the trail, be happy because the device has a lifetime guarantee.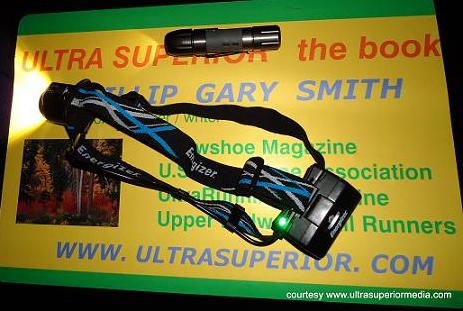 For snowshoeing or participating in snow sports in extreme climates like the Arrowhead 135 mile winter endurance race in Northern Minnesota, the power is indicated to a minus 40 F, which should suit the majority of applications. Carrying multiple flashlights at night is now passe`, a throwback. All you need to light your way like Lake Superior's Split Rock Light House is the Energizer LED Headlight.
Your racing vessel will avoid boulder busters sinking trail plans faster than an errant mayonnaise-ladened sandwich, will cut dark in woods like the SS Manhattan slicing ice through the Northwest Passage, and will find aid station "docks" without fail.
Light beams are your comfortable companions at night — I refer to them as "Tinkerbells" dancing around in front, keeping  company, acting as your companions when no one is around. The Energizer qualifies as the Mother of all TinkerBells.
Energizer Lithium LED Headlight:
To subscribe to free Snowshoe Magazine + Trails
McNaughton 500 Mile Ultra Trail Race:
Split Rock Lighthouse State Park
write phillip@ultrasuperior.com