Arguably one of the best parts of spending time outdoors–whether it's hiking, cycling, snowshoeing, skiing or swimming–is the meal you get to eat after you burn all that energy. Victoria, British Columbia, is a mecca for outdoor adventurers and foodies alike. Regardless of whether you've recently conquered a fitness goal or you're just happy to have made it off the gondola without getting altitude sickness, Vista 18 restaurant at the Chateau Victoria Hotel is not to be missed for a memorable Pacific Northwest culinary experience.
Vista 18 is a mountaintop restaurant that feels like it's on top of the world. Open daily from 6.30 a.m. to midnight, its elegant ambiance, seasonal menu, outstanding service and breathtaking views have helped to make it become one of Vancouver Island's top choice for fine dining.
Formerly known as the Parrot House Restaurant, in honor of a privileged parrot named Louis, Vista 18 and The Chateau Victoria stand on the grounds of what was the former home of Louis' owner, Victoria Jane Wilson.
Proudly focusing on local produce, the restaurant provides a rich and diverse menu where the food's natural freshness is at the forefront and British Columbia's unique wines complement the dishes. And, where good old Pacific Northwest hospitality shines.
Happy customers praise the establishment for its great food, great views and an extraordinary menu.  Executive Chef Garrett Schack's thoughtful menu flaunts locally-inspired dishes like organic whole leaf salad, wild Pacific salmon and, if you have room for dessert, a chocolate-silk cheesecake or Banana Loaf. And why not take in an inspiring sunset while savoring a glass of locally-produced Pinot Blanc or Pinot Noir, just a few choice items offered from the restaurant's extensive wine selection.
Vista 18 also caters to the younger palate ensuring the whole family enjoys an indulgent evening. Children's choices range from light snacks to full meals and include an iced tea or a soft drink. An early morning breakfast menu ensures all tastes and appetites are well catered for starting at the crack of dawn.
Why not set yourself up for the day with a Mount Baker Breakfast: two free-range eggs served with grilled ham, bacon and three mini pancakes. Or, try the West Coast Benedict with Dungeness crab. Wash it down with a Burundi coffee or latte. Whatever your preference, it's variety and quality all the way.
For lunch–a luxury meal all too often devoured at the desk, or sometimes missed completely with the daily hustle and bustle of the Western world–Vista 18 however, offers a varied mid-day menu that entices visitors to slow down and kick back. Sample the pan-fried fish cakes made from the day's local catch (usually salmon or halibut) with mayonnaise, or local prawns on artisan toast with fresh tomatoes and fried basil. Another popular item is the seafood hot-pot. If your schedule truly doesn't allow time for a sit-down lunch, or your plans include a full-day hike requiring a picnic, Vista 18 also offers an array of gourmet sandwiches, such as the Island Prawn and Crab Melt–focaccia bread with melted Gruyere cheese.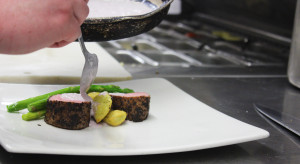 With a spectacular mountaintop location boasting panoramic views of Victoria, Mount Baker and the Olympic mountain range, this local hot spot is often the host of cultural events and collaborations like wine dinners and even a summer jazz festival. Guests can also enjoy live entertainment on Friday and Saturday evenings in the sleek, relaxing Vista 18 lounge, serving locally craft brews and classic cocktails.
Warmly welcoming regular guests or visitors just passing through, the restaurant high above everything pulls out all stops no matter if it's a snack, breakfast, lunch, dinner or Sunday Brunch. Quite simply, Vista 18 has something for everyone.