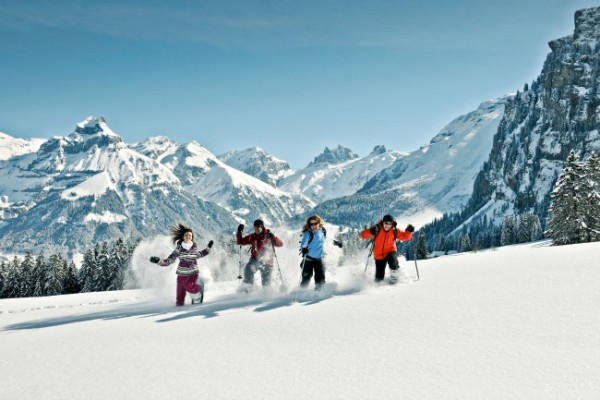 It's late afternoon, that magical part of the day when the sun gives those last rays everything it's got. The pretty alpine landscape now seems magical, as a pink hued glow is cast upon the snow. Only the soft crunch of snowshoes striking the ground can be heard as we dart into a silent pine forest. I've never wandered through the alps before, but it's everything I ever imagined it to be: mounds of pristine snow, charming huts dotted along the mountainside and impressive peaks luring outdoor adventurers.
I'm on the slopes of Mount Titlis, the most dramatic glacier in central Switzerland. Towering over the quaint village of Engelberg, Titlis is a mecca for winter sports enthusiasts. Besides being the region's top ski resort, you'll find purpose built sledding trails, electric snowmobiles and most importantly, plenty of snowshoe trails to sink into this engaging winter landscape.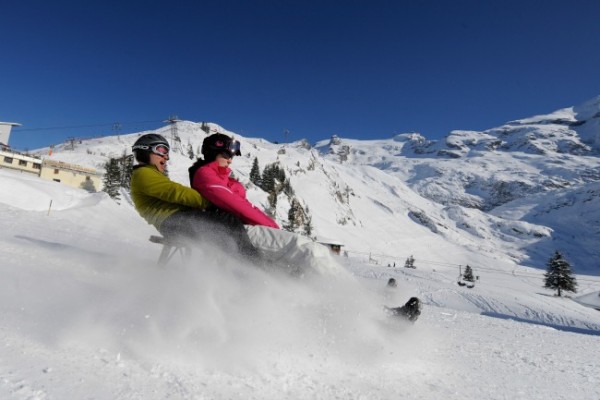 Excursions at Titlis begin with a ride on a massive cable car. If you're skiing, you'll need to take three more gondolas to reach the summit. For us snowshoers, we get off at the first station, the starting point of the Gerschnialp-Untertrübsee Trail. While you can do this route on your own, far better to go on guided walk if you don't know the area and your German isn't up to snuff.
After strapping on snowshoes, our guide Catherine Fischbacher leads our group, a motely crew of varying ability levels, away from the downhill skiers into the heart of the Gerschniwald forest. The first few minutes are most flat on predictably packed snow, but once we enter the forest, it's hard to remember you're on a multi-purpose mountain. It's up and down through the deep snow. We tread alongside cedar trees so tall, it's hard to believe they're not yet 100 years old. It hasn't been a great year for snow, yet in these copses of trees, we slip by plenty of snow ghosts and even snowy 'shrooms – great boulders encrusted with mounds of powder.
We spot the tracks of small animals such as rabbit and squirrels, before coming upon a large imprint in the snow. Here a deer a recently slept, happily nestled in mound of snow at the base of a fragrant pine. The forest gives way to a clearing and we float across the open meadow. "Look now! There's a cheese factory," points out Catherine. We don't see anything but an old wooden barn and a clawfoot tub languishing outside its doors. Catherine goes on to explain that come the summer months, this area is ripe with cows and farmers take up residence in these huts for milking and making their own cheese.
Picture Perfect
While this may not be the most challenging snowshoeing excursion I've ever been on, it's certainly one of the more picturesque. "How insanely beautiful is this? Look at that little Disney castle over there in the distance," shouts Mickey, one of the members in our posse. While it certainly wasn't a castle he spotted, the villas perched on the side of the surrounding mountains are indeed stunning.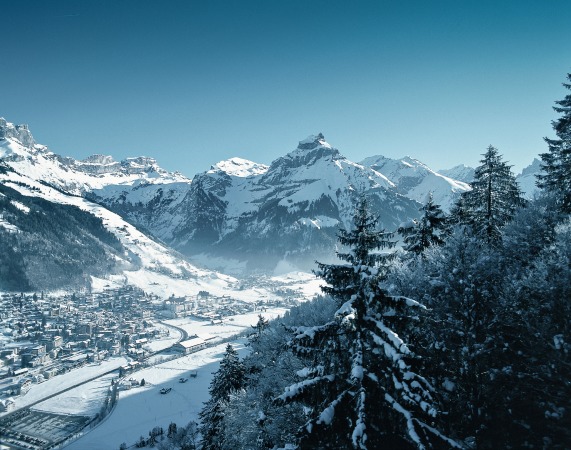 Fondue Time
After a solid hour of hoofing it across the alps, we arrive at Gasthaus Gerscnialp. Shivering slightly, we enter this quintessential Swiss guest house decked out with wooden beams, checkered curtains and naturally, a cuckoo clock, who quickly alerts us it's high time we get down to the business of après ski.
Before you can say glühwein, steaming mugs of mulled wine appear and we toast our accomplishment of having made it to this hospitable chalet. The table is bursting with baskets of bread, potatoes, apples and pineapple for our fondue. If you've never had the pleasure of dipping tiny morsels of fruit and carbs into a bubbling pot of emmental, gruyere and vacherin cheeses, let me tell you it is worth every calorie. We take our time, leisurely spearing bounty into the savoury cheese and drink more wine than one should before they've completed their work out.
Low Light High Adventure
Thoroughly satiated and with a nice glow of our own going on, we head once again outdoors for a starlight walk back. This is where the fun begins. Torches are lit and passed around. It's pitch black on this night, the stars and the foot long flares our only source of light. Church bells chime in the distance every quarter hour and we fall into a rhythmic cadence, as we make our way towards the twinkling lights of the village.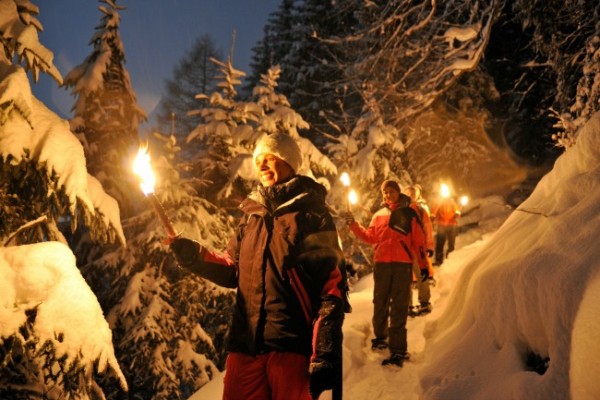 It's an invigorating trek back, but also much faster since we're are mostly moseying downhill on the return journey. The temperature has dropped, but the mulled wine has done its job. We are warm and rosy cheeked and still exhilarated. Snowshoeing at Titlis at night is so much more than a winter's walk, it's an enchanted evening.
If you go
Guided snowshoeing excursions at Mount Titlis can be booked through the Titlis Ski School.

Tours include fondue and cost 90 CHF for individual trips and run from 65-85 CHF per person for group tours.

Best suited for teens and adults, though children who can hike for an hour without complaining are also welcome.

For more information visit

Titlis.ch/en