The Dion Frontenac Snowshoe Race was held on January 23, 2010 in Sydenham, Ontario, Canada.
Living in Eastern Ontario, you would think that the options for snowshoe races would be endless. Not so, as we usually have to travel to either Quebec or the northeast U.S.
It was with that in mind that we decided to host the first ever snowshoe race in Eastern Ontario. The thought of organizing a snowshoe race here isn't entirely new as we had attempted to do this a few years ago, but were turned back by a freezing rain storm and lack of snow in the nearby city of Kingston.
Our plan was to move the race to an area where we could almost guarantee ourselves of having good snow conditions. Frontenac Provincial Park was the obvious choice.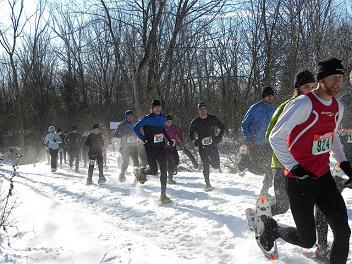 Frontenac Provincial Park is a short 30 minute drive north of Kingston, however is almost in its own little micro-climate. There have been countless times where we have been in Kingston with absolutely no signs of snow, but gone into the Park and had some incredible snowshoe running conditions. It is our favourite training ground and features some of the most beautiful and wild terrain in the area. Frontenac Provincial Park is located in the rugged Canadian Shield. With the perimeter trail of the park being over 30 miles long, and over 100 miles worth of trail network, there are endless possibilities for finding a perfect course for snowshoe racing.
With snowshoe racing being very new to our region, we decided upon a course that exposed participants to a wide variety of what snowshoe running is all about. Fast and wide start for early positioning, rolling terrain, technical single track, breathtaking views and a fast finish with plenty of opportunities for a sprint to the line. The 7.3 km course was going to be a perfect test for snowshoe runners of all ability levels.
Having run the course numerous times in the weeks leading up to the race, and taken a few groups out to preview the trail, the snow was packed down nicely and looked to be in great shape going into the race. Some rain and milder weather the week prior to the race threatened the snow conditions in nearby communities, but true to her word, the snowshoe running goddess of Frontenac Provincial Park smiled upon us and gave us ideal conditions for race day.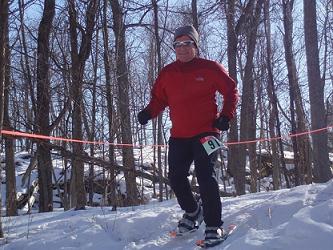 The competition at the inaugural event was fantastic with a good mix of first time snowshoe racers and seasoned veterans that also included a few of the top trail, road, mountain and ultra runners in the province.
Former Canadian National Cross Country running team member Taylor Murphy of Napanee posted the fastest time of the day winning in a time of 31:16. Taylor was followed by ultramarathoner Keith Iskiw of Kingston in 36:40, and Justin Pozin of Toronto in 37:10. Gilles Parisien of Cornwall was the top male masters runner in 38:03.
In the women's race, Elizabeth Primrose of Brockville won in a time of 42:24, followed by Shauna Connaughton of Kingston in 44:34, and Eliza Murphy of Sydenham in 47:27. Kim Bohn of Kanata was the top female masters runner in 49:46.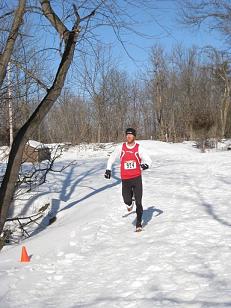 Following the race, participants were treated to vegetarian chili and an assortment of other munchies to help refuel following their hard effort. Numerous awards and draw prizes were given out with one lucky participant going home with a new pair of Dion Running Snowshoes.
A very big thank you to race sponsors Dion Snowshoes, Spafford Health and Adventure, La Sportiva, 5 Peaks Trail Running Series, Running Room, Trailhead and Stonehaven. Additional thanks go out to all of our wonderful volunteers; and to Frontenac Provincial Park for permitting us to hold this race in their beautiful park.
Look for next years Dion Frontenac Snowshoe Race to be bigger and better with the possibility of additional race distances being added.
Race information, results and photo gallery can be found at www.HealthandAdventure.com.