Last night was a clear night with light winds and a bright moon. It was a perfect night under the Southern Cross as a number of guests visiting Perisher Blue were able to travel with ease via snowshoes. They came to learn some interesting things about the resort and the local environment.
In the company of seven excited youngsters we had the pleasure and the opportunity to learn from Rod Mason, a local indigenous ranger with Kosciuszko National Park. Rod was able to share stories from his culture, local folklore and heritage – all the while we meandered through the snow country he calls home.
We started our journey by catching the Village 8 seater chair up to the top of Front Valley where we put our snowshoes on and then headed off into the snow country. Here Rod passed on stories about the flora, fauna, culture and aboriginal significance and heritage while we meandered through the snowgums. Every now and again we would delay our stroll to hear more stories…while under the moon and vast starlit sky.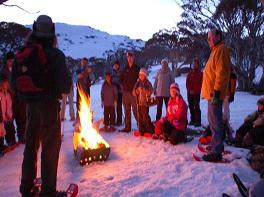 All this prepared us for our arrival at the Mid Station restaurant where we were met on our arrival back in the resort by hosts Geoff and Lisa who laid out a great spread of various hot and tempting finger foods. We could indulge in some wine and other beverages to hydrate and talk about our short snowshoe journey into the Mountains, and some of the stories Rod had passed on.
We made new friends and visited new places with a better understanding of the mountains and the fun that we can have even as winter draws to a close. Snowshoeing is great anytime but in spring it offers new places to travel to and it is so easy…one step at a time and safely wandering through the mountains without sinking into the snow or falling into creeks.
Snowshoe tours are run throughout the winter at Perisher Blue by Wilderness Sports who offer half and full day tours. Wilderness Sports also offers guiding to more remote places like Mount Kosciuszko or you can just hire a pair of shoes and head to the top of the nearest peak.
These interpretive and cultural tours are run each winter and you can find out more by contact Perisher Blue Marketing Department and Gary Grant or check out the Wilderness Sports websitehttp://www.wildernesssports.com.au.