Snowshoeing in Israel sounds like an oxymoron, but it is something that should be on every adventuresome traveler's bucket list. Mount Hermon, in the northern reaches of this tiny Middle East country, offers plenty of snow from December through April. Stretching to 9,232 feet in elevation, construction of a ski resort on Mount Hermon began in 1971.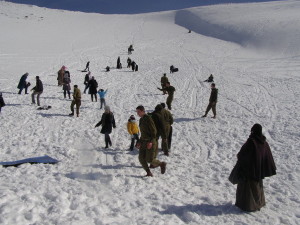 Today, the Mount Hermon Ski Resort boasts 11 ski lifts and 14 trails totaling 28 miles. The ski lodge provides rental equipment at a modest cost, as well as a store for those who wish to purchase their own gear. Snowshoers will need to bring their own equipment, though, since this is an activity that most Israelis haven't experienced, let alone heard of. As such, this makes snowshoeing in Israel even more special.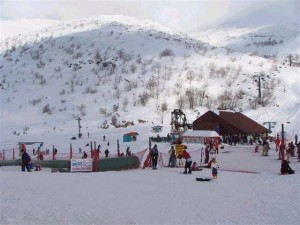 A country teeming with history and centuries-old conflicts, Israel is the epicenter of the Holy Land. Treading on snowshoes atop Mount Hermon gives you the feeling of overlooking the entire country, which stretches a mere 290 miles north to south, and a short 85 miles west to east, from the Mediterranean coast to the Dead Sea. For comparison, Israel is about the size of New Jersey.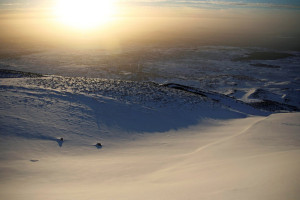 Located in the Golan Heights region of Israel, Mount Hermon affords visitors a view of Lebanon, Syria, the Galilee, and portions of northern Israel. This area is so unique and picturesque that it's worth a visit any time of year. There are guided walks from the top of the ski lift, which really highlight the magnificent views and nature. It's rather incongruous to see the artificial snowman in the dead of summer when the temperatures are hovering around 95 degrees Fahrenheit! In winter, though, that scene is a perfect complement for the location!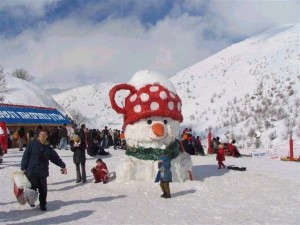 In addition to its unique ski and snowshoe options, another little-known fact about Israel is its burgeoning wine industry. Though Jesus was said to turn water into wine during biblical times, history reveals that the wine produced back then was not what you would call a quality product! Today, however, is a different story. The Golan Heights Winery is at the forefront of the Israeli wine scene, producing labels like Mount Hermon Red and Mount Hermon Indigo. These wines can be a great way to relax after a day of snowshoeing on Mount Hermon. The Golan Heights Winery was the first of its kind in Israel, dating back to 1976.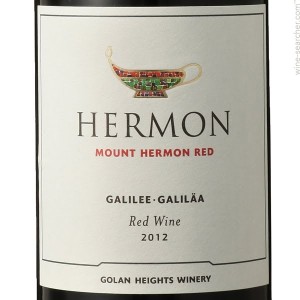 If you plan on spending a few days in Israel's northern snow country, you'll be surprised to discover a bit of Alpine hospitality available in some of the nearby villages a few miles from Mount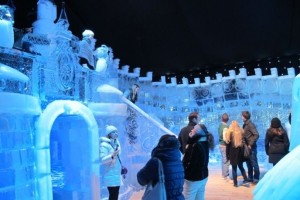 Hermon. Similar to something you'd expect in Europe or some U.S. winter resorts, Rimonim Holiday Village is a comfortable mountainous retreat located in the small town of Neve Ativ. Surrounded by tranquil pastures and a nature preserve at the foot of Mount Hermon, Rimonim's cabin-style lodges are ideal for a winter ski holiday. They are perfect for a family vacation or romantic getaway, and there are 44 quaint wooden cottages that can accommodate up to five adults. All rooms have the creature comforts you'd expect, including satellite TV, Wi-Fi, coffee maker, mini-frig, and more. The Holiday Village is especially kid-friendly, with an on-site petting zoo. Also, during winter, the Holiday Village's pool is heated, and the Finnish-style steam bath is especially invigorating during the cold winter months. Spa treatments may be booked in advance, for a truly unique holiday experience.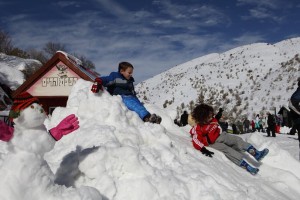 Also in Neve Ativ is the By the River Zimmer resort, which features free Wi-Fi in public areas, optional breakfast in the morning, and barbecue facilities. The rooms are fitted with a flat-screen TV, offering both cable and satellite channels, a seating area with sofa, a balcony or patio that are fitted with garden furniture. Bathrooms are either private or shared. You can also order room service, or have groceries of your choice delivered right to your room. A mini market is also located in the lodge and a 24-hour guest service at the front desk.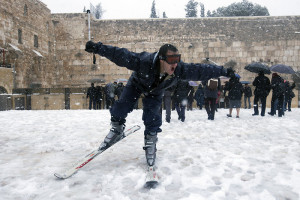 The town of Neve Ativ also offers other resort options, along with a wide selection of restaurants and bars. Although Mount Hermon is certainly not in the top 10 on the world-class ski resort list, it nevertheless a unique experience, and a great choice for a winter vacation.
Additional Info:
Location: Mount Hermon at Mount Hermon Ski Resort
How to Get There: The Rama bus 58 runs from El-rum to Kiryat-Shmona and stops in Neve Ativ.
Where to Stay: Rimonim Holiday Village or By the River Zimmer resort
Where to Drink: Golan Heights Winery
Snow Season: December- April
Snowshoes: Bring your own!
More information can be found at http://www.goisrael.com/.