Geographically speaking, Valdez, Alaska enjoys two unique claims. It is the northernmost port in North America that is ice-free year-round, which explains why it is the terminus of the Alaska pipeline. It is also the northernmost point of the coastal Pacific temperate rain forest, on the border with the sub-polar Alaskan rain forest. An attractive port town on Prince William Sound, Valdez became known the world over in 1989 as the site of one of the largest oil spills in history.
Prince William Sound is an inlet of the Gulf of Alaska on the southern coast of Alaska. It is located on the eastern side of the Kenai Peninsula. Its major port is Valdez. Other settlements on the sound, which contains numerous small islands, include Cordova and Whittier, plus the native villages of Chenega and Tatitlek. The steep and glaciated Chugach Mountains ring Prince William Sound.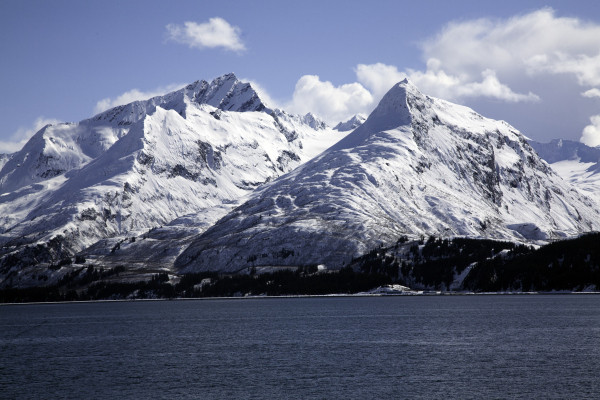 Valdez is one of the snowiest sea-level places on earth. The town averages 326.3 inches of snow each year and has gotten as much as 556.7 inches in one season. Yet the city manager has said that declaring a snow emergency in Valdez would be "humiliating." "We are very proud of our snow," declares John Wahlquist. "We are the snowiest place by far in North America."
You think you get a lot of snow in St. Louis, Chicago, or Boise? Then consider Worthington Glacier, which lies alongside Thompson Pass, 28 miles northeast of Valdez. With 600+ inches of yearly snow, the Glacier is the snowiest place in the snowiest state in the Union. Thompson Pass, which has spectacular waterfalls and glaciers next to the Richardson Highway, is known for treacherous driving conditions, especially during the wintertime.
The Richardson Highway runs 368 miles and connects Valdez with Fairbanks. It was the first major road built in Alaska. During its construction, the government hired failed gold prospectors, as well as regular construction workers. Income from this work allowed many of the prospectors to leave Alaska. The rise of motorized travel led the road to be upgraded in the 1920s to automotive standards. The Trans-Alaska Pipeline System, built 1973-1977, mostly parallels the Richardson Highway.
If you want to do some more thinking about glaciers, then consider this: The Columbia Glacier, located in Prince William Sound, is one of the fastest moving glaciers in the world. It was named after Columbia University in New York City. It is a thrilling sight to see this glacier be propelled by currents in a spectacularly azure body of water.
How does a town with a population of around 4,000 people cope with all that snow? Driving in Valdez is sometimes harrowing, as drivers try to negotiate streets that can quickly turn into a white-walled maze of snow banks. The worst part of driving here is trying to see around corners.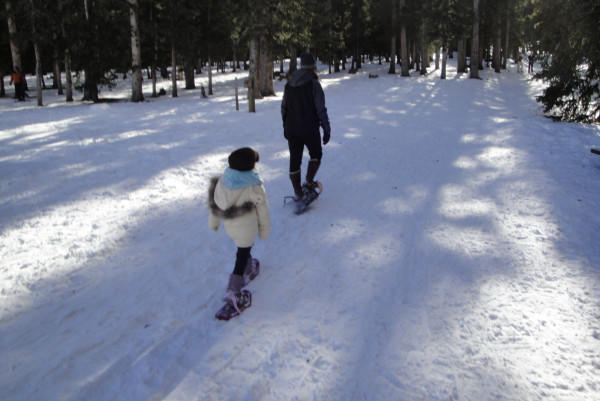 Plows go out in the early mornings trying to clear the snow before locals head out to work or school. Sometimes a person can drive head-on into the path of a snowplow. Then there are the berms, which are barriers of unplowed snow sitting in the middle of the road. Unless you have an SUV or a truck that's high off the ground, making a left turn in Valdez isn't advised. Being used to occasional total isolation from the outside world, Valdez residents and businesses are usually well prepared with stocks of food and goods to last for two weeks or more.
Where is all the snow stored until it thaws? The city uses local parks as snow dumps. These parks are delightfully green during the summer and agonizingly white during the long winter. Barney Meyring Park is by far the biggest park in Valdez. There are playgrounds, basketball courts and a large open space for dogs to run around in the park. That is, before it snows. Then all these recreational assets are hidden beneath many feet of snow during the winter. The snow season generally ends in Valdez around mid-April.
History
The port of Valdez, Alaska was named in 1790 after the Spanish naval officer Antonio Valdés y Fernández Bazán. The town did not flourish until after construction of the Richardson Highway. Following construction of that road and an ice-free port, the town became recognized as the major overland supply route into the interior of Alaska.
Valdez was badly shaken but not destroyed by the 1964 Good Friday Earthquake. That seismic shift began at 5:36 P.M. on March 27, 1964. All across south-central Alaska, ground fissures, collapsing structures and tsunamis resulting from the earthquake resulted in 139 deaths. Lasting for four minutes and 39 seconds, it was the most powerful recorded earthquake in North American history and the second most powerful earthquake ever recorded by a seismograph.
In Prince William Sound, Port Valdez suffered a massive underwater landslide that resulted in the deaths of 30 people. Evidence of rocks in motion directly related to the Valdez Earthquake was reported from places all around the globe.
Residents continued living in Valdez for three more years while a new town site was prepared on more stable ground four miles away. Some 54 houses and buildings were transported by truck to the new town site. The original Valdez town site was dismantled and eventually abandoned.
The winter of 1989-1990 is in the record books as the snowiest winter ever in Valdez with an accumulated total 656.07 inches of snowfall. A one-day record was set on January 16, 1990 with 45.7 inches of snowfall in just 24 hours. A day later, on January 17, 1990, a new snow depth record of 108 inches (9 feet) was set.
Valdez is an important fishing port, serving both commercial and sport fishing needs. Freight moves through town bound for the interior of Alaska. Sightseeing of marine life and glaciers, together with both deep-sea fishing and helicopter-skiing, support a thriving tourist industry.
Surrounded on three sides by the Chugach Mountains, Valdez offers some of the best hiking, snowshoeing and potential for whale sightings to be found anywhere. It is the southern terminus of the Trans-Alaska oil pipeline. Oil from that pipeline is loaded onto ships at the Valdez oil terminal. Because of the omnipresent mountainous terrain, the town and surrounding area are sometimes called the Switzerland of America.
The Chugach Mountains are the northernmost of several mountain ranges that make up the Pacific Coast Range of the western edge of North America. The range is 250 miles long and 60 miles wide. The highest point of the Chugach Mountains is Mount Marcus Baker at 12,884 feet, but with an average elevation of 4,006 feet, most of its summits are not especially high. Even so, a distinctive position along the Gulf of Alaska ensures more snowfall in the Chugach Mountains than anywhere else on earth, an annual average of 600+ inches.
Valdez is a must see for lovers of snowy mountains. Crashing glaciers and towering mountains make the town decidedly picturesque. Come and see for yourself the spectacular natural beauty that entices people from around the world to come visit.
Valdez is a great place for a brief or extended snowshoeing hike. A short stroll or a multi-day snowshoeing adventure can begin in downtown Valdez. One thing you quickly learn on a visit here: snowshoes are an absolute necessity for getting around. Outdoor types who crave new things to do won't be disappointed on a trip to Valdez, Alaska. This is a one-of-a-kind place that more than lives up to expectations.
For more information on Valdez, visit http://www.ci.valdez.ak.us.