I'll admit I was skeptical after first learning about RideOn Vision's new augmented reality snow goggle.  I tend to be old-fashioned and prefer simplicity in most aspects of life–including sports and technology–and  I couldn't understand why anyone would need to be entertained by a video game while skiing or snowboarding. Isn't the physical challenge and stunning scenery enough? Isn't it dangerous to have technology interfering with your focus while zooming down a mountain? I've witnessed plenty of collisions caused by headphones that dull the senses and helmets that limit visibility as it is. However, after a lengthy Skype interview with RideOn's chief engineer, Ori Kotek, I was intrigued.
Formerly employed in the aerospace industry developing augmented reality (AR) technology for pilots and aircrafts, Kotek and his co-founding partner, Alon Getz, saw an opportunity to apply similar features to improve their favorite sport: snowboarding.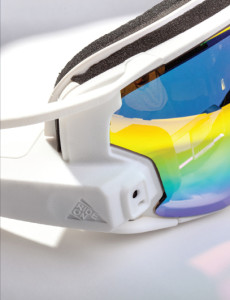 Augmented reality is an advanced technology that overlays graphics and information onto one's actual field of vision. In comparison, virtual reality is often used to collect data and provide information in a simulated atmosphere, and therefore must be used in a controlled environment. By incorporating AR into the common ski mask they believed it could remove some of the "hassles" that sometimes impede the enjoyment of an otherwise perfect day of skiing or snowboarding.
"Skiing is fun no matter what you do, but it can be more fun without any hassles," Kotek says.
These hassles, according to the Tel Aviv-based RideOn team, include navigation, communication and skill.
When the RideOn goggle is first enabled, three hexagonal icons appear on the main interface: Interact! Navigate! Play! After downloading a resort map via the RideOn mobile app before hitting the slopes, the "Navigate" tool will display useful information about potential runs such as length, level, name, conditions and even current wait times at nearby lift lines. Select the "Interact" icon to locate friends on the mountain and send messages to make plans or congratulate someone after landing a trick. The "Play" icon includes a video function that allows you to record a run or trick to be reviewed later to help improve one's skiing or snowboarding skills. Other features include real-time weather and condition updates and games that encourage you to explore the mountain and exercise drills and skills.
And, of course, the goggle also has all of the typical features necessary to protect your eyes in harsh weather conditions, like interchangeable, anti-scratch and anti-fog lenses, UV 400 and helmet compatibility.
The best part? It's all hands-free.  The tools are operated entirely with specific nods of the head and eye movements. This means you can look at a resort map and message your buddies with your gloves on, avoiding any clumsy fiddling with buttons or zippers.  It also reduces the risk of getting frostbite on your fingers or dropping something important–like a glove or phone–off a chairlift (sorry, you're still on your own with chapstick, lighters and tissues).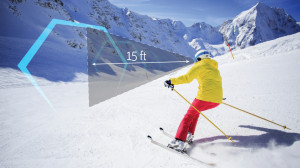 When questioned about the safety factor of having images and data interfering with one's vision while participating in an already risky, high-speed sport, Kotek admits this has been one of the greater challenges of developing the product. Some of the mask's original functions—games such as collecting virtual coins in hidden spots on the mountain and life-size "rings" that appear for you to maneuver through—are already being re-mastered with increased safety regulations. Another tweak that has been made with safety concerns in mind was paring down the main menu options from 15 to three in order to increase functionality and reduce distractions.
Also, it's important to note that the RideOn Vision goggle only displays information when the user is not in motion, and automatically disables once movement is detected, similar to a vehicle's GPS system. This ensures that the goggle's tools can be accessed on chairlifts, in lift lines and at the top and bottom of a run, but will not distract a user during a run when it's crucial to use all of his or her senses for orientation and balance.
Now, Kotek says, the RideOn goggle "adds information just when you need it, and not while you're skiing."
Another challenge of developing their dream was overcoming the technology barriers that make AR possible, namely issues involving good optic display and accurate movement sensors. Although several other companies have attempted using AR for various applications, such as Google Glass and Oakley's Airwave goggle, Kotek says the technology has yet to be perfected in the realm of sporting goods because of how difficult it is to achieve the necessary balance between quality optics, screen thickness and accurate data sensors. Thanks to their extensive research and expertise with developing similar masks for pilots, Kotek thinks they have a user-friendly product that is unmatched in the industry.
"The best thing about our product is that I want it," laughs Kotek. "It's pretty cool."
The RideOn goggle is expected to make its debut on the consumer retail market in November 2015, just three years after the idea was first created.  After initially dreaming up the idea in 2012, Getz and Kotek incorporated the startup in 2013, and by the following winter they were testing the first prototype on the slopes at their favorite ski resort in Germany.  In January they launched a crowd-funding campaign on IndieGoGo to raise the resources to create the first batch of goggles.  Within about a month, RideOn raised their goal amount of $75,000 from more than 300 supporters in 28 countries. People continued to contribute after the campaign ended and within another month the RideOn founders were thrilled to have earned a total of $113,146 to use on product development.
If the initial retail release is as much of a success as their IndieGoGo campaign was, Kotek expects the unique technology can be applied to a range of high-speed sports that already utilize protective eyewear, such as motorcross, skydiving, and snowmobiling.
When asked about if the goggle might be useful during a snowshoe expedition, Kotek laughed and said their product is better suited for high-speed sports where users benefit from quick, data-rich information, but they are still exploring all of the possibilities.
See a video of the RideOn Vision goggle in action at www.rideonvision.com.