Hoodoo Ski Resort
Just 130 miles southeast of Portland lies Oregon's Hoodoo ski resort. Founded in 1938, the resort is central Oregon's original skiing area, offering over 800 acres of terrain. Situated in the Cascades, near the summit of Santiam Pass, this has long been a favoured destination for countless west coast families.
The resort offers 32 ski runs and five lifts and a tubing park which is one of the largest in the west. Cross country trails, perfect for snowshoes and cross-country skiing, stretch for almost 10 miles through stunning alpine scenery and its night skiing is breathtaking. It also features two-day lodges and its own "ski and ride school" for any nervous newcomers to the sport. For much younger family members, day care facilities for up to five children are also available and cater for ages 18 months to four years. The resort carries a huge range of ski equipment and snowshoes to rent.
If you are looking for unmatched accommodation close by, try The Black Butte Ranch. With more than 40 years experience, they offer holiday rental homes and condos set in unforgettable surroundings. Two 18-hole golf courses, swimming, tennis and award winning dining all adds up to a superb package: www.blackbutteranch.com has all the detail.
Mt. Batchelor Ski Resort
A consistent Top 10 and a "Best in North America" ranking have combined to make Mt. Batchelor a premier resort. With more than 70 runs and well over 3,000 acres of terrain, there's plenty of space to practice your skills.
For the less experienced, the "snowsports school" is designed to take you from complete beginner to intermediate in easy stages and also offers workshops for those wishing to increase their skill levels. Getting out and about on the slopes without skis is also possible. "Trail of Dreams" offers guided sled-dog rides departing from 9.30 a.m.-12.30 p.m. at the Sunrise Lodge. Their "standard trip" includes one hour of orientation and trail time and also the option of watering and feeding the dogs. The "marathon trip" – for adults only – is a memorable journey to Elk Lake with lunch included.
Leaving at 8.30 a.m., the round trip lasts for four hours. Call 1-800-829-2442 to reserve this unforgettable adventure. For snowshoe enthusiasts, the trails around the Deschutes National Forest are a must for anyone wishing to get away from humanity. Guided snowshoe tours are also available which include snow-play for all ages. If you're new to the sport, Wanderlust Tours offers snowshoe instruction. For snowshoe rental and details call (800)-962-2862.
When it comes to dining in the resort, you'll be spoilt for choice. The West Village Lodge offers lunch, après-ski and a full service bar (21 and over). Why not enjoy a leisurely drink at the fire or a warming espresso in Pinnacles espresso bar. Visit www.mtbatchelor.com for more information.
Bandit Springs
Located in the breathtaking Ochoco National Forest, Bandit Springs is the home of the largest diameter Ponderosa Pine in Oregon. Just 49 miles from Prineville, the region's valleys and rolling hills afford spectacular scenery, while the mix of cold but sunny days makes for superb skiing. It offers more than 12 miles of premium cross country ski and snowshoe trails for both expert and novice and gentle ski slopes. The region gets less snowfall than its neighbours in the Cascades and the snow doesn't stay long in Spring, but the area is easy to reach, off Highway 26.
Williamette Pass Resort
Big mountain skiing and wide variations in terrain makes Williamette Pass in Klamath County a popular year round destination for all abilities. Focusing on family activity, it offers both downhill skiing and snowboarding as well as over 20km of cross country trails which are safe for both snowshoes and skis. Eagle Peak is very much the focal point. The views it offers of the surrounding Oregon Cascades, volcanoes and alpine lakes are simply breathtaking.
If you're keen to learn, their certified ski instructors will provide a comprehensive learning experience, with group or private lessons. These lessons extend to younger members with "Ski Camp" and "Board Camp" programs, enabling the adults to maximize their own time on the slopes. Accommodation near the resort varies from spacious vacation homes to peaceful lakeside cabins. The closest is Shelter Cove Resort, just two miles away. It offers 12 lakefront cabins set in tranquil surroundings. Their new Kokanee Lodge, with two to three bedroom units is ideal for larger groups. Visit www.sheltercoveresort.com or call (800)-647-2729 for details.
Mt. Hood Meadows
Head for the sheltered, sunny side of Mt. Hood and you'll discover the largest night skiing venue in America. Its 960 acres of terrain is covered with the dryest snow in the Northwest and the resort really does strive to provide you with everything needed to make your stay as memorable as possible. Accommodation in the area ranges from resort hotels to quaint B&B's and Meadows offers discounts on lift tickets for guests staying in nearby partnered premier lodging.
If you're just starting out or wishing to increase the skills you have, the resort provides some of the best PSIA trained ski instructors on the West coast. They offer both private and group lessons focused on each individual's requirements. Mountain Tracks, Mt. Hood's one-stop rental centre, offers a superb choice of snowshoes, skis and snowboards as well as advice on the best places to visit in the resort. For more information on the resorts superb range of services, go to www.skihood.com.
Anthony Lakes Ski Resort
Set in the Blue Mountains' Elkhorn Range, Anthony Lakes Ski Resort has the highest base elevation in Oregon at over 7,000 feet. A popular resort since the 1930s, it offers some amazing scenery, superb terrain and the best powder skiing in the state. This "friendliest little ski area in America" has built a rightfully strong reputation and continues to attract visitors from as far afield as Aspen and Whistler. Patrons flock there for its newly added skating, snow boarding and neatly groomed cross-country trails.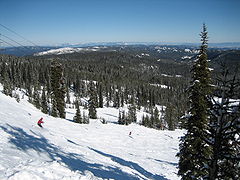 The resort offers 11kms of ski and snowshoe trails and for newcomers to skiing, age is no barrier. Certified instruction is available for all age groups from 4 years to seniors. The resort's rental shop offers a wide choice with snowshoe rates ranging from $18 for adults to $12 for children 12 years and under. Choices of local lodging vary from "stay and ski free packages" to motels and vacation rentals. The award winning Geiser Grand Hotel offers guests a warm and welcoming stay. If you enjoy the opulence of a mahogany crystal chandelier in your room, this is the place to be. Stained glass ceilings and Northwest hospitality combine to make this hotel an ideal base. For full details of Anthony Lakes resort and all it has to offer, go to www.anthonylakes.com.
Mt. Ashland Ski Area
Mt. Ashland ski area is located in the highest peak in the Siskiyou Mountains of southern Oregon. The mountain receives over 300 inches of snow annually and is one of the most family focused ski reorts in the region. Local accommodation is offered with this in mind and includes a large selection of "ski and lodging" packages. The Mt. Ashland Inn is a prime example. Located just three miles from the ski area, it's a welcoming and restful haven after an exhilarating day on the ski slopes. The Inn is situated on the Pacific Crest Trail and is set on 40 acres close to downtown Ashland.
Mt. Ashland offers a wide variety of programs to help get you on the slopes. Their instructors offer packages for all ability levels and are designed to build your confidence and widen your versatility at your own pace. All lessons are at 10 a.m. and 2 p.m. and are purchased from the Mt. Ashland Rental Shop. The Rental Shop also rents snowshoes and poles for $10-$15 per day ($100 deposit payable), with additional days ranging from $5-$10. Well worth the money for getting out and about on some of southern Oregon's best cross country trails.
For a memorable end to the day, Mt. Ashland offers twilight skiing events twice weekly. This is a great way for friends and families to get together in beautiful surroundings as the sun goes down. Ideal for busy schedules, the twilight events run from early January to early March. More information can be found at www.mtashland.com.
With the winter season rapidly approaching, could there be a better time to plan a family vacation on the slopes? The state of Oregon offers visitors unforgettable and stunning getaways at any time of year. In winter, Oregon becomes a real life Winter Wonderland and the ski resorts beckon. I've highlighted just some of the best. Come and enjoy.