I've been a fan of hydration drinks for a long time.  However, I'm too general. In the past, when I thought of a hydration drink, I thought of Gatorade. Nowadays, when I think of a hydration drink…I think of Nuun. But this isn't your typical hydration drink – it's the start of what I believe is preferred hydration while out on the trail.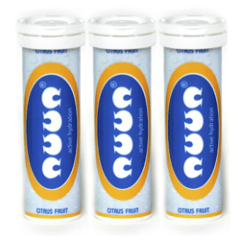 Some of the links in this article may contain affiliate links. When you make a purchase using these links, part of the proceeds go to Snowshoe Mag. Additionally, as an Amazon Associate, we earn from qualifying purchases. Please see our disclosure for more details.
To briefly explain what Nuun is…
It's somewhat like Airborne but in hydration drink form. As you may or may not know, Airborne is somewhat like Alka-Seltzer: Plop, plop, fizz, fizz, oh what a relief it is. However, Airborne is a bit more sophisticated. And so is Nuun. It's a hydration drink in fizzy tablet form. It's really that easy, too. Take some tablets, some water, and then go snowshoeing.
When I first tried Nuun, I popped open a bottle (as pictured) and dropped two tablets in some ice water. It fizzed for about two minutes, and then I drank up. Not bad. It was easy going down, didn't burn my gullet (like Red Bull…nasty!), and I certainly felt hydrated. Fast forward 15 minutes later, I felt rejuvenated and ready to run five miles – no joke. I felt a difference. There was a significant change in my energy. Rather than feeling a burning sensation in my stomach – vis à vis Red Bull – I felt an intense need to work out or mow the lawn.
When exercising, I felt as though I could go the distance – rather than feel a need to stop short. I've always hydrated before running or snowshoeing, but I've never used the power of a high-gauge hydration drink to take it a step further. It's never been part of my routine. However, with Nuun, I could feel a runner's high when at the peak of my workout. Not bad. I think I'm buying into this whole "hydration drink" concept.
Later, all of this played out as an experiment: Drink plain water before a workout and then introduce Nuun before the next day's workout. Then, record the differences.
From my experience, the differences were significant. I would then introduce another dose of Nuun after a workout. It worked great as a rehabilitative solution to conclude a hard exercise regimen, which would allow for a quicker response time and less of the "exhaustion" phase. That's great for me! I still need some time to mow the lawn and chase after my kids. I don't want to take a nap to rejuvenate my body after a good workout. Although, I'm sure that will help.
Nonetheless, the Nuun hydration drink tablet solution is more convenient and certainly more effective than the usual hydration drink. A tube of Nuun – about the size of a roll of quarters and certainly not as heavy – can be easily stored in a backpack or running belt. Nuun is also sugar-free, caffeine-free, and contains four essential electrolytes: sodium, potassium, magnesium, and calcium.
Here are the nutritional facts for a typical Nuun tablet:
"Serving size = 1 tablet (4.6g); recommended dissolution volume: 16 oz water; amount per serving: calories < 5, total fat 0, total carbohydrates 1g, sodium 360mg (14%), potassium 100mg (2%), magnesium 25mg (6%), calcium 12.5mg (1%), vitamin c 37.5mg (60%), riboflavin 500mcg (30%), *percent daily values (dv) based on a 2,000 calorie diet. not a significant source of other nutrients."
Nuun comes in five tasty flavors: Kona Cola, Citrus Fruit, Orange Ginger, Tri-Berry, and Lemon+Lime. I prefer Citrus Fruit. However, Orange Ginger and Lemon+Lime go well together – one tablet of each flavor. That's if you get tired of all the flavors. Don't be afraid to add Nuun to your favorite adult beverage as well.
For more information about Nuun, visit http://www.nuun.com. Enjoy Nuun while snowshoeing, running, biking, whatever you feel works best. It's one of those products that Snowshoemag.com certainly endorses and supports. And, of course, Nuun tablets don't freeze!
Or, you can purchase an 8 pack of Nuun from Backcountry.com.
This article was first published on Oct 11, 2008, and was most recently updated on June 27, 2021.