Helly Hansen has not "slipped" at all with its Garibaldi V3 Slipon boots.
These lightweight slip-on boots are some of the handiest, most comfortable footwear you can find for a variety of purposes.
I've been intrigued in recent years with the popularity and practicality of slip-on boots. I've been eager to give a pair a try and I have to say I'm impressed with these boots.
If you're traipsing around town, hopping in and out of the car or walking a sidewalk, these boots are just the ticket. They're extremely easy to jump into, the tread system is very good, and the waterproofing is fabulous.
The Garibaldi V3 Slipons also attractive-looking, making for ideal on-the-job boots, but my real question was how they would work for hiking and snowshoeing.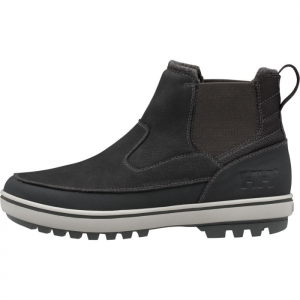 Fortunately, Southern Ontario is having a traditional early winter, with good amounts of snow and cold. This provided me an early opportunity to test these boots out.
After putting them through their paces, I concluded the Garibaldis perform well as a hiking boot, in moderate amounts of snow.
The ankle-high height of the boots is the primary disadvantage here, and without a good pair of gaiters or snow pants, that limits the practicality in deeper snow. That could be said of many other types of footwear, though.
The height also limits the boots for the benefits of snowshoeing, at least a bit, for the same reasons. Otherwise, the boots are quite acceptable for at least moderate trail use on snowshoes.
For longer jaunts, I'd definitely prefer a lace-up boot, for support and general fit. I have a very difficult time to find properly-fitted footwear, as I have a D foot with a narrow heel. However, I could certainly manage with these over short hikes. In fact, most slip-on boots simply don't fit me – period – but I had no trouble with these.
Keep in mind these boots are active-wear items. The Garibaldis are designed with 400g worth of Primaloft insulation, but I doubt they will keep you warm in genuinely cold weather if you are simply standing still.
I highly recommend these boots, within the limits of their design.
The Garibaldi V3 Slipons are available in jet black or whiskey and can be purchased at hellyhansen.com.