It's late summertime, so why such excitement about the earlier 2018 USSSA distance events? Because we are clocking the way to the 2019 marathon races at Lakewoods Resort in beautiful, hilly Cable, Wisconsin, near the home of the Slumberland American Birkebeiner, North America's largest cross-country ski race. That's BIG.
Learn from history, predict the future: the 2019 championship half-marathon and marathon events will be an endeavor worth the effort.
Birkie trails crisscross the Lakewoods Resort race area providing fodder for those who choose to go the distance and snowshoe either a half marathon or full 26.2-mile marathon. On snowshoes no less. Either distance sits as a memorable race that will embed its own life in your memory bank. Late summer through fall presents some of the year's best road and dirt trail marathon opportunities. Prepare for the championships by entering some distance events, marathon length or less… or more! The story of the 2019 snowshoe races, when raced, will reflect times like 2018's. Not to the exact minute but rather a guide to times. Use this as your motivation to be ready when Mark Elmore, Sports Director USSSA,  sends you out on the start.
There will be finishers. The trick? Be one of them.
MARATHON CHAMPIONSHIP
In the Sunday, March 11, 2018, marathon race at Prospect Mountain Nordic Center, Woodford, VT, Brian Rusiecki captured the gold national championships with his 3:35.04 time. Another Massachusetts resident, Amy Rusiecki, took the women's class gold in 4:24.53. That's called keeping it in the family. And remember, both raced the national championships 10km on Saturday. How's that for (not!) saving your legs?
Amy's race, documented in her March 15, 2018, "Running Rusieckis" blog helped her as "an amazing way to embrace the winter and gain some strength in the snowy months. It's a goofy sport but one that prepares you well for spring-time races while you're working your butt off and having fun." (Memo: "goofy" means harmlessly eccentric. That's a compliment compared to what most would think of trudging in 40-inch snow-covered trails.)  She recounts how she fought for a transfer position to the USSSA National Snowshoe Team (the top five finishers in the 10km championship race), just missing by two spots. Once home she checked the records and found her previous best, eighth place, which means she "had taken one step closer to making the magical top five."
Amy highlighted a truism in the world of endurance sports: only those who race them understand the feeling one gains by just participating, much less finishing or even earning a medal. "The snowshoe marathon felt like a small family reunion—as we all prepared for the race, it was many faces that we see at ultras all the time, so we were all gabbing and laughing.  I mean, it makes sense—who else would think that a marathon on snowshoes was a good idea!" (By now you have that answer: As Merriam-Webster defines, we "mildly ludicrous" goofies know.)
Due to the massive snowfall ending just prior to the start of the Nationals, USSSA Sports Director Mark Elmore and Race Director Tim Van Orden, changed the course to a 5km loop (8 times) vs. the original 10km (4 times). Amy pointed out how the snow in the latter laps "would be more packed out."
And off they go.  "The marathon start was the complete opposite of the 10km start—mellow, relaxed, no one really vying for the lead.  However, quickly, the lead men took off, and I was running alone.  I enjoyed the loop, and basically zoned out to just take in the joy of snowshoeing." Sounds like someone taking in the joy of trail racing the Vermont 100 Mile, which she is the race director.
The half-marathon racers joined the fun on lap 3, adding athletes who also acted as new "packers" to the field.  On Amy's last lap, husband Brian, already finished, went out and cruised another lap by her side, enjoying her push to the gold.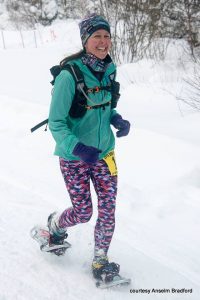 So what motivates her to train for the 2019 Cable, Wisconsin championships? "My goal is still to earn a spot on the US Snowshoe Team; perhaps [2019] is the year?  Until then, I will be pleased that I continue to improve and that I am finally able to call myself a National Champion."
Robert Bolton, New York, outlasted Greg Soutiea of Massachusetts for the silver medal in the marathon's overall finish. Melissa Osanna captured a silver medal for her Women's class effort.
In the 30-39 age class, Ryan Welts of New Hampshire won gold while California's Jason Reed wore the silver. Young Masters (40-49) like Ben Nephew of Massachusetts won the gold in 4:15 while Luke Reece collected silver.
PREPARING FOR A MARATHON WITH SPORTS NUTRITION
Race results—especially arduous ones in extreme conditions—pique the interest of sponsored vegan ultra-endurance athlete Jeff Kildahl. Credentialed in bioenergetics, biomechanics, metabolic efficiency™ testing, and performance nutrition along with natural medicine, gives him some sand in our quest.  I asked him for ideas for improving our results in these championship distance races. His studies led to the development of Performance Medicine®, which require tests for one's biomarkers, or as he says, "A peek under the hood," like one would test an engine. Instead of that, what can we do now to benefit our traipsing the Birkie-type terrain for extended times while plowing through snow?
"I typically begin with the wellness principles to discover imbalances in one's wheel of life. I have yet to encounter one enjoying a smooth ride. Imbalances are insidious—mental and physiological—yet impact everything. Health first . . . Performance second." So if we line up and are not peaking health-wise, our results will flounder no matter what? "Something like that. Protect yourself from common ailments like the flu by becoming manic with clean hands, using gloves or tissues to open public doors and maneuver around facilities, avoiding to the degree possible sitting next to or in the same room as those who are obviously sick."
So you don't get around much? "Just the opposite. That's why I'm as careful as possible not to get sick. I'm constantly surprised about people who share water bottles. Survival is one thing, but for long distances on the trail, carry your own.
If a client wanted general input re the 2019 marathon championship, I would convey 'fat adaptation' is the key. This is especially important because sport snowshoeing is much more difficult and demanding of one's body to efficiently fuel it with proper nutrients. In a general sense, what works for me is what I call digestion, absorption, and assimilation (DAA)."
In other words, ditch the Hershey bars and focus on hill repeats?
"That's a very good start. Understanding the principles of sport nutrition will carry you a long way toward your half-marathon, marathon and beyond, goals. Consider these three keys:
Nutrient density
Nutrient timing
Speed of recovery
The foregoing represents the keys to a podium finish or a DNF in the endurance world. Even more important is its impact on your wellness in life.
Digestion begins with mastication. It is the enzymatic breakdown of food so our bodies can utilize nutrients. Efficiency is the key. The longer it takes to break down food and shuttle nutrients to fuel your body the more inefficient your effort becomes in the process.
Absorption refers to macronutrients, micronutrients, vitamins, and minerals being removed from the intestinal tracts and distributed by the bloodstream for the release of energy. The percentage of nutrients absorbed will define your wellness and performance.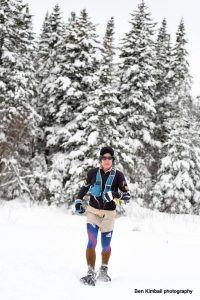 Assimilation is the uptake of nutrients to cells, fluids, and tissues to construct substances for swift growth and repair of the body you pummeled for hours. The recovery window for fat-adapted athletes is often unnecessary due to the preservation of carbohydrate stores."
Holy mackerel, Batman! That's a major breakthrough if the need of a recovery window flies out the window.
"You got it, though you're no Robin. That fat adaption is just one of the multitude of revelations from Performance Medicine®. Let me add this: plant foods represent the most easily digested, absorbed, assimilated, and nutrient-dense fuel for your body in the spirit of optimal wellness and performance in life and sport."
HALF-MARATHON CHAMPIONSHIP
In regard to the 2018 USSSA Half-Marathon Championship, Colorado's Zach Miller rode his four laps in 1:36.06 to gold. Silver medalist Jeff Quednow of Wisconsin followed in nine minutes while New York's bronze winner Matt Westerlund crossed two minutes later.
Miller, called "something of a cult figure in the world of ultrarunning" by The Guardian, made his bones in the 2016 UTMB®, one of the globe's most highly regarded long distance races. Instead of a steady-Eddie approach, " . . . He was tearing away at the front . . . [a] Swashbuckling attempt to destroy the field from the start . . . It's this all-or-nothing approach that has made Miller such a hero." Snowshoe sports version of downhill ski champion Bode Miller? Nancy Hobbs, the founder of the ATRA, wrote of Zach's "quiver of victories: JFK 50 Mile, Lake Sonoma 50 Mile, back-to-back North Face 50 Mile wins, and the CCC® (the little 'sister' of the UTMB®)."
Kelsey Allen, the winner of the Women's Class gold, notched fourth overall for the combined results. Jessica Northan, New York, and Lauren Soutiea, Massachusetts, rounded out the women's silver and bronze medals.
In the 40-49 age group, Alanna Moss won gold in 2:20.20, just missing the class third overall by 23 seconds. Wisconsin's Jennifer Chaudoir notched a silver finish in 2:27. In the 50-59 age class, Debra Galloway won gold, another for Massachusetts.
New York's Barbara Sorrell won her 60-69 class gold while Mary Lou White of Connecticut won silver.
Kudos to the 70-79 age class! An amazing 3:39 brought gold to Laura Clark, New York. James Miner, also a New Yorker, won the men's gold in the same age class.
Jason Matuelwicz, winner of gold in the 40-49 class, missed the top 3 men by just five minutes, 1:52.25. Brian Northan, New York, pushed in about a half-minute later for the silver as Joe Anderson, Wisconsin, notched the bronze medal. Matt Lynch, New Hampshire, and Matt Miczek, New York, rounded out these age-class finishers.
The race's biggest class showed the veracity of the 50-59 snowshoers. Maine captured the top two medals as John Rodrigue won gold in 1:57.20 and Peter Keeney crossed in 1:59.11 for silver. Ed Sheldon, New Hampshire, completed the distance in two hours for a bronze medal. Warren Angell, Rhode Island, missed a medal by three minutes, with a fourth. Larry Rosenkrantz (UT) completed the top five while David Loutzenheiser (UT), Erik Wight (MA), Doug Hazeldon (NY), Sal Genovese (MA), Craig Mulhinch (MI), and Steven Galloway (MA) all carded finishes on this tough course.
For the 60-69 Men's class, Stephen Clark of Wisconsin won the gold in an outstanding 2:07.39 followed by New York's David Peterson and Ted Cowles (CT) finishing out the silver and bronze hardware respectively. Jeff Clark (NY) and Tom Pierce (KS) rounded out the bracket's finishers.
UPCOMING 2019 CHAMPIONSHIPS
The 2019 USSSA Half-Marathon and Marathon Championships race on Sunday, March 10. Expect the 10km course for Saturday's National Championships to act as the base for these events: two loops and four loops respectively, though there just may be an additional distance thrown in to hit the exact 13.1 and 26.2 numbers. Many miles of trails at Lakewoods Resort and the surrounding area make it a natural to do so.
These won't be the flat city-park type courses weaving around the resort. Like any USSSA National Championships, they will present participants a challenge to overcome, to conquer, to finish. Expect registration in October or slightly beyond.
PREPARATION TIPS FOR 2019 RACES
A key to finishing these events or perhaps scoring a medal in these distances with the symphony of weather one may face involves effort and planning. Christine Blanchette, through her "Run With It" running and health initiative along with an accompanying television program scoring key interviews, offers these key components:
"If you are training for the upcoming snowshoe half and marathon championships, here are a few preparation tips to get you snowshoe-race ready:
Make sure you invest in a good pair of snowshoes to give you that edge and comfort to perform well
Gear: Dress according to the race conditions
Properly fuel your body; two to three hours beforehand is what I do
Know the route in advance
What your goal for the race is before going in"
Regardless of any medals or times, crossing under the championship banner for the last time, securing and bagging a finish that will last a lifetime, will be a scene you'll never forget . . . or regret. Even if it turns you upside down.
CONTACT THE WRITERS:
Christine Blanchette      
Phillip Gary Smith
Ben Kimball Photography provides professional race photography in the New England region. He specializes in running, trail running, triathlons, snowshoe races, ski races, bike races, ultras, adventure races and whatever's left. Contact him through his website.