The market for healthy, organic outdoor foods has come a long, long way over the last 15-plus years. Driven by industry pioneers like CLIF Bar and others, energy products are no longer by default oddly-colored, sugar-filled options, and can now (gasp!) even be considered part of a balanced diet.
Skout Organics is part of this movement.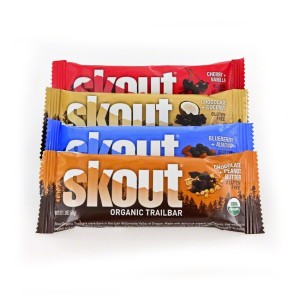 Founded in Portland, Ore. in 2008, this tiny, privately held company (still less than a dozen employees strong) is dedicated to providing "great tasting, healthy, organic foods to sustain those who embrace adventure and actively pursue the outdoors."
As of 2014, the company's product line consists of Trailbar energy bars (available in blueberry almond, apple cinnamon, cherry vanilla, chocolate coconut and peanut butter flavors) and what they call Trailpaks, prepackaged portions of flavored raw pumpkin seeds (available in black pepper BBQ, jalapeno salsa and sea salt flavors).
Both lines are certified organic, certified gluten-free, Non-GMO Project verified, certified Kosher, are vegan and are daily and soy free. They also contain no refined sugars or fillers.
It's basic energy food you can feel good about pouring down your gullet after a long day on the trail.
Skout Organic energy bars and seed packs are available direct from the company or from one of their partner retailers.