It takes a lot of work to come up with a new kind of hiking boot. Leather, nylon, waterproof, light weight, low rise … it has all been done before. That's why Patagonia's P26 Mid A/C backpacking boot is so interesting. It looks more or less like all the rest, but it's different somehow.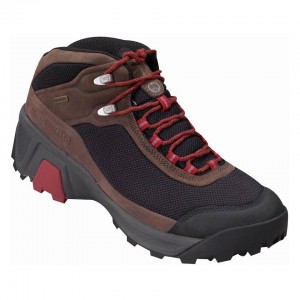 First of all, there is the price. Nearly $200 is a steep price to pay for a pair of nylon, midcalf hiking boots, even if they are waterproof and breathable thanks to a GORE-TEX liner. The fact is, similarly styled boots can be had for less than half that price from other brands.
So what is the deal?
As with most of the products that Patagonia sells, this boot is all about fit and comfort. Sure it is waterproof. Sure it is breathable. Sure it is made from heavy duty nylon for durability. But it is the internal support construction that really sets this boot apart.
Starting with the durable Vibram Ecostep Plus P26 rubber sole (made from 50 percent recycled rubbers; the whole outsole is 15 percent recycled), the boot features a dual density footbed for arch support and stability, along with an Air Cushion Plus layer to absorb shocks. The Deep Dish Helium Light EVA footframe "cradles the foot for optimal support," with a built in shock distribution plate that offers added stability while spreading shocks out along the length of the boot.
Yeah, they're comfortable.
And durable too, thanks to the heavy duty nylon uppers, triple-stitched webbing eye stays and rubber toe bumpers. From end to end, it's a durable, lightweight, supportive boot that fits like a performance shoe.
The men's nylon version is available in one color combination, brown and black, but you don't buy hiking boots based on their looks anyway, right? Also available with full leather uppers. For more information, visit Patagonia's website.
To purchase the Patagonia P26 Mid A/C boot for men, click here, and for women, click here.