Traditional sunscreen has a problem.
Although it does a generally good job of protecting the skin from the sun's harmful UVA and UVB rays, it falls short when it comes to actually repairing already damaged skin. Sunscreen as most of us know it is a preventative measure, not a restorative product.
Enter Neova sunscreen from PhotoMedex. Designed as a clinical product,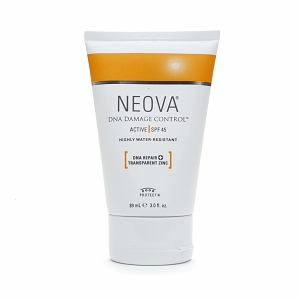 the company claims that Neova is the first sunscreen to "target photodamaged skin, [helping] to visibly repair it." Neova claims to be among the first skin care brands "to make the association between DNA damage and premature skin aging and provides complete, continuous and optimized correction with DNA Repair and Copper Combination Therapy skin care."
In short, this isn't your everyday, average drugstore sunscreen.
First of all, Neova sunscreen isn't the sort of thing you smear on poolside and forget about. This is part of a regular skin care regimen that's designed to work before, during and after sun exposure, offering "DNA repair and potent antioxidant protection combined with high-SPF broad-spectrum physical UVA/UVB filters." Neova claims to operate at the cellular level, mitigating the DNA damage of the sun while "preventing and inhibiting new photodamage."
For active users, the first stop is Neova's DNA Damage Control Active line. Designed for outdoor enthusiasts, the line offers the same DNA sun protection as Neova's daily use and beauty products but with the water and sweat resistance that you'd expect from an active sunblock. At $46 for a 3-ounce bottle, this is clearly a premium product, but for those looking for advance sun protection and repair, it's a premium that may be worth paying.
Neova DNA Damage Control Active is available in an SPF 45 formula, while the Everyday version (not so sweat or water proof) is available at SPF 43. A 2.5 ounce bottle of Neova's DNA Damage Control Sheer SPF 45 is $39.
For more information on Neova, visit http://www.neova.com.