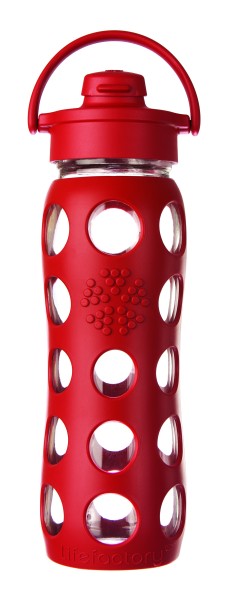 There's no need to water down the rave reviews of the new offering from Lifefactory.
When the company offered me a chance to try out their new reusable toxin-free glass water bottles I jumped at the chance. While adequate hydration is absolutely critical to any outdoors recreation, it means a little something extra to me since I've been wrestling with a chronic kidney condition for 10 years.
Simply put, without enough water in my system, I crash and burn. Monitoring my fluid levels and figuring out how to keep them high has turned me into something of a connoisseur of water bottles and hydration systems, and many of them have been a disappointment to me.
My home is littered with the results of that experimentation, with more than two dozen water bottles of assorted materials and sizes cluttering the cupboards. My current favourite was a plain stainless-steel bottle that requires little maintenance.
And if you think I am fussy about water, you haven't met my wife Charlene. I swear she has the senses of a ravening Great White Shark when it comes to detecting any wisps of a bad scent or taste in a water bottle… or even some leftover dish soap that hasn't been rinsed out to her exacting terms.
So, to be blunt, it's pretty difficult to impress either one of us, but the Lifefactory bottle did it in spades.
Based in San Francisco, Lifefactory says "it's created the first reusable glass beverage bottle that is totally free of toxins and BPA's and that serve as a more conscientious alternative to regular plastic bottles."
"With all of the health issues surrounding plastic (even BPA-free plastic) Lifefactory's glass bottles have quickly caught on as the safest reusable bottle for everyday hydration," the website states. "And because Lifefactory is committed to product sensibility and convenience, all bottles are dishwasher safe, and truly designed to last a life-time."
"At Lifefactory, we set out to develop the safest and most beautiful reusable hydration system on the planet. Our bottles are designed to grow with families from cradle to table. To ensure safety, all of our products are made from materials that are free of BPA, phthalates, PVC, polycarbonate, lead and latex. No compromises. Glass offers the best taste, is the safest material to drink from and is built to last a lifetime."
I tried the bottle out for a couple of days with perfect results, and then issued Charlene a challenge to use it for as long as she could without washing it before noticing a taste or odour issue.
After making a face at those terms, she snapped up the bottle and used it for a full 10 consecutive days before washing it.
"I can't believe I did that," she said. "And I'm a complete germ-a-phobe!"
Her only complaint was the shape of the drinking spout on the bottle, and it was a minor one.
"I'd have preferred it to be round rather than oval," Charlene said. "Other than that, it's almost perfect."
We tested the 16 oz. model, and concluded we would have preferred the larger 22 oz. version, but that was also a minor issue.
Interestingly, a week after receiving the bottle, I found some of Lifefactory's product in a Water Depot store where I fill my 18-liter jugs for the water cooler.
Intrigued, I had a short conversation with one of the managers, who told me he had seen the product at a convention in the United States a few weeks earlier and ordered a shipment.
"I had more than a dozen of them and we're now down to three," he said, gesturing to the shelf. "They're selling really well and a lot of people like glass better than metal or plastic."
The retail sales price at the store was just more than $25 Canadian, making them a good bargain for the quality.
For more information on Lifefactory, visit http://www.lifefactory.com.