My experience with KEEN footwear can be summed up in one word: comfort. From their sandals, to their hiking boots, to their approach shoes, everything with KEEN starts with that signature, wide toebox, and comfort is the name of the game.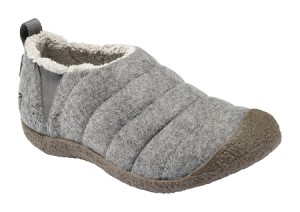 Of course, a pair of $200 boots isn't sold on fit and comfort alone and KEENs are also, in my experience, well built and durable. For those that love the KEEN look and feel, there's nothing better.
So, a KEEN designed slipper that's being marketed as a "sleeping bag for your feet"? Sign me up.
The Howser Wool slipper is made from bunched and quilted recycled felt that has been lined with microfleece (cue the sleeping bag analogy) for warmth without bulk. Beyond that, they feature a non-marking natural rubber outsold and elastic side panels that cinch down the ankle for a snug fit that's still easy on/easy off.
The KEEN.Cush footbed – a blend of recycled polyurethane, cork and memory foam — molds to the foot and gives the Howser Wool a little more support than I'd usually expect from a slipper. Those than venture outside in their slips – I always seem to be running out with the recycling in mine – will appreciate the water resistant nylon uppers. The wool is not impervious to water, however, so all of the usual care rules apply there.
And these are KEENs, of course, so you get a playful take on their signature toebox via a wool panel that wraps around the front of the shoe. Unlike their boots and shoes, however, it doesn't really impact the fit or provide any extra support, but it's a nice look and certainly doesn't hurt in the comfort department.
The Howser Wool slipper is available in three colors – gray, black and red – and all the usual shoe sizes (no one size fits most here). The women's version comes in a bright sky blue, gray and olive with all of the same features.
For more information on the KEEN Howser Wool Slippers, click here.  To purchase the Howser slippers, click here (men's) and click here (women's).