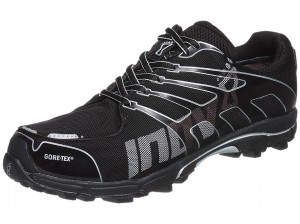 Perfect for a cold, wintry, wet training run, the Inov-8 Roclite 312 GTX proves that a full featured shoe needs not be bulky and cumbersome.
Truth is, the Roclite feels a lot like the minimalist shoes that Inov-8 is famous for. Heel-to-toe drop being only 9mm, the shoe rides quite low and might feel somewhat  uncomfortable (for some that have yet to transition over to that style of shoe). Even at 11 ounces, it's still one of the lightest GORE-TEX shoes on the market currently.
The fit is quite narrow so those with a wide foot will find it constricting, but this snug fit allows the shoe to hug the foot and keep it from sliding while moving over more technical terrain.
The sole itself has a deeply lugged tread that will handle even the most technical of trails. The only downside to this is when the trails are more subdued the lugs themselves become more noticeable with each footfall–making these shoes better for the days when you're headed out into the harshest of conditions.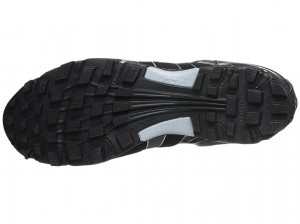 With the Roclites GORE-TEX shell, not much is getting into these shoes unless you're wallowing around in water puddles. As with all GORE-TEX shoes, you need to be smart with your sock choice so you are not sweating and drowning your feet.
Overall, I have been very happy with this shoe. Trail running in winter conditions calls for a shoe that can handle all that mother nature can throw at it; Inov-8's Roclite 312 GTX does that in spades.
For more information on Inov-8, visit http://www.inov-8.com.  To purchase Inov-8 products, click here.