When I am out snowshoeing in the wilds, I love to bring a Burger with me. Maybe I need to explain that a little more: Burger is my dog.  We call him an "All Canadian," but the best guess is he has some Shepard and Rottweiler in there. He's the happiest dog I have ever met. I love sharing my snowshoe adventures with this dog! But, I don't love juggling a leash, camera and my poles. I wish I had more hands, but that would require more gloves and likely a very expensive customized winter coat with extra sleeves. What I truly need is a way to multi task a little easier. A hands free system, to keep my dog safely under control.
I have been searching for a quality hands free system for some time.   I have tried a variety of products, but none were to my liking.   My biggest pet peeve was that some of the belts were not wide enough. With a large dog, this put an undue amount of pressure on my back. Something I certainly did not need. Other systems offered a leash that fell way too short. It was fine to jog with, but on my snow shoes, it kept the dog too close to my feet. A shorter leash also meant less room for the dog to roam and pick their footing.
After much trial and error, I finally found a system which meets not only my needs, but the needs of my dog as well! The Trekking Package from Howling Dog Alaska. The package consist of an 8 foot leash, with an internal artic grade bungee. A padded harness for my dog, and a wide, supportive Trekking belt for myself.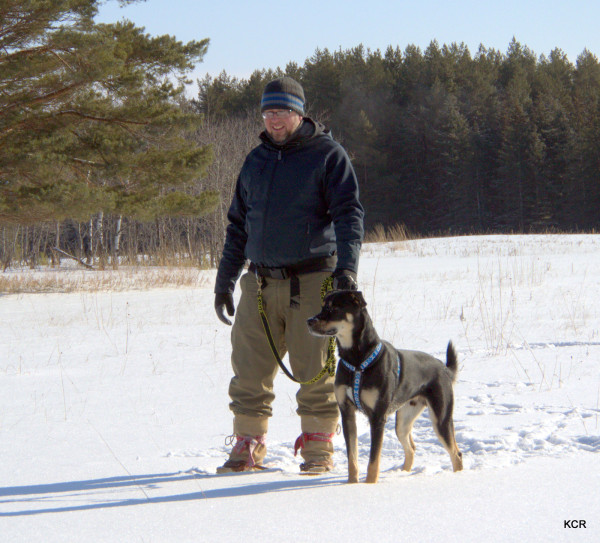 First off, the leash. The leash, also marketed as a skijoring line, is 8 feet when it is not stretched out, but stretches to 9 feet, thanks to an internal bungee. The whole leash is made of a tublar webbing, and the bungee is simply knotted in place inside. I found the knots gave me more control over my dog when we were leaving the parking area, or encountering other trail users. While he is well trained, and friendly, he is also a big dog, and by pulling him in close, I make other trail users feel at ease. A fault of some of the other systems I have used was that the bungee lost its elasticity while out in the cold. Not a problem here, I stored the bungee out in -40 and it still bounced back! The line comes in red on black or yellow on black.
The harness that comes with this package is called a "Distance Harness".   The first thing that struck me about this harness, is the quality. This is a well-made harness. I have purchased other systems, and have paid much more, for not the same quality. One big aspect of this is the internal layer of foam, this is a well-padded, comfortable harness. The straps are wide, and don't roll or rub on the dog. At first glance, the harness appears similar to a normal walking harness, but the midsection strap is free floating, or sewn through a ring of fabric. So it can move comfortably on the dog, without causing the whole harness to shift and make the dog uncomfortable. The middle section is adjustable. So all I had to do was measure Burgers neck and let them know the best size for him. Burger has a really big head, and sometimes finding things to fit over his head can prove a challenge, but the distance harness was a perfect fit! At first I was worried about the plastic buckle. Out here on the Canadian prairies extended stretches of -40 are normal. Plastic doesn't do so well in the cold. But we have put this buckle through the test for a few seasons now, and it's held up to any weather we have been able to throw at it.
During some of the testing, Burger wore his harness over a winter coat.   Because the strap around his midsection was adjustable, I was able to loosen it for a proper fit, even over his winter coat.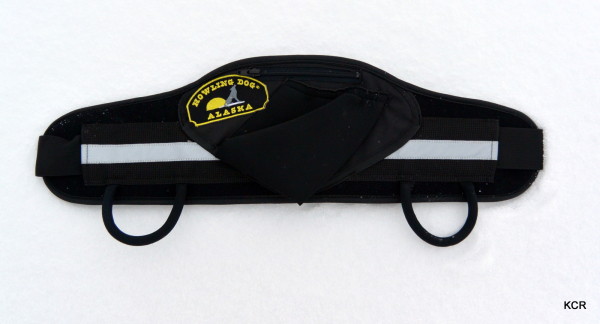 The Distance harness is sold in a variety of sizes and colour patterns. You can choose from Red, blue, green or lite blue. Measure your dog for the best fit, but sizes fit dogs from 30 to 100 plus pounds!
The trekking belt
I asked Ivana Nolke, the owner of Howling Dog Alaska, and designer of this belt why the belt was so wide. "A good belt, which is worn around the wait, has to be wide and sturdy in order to be comfortable while walking with dogs that are pulling." I have to say, I agree!   I have lower back problems which have landed me in the hospital, but won't keep me off the trails! I also have a pretty large, young dog. The width of the Trekking belt reminds me of a weight lifting belt. I find it supports my back, by spreading the pressure out over a wider area. There are also two smaller straps at the back that I can use to readjust the belt while we are snowshoeing. The belt is a one size fits all, and is fully adjustable. I wore it with no problem over many layers, and also over my thin jogging suit. Having an easy to adjust buckle made it a perfect fit every time.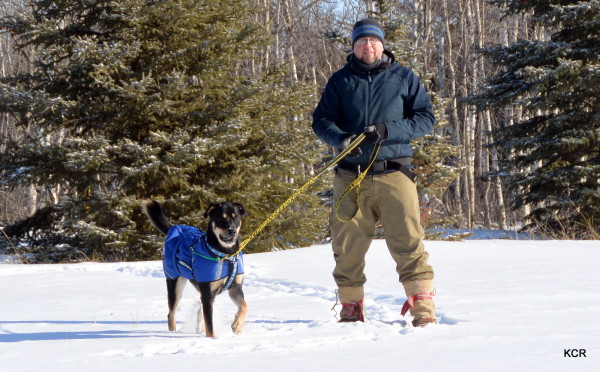 The verdict?
This is a well-designed, good quality package. All the components held up well in extreme cold, and its comfortable for Burger, and well as myself. This is the best quality and best price of any hands free system I have tried. You can order it from Howling Dog Alaska, http://howlingdogalaska.com/index.php?main_page=product_info&cPath=27&products_id=105