There are so many different forms of energy boosters on the market that it can be a little overwhelming choosing one for your adventures.  But, if you haven't made the switch from energy gels to energy chews, you're missing out.  I got to try the CLIF SHOT BLOKS this winter and wish I would have made the switch to these tasty little treats ages ago.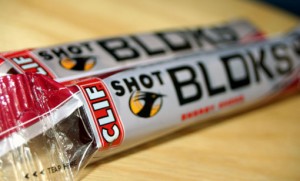 According to CLIF, the SHOT product line takes a streamlined approach to performance nutrition – delivering only what your body needs most while training and racing. Their products are made from organic ingredients that help provide clean essential energy and hydration, plus fast muscle recovery.  After having a few CLIF SHOT BLOKS while on the trail, I definitely had a bit of an energy boost.  The BLOKS come in a multitude of flavors including strawberry, chocolate cherry, black cherry, cran-razz, lemon lime, margarita, mountain berry, orange, and tropical punch.  I have yet to try all the flavors but have a little bit of an obsession with the strawberry and the black cherry.  They taste like candy instead of cough syrup and I can say with certainty that if you like gummy life-savers, these flavors are just as delicious.  A few of the flavors also have 50mg of caffeine which makes for an extra skip in your step.
The SHOT BLOKS are easy to eat and have a consistency that is similar to JELL-O, instead of a gummy bear which is nice because when I am out on the trail, I like to eat my energy chews really fast rather than having to chomp through a sticky candy.  They are also incredibly convenient to tuck away into your pocket and I prefer them to a bulkier Gatorade that ends up taking up too much room in my pack or is just too heavy.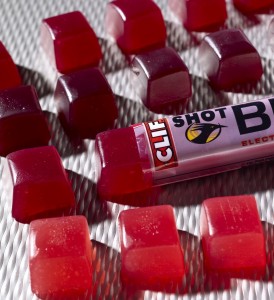 The best thing about the SHOT BLOKS, in my opinion, is the packaging.  It may sound funny, but most energy chews come in a small bag and I feel as if I have to eat all of them at once.  CLIF SHOT BLOKS pop out one at a time and allow you to put the pack back in your pocket without worrying about getting chewy, gooey gel or loose chewy bites all over the inside of your jacket or pack.
Each tube has two 100-calorie servings (three BLOKS each), which is a total of six BLOKS and 200 calories per package. This is great because it means I can choose how many BLOKS I want to have while out on my adventures, rather than having to use an entire gel pack at once.
To learn more about CLIF SHOT BLOKS or to purchase them, visit www.clifbar.com.  You can also find these in your local grocery store and they run anywhere from $1 to $3 a pack.