When I When I first heard that Camelbak was producing a travel mug I was ecstatic. You see, travel mugs and I don't quite see eye to eye on the following topics: Spilling, keeping my coffee hot, breaking and HARD to clean. I have to admit I have a slight obsession with hot beverages and rarely leave my house without one of my many travel mugs.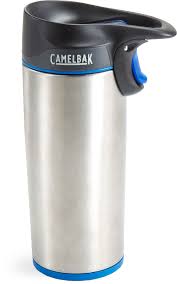 At last my Camelbak forge 16oz travel mug arrived. My immediate thought was the design looked simple, colours were neutral and it looked like every other mug I own. Out of the package it came and I immediately noticed it was heavier than my others one; not heavy as it would hurt my arm to carry but it felt expensive. There also happens to be a very convenient carrying hook/handle that my one finger fits perfectly through; although I am not sure Camelbak intended people to use that as a handle. Vacuum-sealed double-walled steel is what the description reads and I get to work putting it to the test.
Week 1: I leave my hot coffee in the mug to test how long it stays hot for. I begin checking after 1 hour, than 2, than 3, than 4, than 5….until I finally get tired of waiting and I begin to drink it. 5 hours in the mug in room temperature and my coffee is not only hot but still tastes great.
Week 2: I take the mug outdoors with me as I embark on a few hikes around town. To my surprise the mug holds up and my coffee remains warm throughout the day in temperatures hovering around 40 degrees Fahrenheit.
Week 3: I let my kids have a go at the mug. I figure if anyone is going to scuff it up and possibly break it; it will be them. They have a little trouble opening the lock button to take a sip as it is spring loaded to ensure complete closure. They have no trouble dropping it by accident or turning it upside down to see if it leaks. Although the mug no longer looks brand new; nothing broke and there was no spillage!
Perhaps my favourite part of the Camelbak Forge is how easy it is to clean. Most travel mugs have that mysterious deep hole in the lid that you drink out of but can never fit anything in to clean. The Forge has completely eliminated that by installing the cap arm that flips up; in order to reach those nooks and crannies you normally can't get to.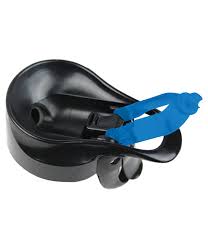 I have 26 travel mugs in my cupboard and there is only one choice in my mind; the Camelbak Forge with the ability to keep my coffee or tea hot for hours, durable and I never have to worry about it leaking. With two sizes available and a multitude of colour options the choice is yours. Continue using the leaky, smell, can't quite get clean mug or join me and rediscover what a travel mug should look like.
See them here