Guess who I found is using the Energizer Ultimate Headlight, the one with the L.E.D.'s . . . think speedy, and you will have a clue. Also, I discovered more proof this headlight is the Ultimate in headlights, beaming out like a Duluth ore ship.
Sitting at the prerace meeting in the gathering room for the Bayfront Park along the inlet waters of Lake Superior, I'm checking out everyone's equipment, shoes, water parks, bottles, all the gear . . . one can get a lot of good ideas by observing what others are using and adapting it to personal needs.
I glance over and wearing an Energizer Ultimate Headlight, like mine, is super speedy, Valeria LaRosa. "I believe I used it now for a couple of years. I also use it in Adventure Racing. I absolutely love it."
At the Sawtooth 100 along the mountainous shores of Lake Superior, she wore an Ultimate Energizer Headlight and supplemented the light with a special 'fog' attachment of a waist band light. "It really helped during the misty fog." The winner of the Sawtooth, his first time at this distance, Brian Peterson, was the one suggesting this idea to her.
Another report has finisher, Eric Skytte, coming in at 36:38 with his Energizer.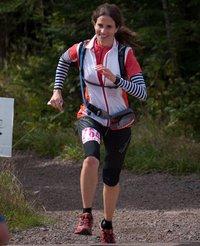 Two things I've learned using this light:
If you're following someone on the trail, and they have a "normal" trail light, you're going to need to lead because your light will overwhelm the forest and the person ahead of you.
Yes, you can click it to a lower brightness, but who wants to give up those lumens? I like lumens; I need lumens. I don't need a fumin' lumen.
And if you really want to see the difference, check out the You Tube clip of the Wild Duluth races and particularly the start in the dark:
http://wildduluthraces.wordpress.com/
The opening start, in the dark, shows runners going by, noise and all, with lights and happiness; then, suddenly, at the 15 second mark, it looks like a Lake Superior Ore Boat has joined the fray — hey, that's me wearing the Energizer Ultimate — as this big spot light is easily visible moving with the group. I was shocked at the difference when watching the video.
That is imperative evidence of the power of this light versus this broad selection of lights. I almost hated for daylight to break, but the view was so vista-like, it was worth turning off the Energizer and saving it for night.
Stopping in a local Target store, I found the light available in the low $40's.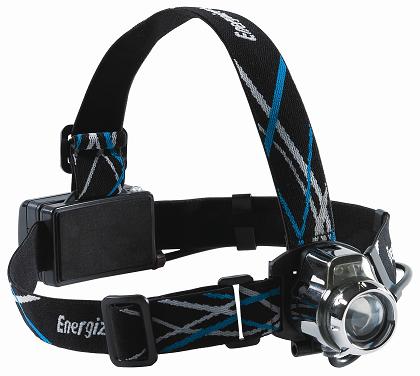 Subscribe to your free Snowshoe Magazine online edition: https://www.snowshoemag.com/subscribe.cfm.
Fuel the Adventure: http://www.wildernessathlete.com/Home2.aspx