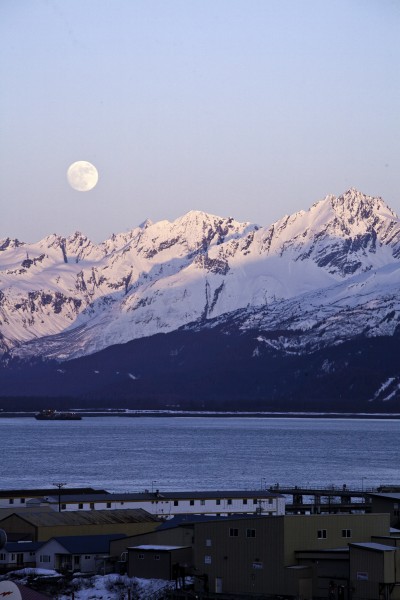 The descent from Thompson Pass to Valdez is one of Alaska's most stunning roadways. The Richardson Highway follows a single switchback on a high plateau, where views of glacial fields abound, before dropping into Keystone Canyon, a narrow slice wide enough for a two-lane highway and the Lowe River.
It's late in the afternoon and the sun hangs high above us on a windless, blue-bird April day. In the Canyon we stop to explore the remains of an historic train tunnel blasted in the early 1900s. On the shady side of Keystone, two ice-climbers take advantage of frozen Horsetail Falls, flaking a rope and sorting ice screws at its base. Opposite, water visibly cascades behind broken columns of ice on Bridal Veil Falls.
We drive the remaining miles to Valdez. Thick braids of the Lowe River spill into a salt marsh estuary known as Ducks Flats. A backlit chain of islands stands in stark contrast to the green hillside of Mount Francis. Cool spring air seems to thicken the closer we get to Valdez and the Pacific's Prince William Sound indicates the end of the road.
Big mountains, stellar views, and friendly locals aptly define Valdez. But if I were to base a description solely on landscape I would characterize it as a cross between a mountain town and a picturesque seaside village; but definitely skewed toward adventure.
Valdez is 305 highway-miles from Anchorage. It's an indirect route that circumnavigates the Chugach Mountains via the Glenn and Richardson Highways and passes by the western edge of Wrangell-St. Elias National Park and Preserve. Town covers a small footprint of land bordered by Prince William Sound's Valdez Arm to the south and west and the steep mountains of the Chugach Range to the north and east. The original site of Valdez is a few miles east of its current location. It was relocated after the devastating 1964 Good Friday earthquake that caused the waterfront to drop 35 feet, triggering a landslide while large waves and high tide consumed downtown. In the end, Valdez lost twenty-seven residents.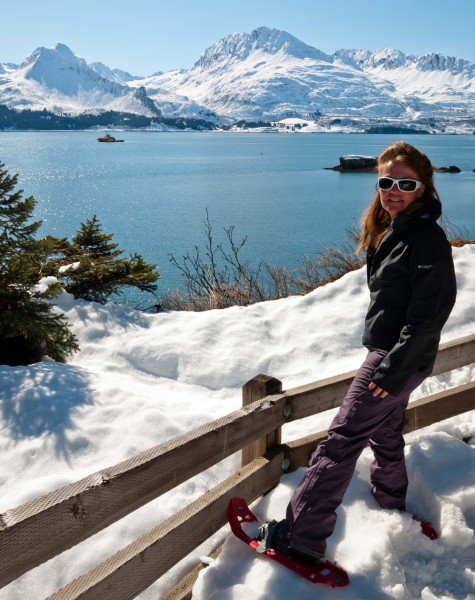 The clock hits 7:00 pm as we stroll into the busy lobby of the Mountain Sky Hotel. Surprisingly devoid of women, the lobby is filled with men checking email on laptops and tablets and sporting ubiquitous goggle-tanned faces. Our arrival coincides with the eight-week heli-ski season and the hotel serves as headquarters for several operators.
Despite the time, evening darkness is still hours away. We drop our luggage in the room and head out on foot towards the harbor. The Fat Mermaid is open and lively and we slip into two seats at the bar, order Alaskan IPAs, and peruse the menu. Snippets of conversation drift by – the weather, the snow, the skiing. Valdez's 2011 winter was dryer than usual and the resulting snowpack was either sparse or thin but 10 days prior to our arrival, the region received close to seven feet of snow. We settle on a pizza, order two more beers and watch a full moon rise above town. Evening light adjusts to a deep purple and pink-hued alpenglow.
The sound of clunking ski boots in the hallway wakes us and we throw on enough clothes to head to the lobby for complimentary breakfast. I check the weather forecast for the week – it's an un-Alaskan mix of clear skies, temps in the high 50s and calm winds. With this, we head to Prince William Sound Community College's (PWSCC) Wellness Center to rent snowshoes.
Not wanting to add weight or bulk to our luggage, I asked David Petersen, executive director for the Valdez Convention and Visitor's Bureau, if we could leave our snowshoes at home. He told me about a new partnership between PWSCC, Sound Wellness Alliance Network, or SWAN as it is known, and the Valdez school system and their program offering snowshoes, cross-country skis, poles and other equipment to locals and visitors. I find out later the school system donated the snowshoes, SWAN secured a grant to purchase headlamps, gators, skis and poles, and the Wellness Center manages the gear.
Astonishingly, the rentals are free. My surprise must be evident to Amanda Hatton, wellness coordinator for the College and snowshoe overseer. "This type of program could only work in a community like Valdez." There is, however, a late fee – $10.00 a day. But it's not meant to be punitive Hatton says, "It's so someone else gets a chance to use the equipment." Since the beginning of the winter season, 350 individuals have borrowed gear.
Hatton, a recent transplant from Utah, steps behind a front desk that guards entry to the Wellness Center, an old school-style gymnasium converted to house a small but state-of-the art fitness center complete with a row of treadmills, elliptical and weight machines, free weights, and an aerobics room offerings a robust schedule of spinning and yoga classes.
I follow her into a small room. Twenty-four sets of snowshoes hang from pegs next to a row of cross-country skis. Shelves down the center of the space hold varying sizes of boots and a bucket of headlamps sits at my feet. As an Alaskan neophyte, I ask about the headlamps. "We purchased headlamps because its dark most of the winter and our trail system is not lit," Hatton says. Renters have the option to sign out a headlamp and gators.
Hatton explains the program to me as I fill out paperwork to rent two sets of snowshoes and matching gators. (No need for headlamps; it's spring and we have almost 14-hours of daylight.) I look over the conditions of my rental – it's Friday and I commit to return the gear by 3:00 pm on Sunday. While the majority of users are locals, tourists have also checked out gear. "Heli-skiers come here looking for something to do because they have a down day or can't fly due to bad weather," she adds.
As I turn to leave, Hatton hands me a color-coded trail map and notes parks and recreation grooms trails once a week. Designated by use, such as muscle-powered versus snow machine only, the map hints at dangers snowshoers face in Valdez. Dictated by topography, certain trails pass below slopes prone to avalanche and, in some areas, open water could be encountered.
Parking at the Mineral Creek trailhead, we don snowshoes and are thankful for the gators. Warm temps have turned the trail to five inches of soft mush. We snowshoe toward the water. Views are stunning: mountains covered in snow plummet to the water in a spectacular splash of white on turquoise. While the snow is thin at sea level, we have enough coverage to reach a broad beach of slick black rock and seaweed. We stretch out on shore soaking in sunshine before following our tracks back to the car.
Feeling sluggish, we refuel at Magpies Bakery. It's tucked at the base of a lump of land close to the center of town. The menu lists delicious pastries, quiches and fancy coffee. I order an elderberry scone and soy latte with an extra shot and hope the sugar and caffeine combo do the trick.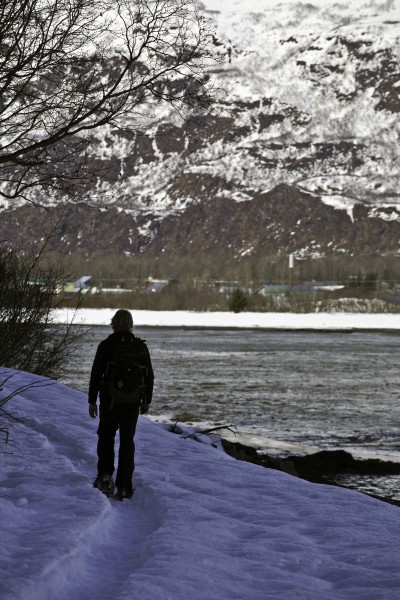 Next we park at Dock Point Trailhead. It traverses a spit of land that overlooks Duck Flats on one side and the port on the other. A loop trail begins across from the harbor where a well-laid track passes over a hill – the high point – to several ocean overlooks. We stop to watch a harbor patrol boat speed by a cargo ship sitting heavy in the water.
Day one is a success and we look forward to our evening. Back at the hotel, we soak in the hot tub and talk with four heli-skiers from Brazil. They tell extreme tales and are half-envious of our tame adventures – mostly, they admit, because they are tired after three days of skiing but also because we aren't hucking ourselves down steep-walled chutes day-after-day.
The next morning we are up early. Our destination: Shoup Bay. An ungroomed trail follows the coastline below Mounts Hogan and Shasta and ends at Shoup Bay State Marine Park. Here we hope to catch views of namesake Shoup Glacier. We spend the bulk of the day exploring the region: an out-and-back trail that covers 12-miles. Our only challenge: getting lost in a thicket of willow. Finishing day two much the same way as the evening before, I begin to fall into a slow-paced Alaskan cadence.
On our final morning, I opt for a solo-tour of Glacier Lake. The road is still covered in snow. I park at a turnout and snowshoe the rest of the way, about a mile. Ice, the width of a football field, stretches seamlessly from the shore to the center of the Lake, where open water is visible. I'd heard there were ice caves here and decide to follow a fading set of snowshoe tracks east. My steady progress is rewarded by views of Valdez Glacier and floating garage-size icebergs. I notice the ice below me changes color; I take this as a sign to turn back toward shore.
After returning our gear, we repack the car in the Wellness Center's parking lot before settling in for our return trip to Anchorage. Driving out of town, a low tide turns Duck Flats into a silky bed of mud the color of dark chocolate. Warm weather has revealed a bike path that parallels the highway. Locals run, bike and roller-blade beside us. Traffic is light as we head into Keystone Canyon and I can't help but think about the many benefits of being at the end the road.
To view all of Cathleen's Valdez photos, click here.